Files
Indian Motorcycle enthüllt vier Style-Kollektionen für die FTR 1200 und die FTR 1200 S
INDIAN MOTORCYCLE BUNDELT ACCESSOIRES VOOR NIEUWE FTR 1200 IN VIER COLLECTIES VOOR EINDELOOS COMBINEREN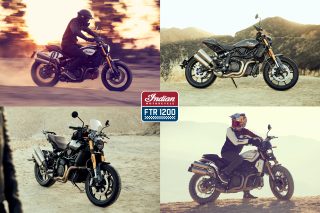 Tracker, Rally, Sport & Tour Collections Completely Restyle Indian's New
FTR 1200 & FTR 1200 S
MILAN, ITALY (November 6, 2018) – Indian Motorcycle, America's first motorcycle company, today announced its FTR 1200 accessory lineup at the International Motorcycle and Accessories Exhibition (EICMA) in Milan, Italy. More than 40 individual accessories provide riders with endless style combinations to make the FTR 1200 truly their own. At the same time, Indian has curated four collections – Tracker, Rally, Sport and Tour – allowing riders to transform the FTR 1200 into the style that represents their riding preference.
Indian broke new ground for American V-twins when developing its FTR 1200 – an aggressively styled creation that blends elements of flat track, street and sport into one of the most unique motorcycles ever developed. The introduction of the four accessory collections, and the complete lineup of more than 40 parts and accessories, takes the FTR 1200 platform to another level, allowing riders to completely restyle the bike into a personal expression unlike any other.
"In its stock form, the FTR 1200 is a beautifully-designed flat track-inspired street bike with immense opportunity for personalisation and customisation," said Reid Wilson, Sr. Director for Indian Motorcycle. "The new accessory lineup significantly elevates the FTR 1200 platform. Riders can completely restyle the look and feel of the bike to better represent their riding style through one of our four collections or by mixing and matching parts to create something truly one-of-a-kind."
Built for personalisation, the FTR 1200 collections comprise more than 40 different parts and accessories and feature the following:
Tracker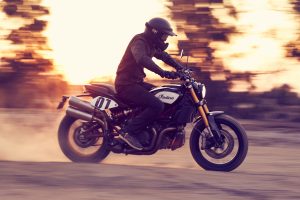 The Tracker collection for the FTR 1200 is most representative of the bike's flat-track racing roots. It's the closest riders will come to a street-legal FTR750 race bike. A shallow seat with a unique seat cowl, high-mount slip-on exhaust by Akrapovič, and side-mounted number plates set the Tracker collection apart.
Rally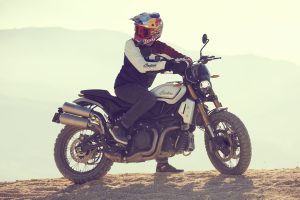 The Rally collection draws inspiration from lonely camp sites traversed on forgotten forest roads. Riders will immediately notice sturdy aluminium spoked wheels and a high-mount Akrapovič exhaust on the Rally collection. A unique seat, mudguards, tank covers, windscreen, Rally Handlebar by ProTaper, and a high-mount license plate holder round out the Rally collection. The configuration allows the FTR 1200 to take full advantage of the bike's 150 mm of suspension travel.
Sport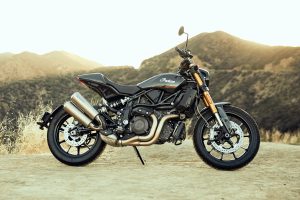 The Sport collection is a no-nonsense assembly of carbon fibre parts that scream speed and visually underscore the FTR 1200's performance potential. The Sport collection is the FTR 1200 distilled down to its athletic core, outfitted with a low mount slip-on exhaust by Akrapovič, and a unique carbon fibre front mudguard, tank cover and seat cowl.
Tour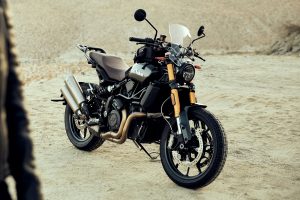 The Tour collection provides a heavy dose of utility, turning the FTR 1200 into a highway weapon for smashing miles on longer journeys. With plenty of storage via water-resistant, roll-top side messenger bag, tank bag, and a windshield, the Tour collection keeps FTR 1200 riders comfortable on longer-hauls.
"When developing the FTR 1200, it was important for us to create a platform that offered dynamic, yet convenient, personalisation and customisation opportunities," said Ben Lindaman, Indian Motorcycle Senior International Product Manager. "We're extremely proud of these accessories and collections, as they drastically change the design of the bike – ultimately creating more styling options to satisfy a wide-range of rider preferences."
The FTR 1200 combines race-inspired design and nimble handling with an upright riding position to create a commanding riding experience. A new 1203cc V-Twin engine with approximately 120 horsepower (90kW) makes sure every rider feels like a pro when they twist the throttle. The new platform is a key component in Indian Motorcycle's broader mission to expand its global appeal and reach new riders.
The complete accessory lineup and four collections will be available in dealers in spring 2019. To find your nearest dealer, visit www.indianmotorcycle.eu.
Notes for Editors
###
ABOUT INDIAN MOTORCYCLE
Indian Motorcycle, a wholly owned subsidiary of Polaris Industries Inc. (NYSE: PII), is America's first motorcycle company. Founded in 1901, Indian Motorcycle has won the hearts of motorcyclists around the world and earned distinction as one of America's most legendary and iconic brands through unrivalled racing dominance, engineering prowess and countless innovations and industry firsts. Today that heritage and passion is reignited under new brand stewardship. To learn more, please visit www.indianmotorcycle.eu
MEDIA CONTACT
Ian Austin
EMEA Press Indian Motorcycle
Follow us on Twitter @IndianEMEA_PR
+44 7471 030606
press@indianmotorcycle.media