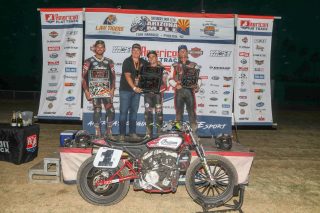 Wrecking Crew riders Jared Mees, Brad Baker and Indian Motorcycle privateer Henry Wiles finish 1-2-3 at Arizona Mile
PHOENIX, AZ (MAY 14, 2018) – Indian Motorcycle Racing continued its dominance in American Flat Track, as Wrecking Crew riders Jared Mees, Brad Baker and Indian Motorcycle privateer Henry Wiles finish 1-2-3, respectively.
The Arizona Mile marked consecutive races of an all-Indian Scout FTR750 podium.
After edging out Baker in Semi 1, Mees earned the first starting position and selected the outside spot on the front line of the Main. Mees held the first-place position in to turn one and never looked back, lengthening his lead and ultimately lapping through the 11th-place rider. Wiles aligned next to Mees, while Baker strategically selected the outside starting position on the second line. Baker made several passes early to gain control of the second-place spot, while Wiles battled for the final podium position through all 20 laps.
"It was a long day on a tough track, so to be leaving the first mile of the season with a win is huge," said Mees. "I cannot thank my team enough for continuing to have my Indian Scout FTR750 dialed in."
Seven Indian Scout FTR750s made the Main, with all seven finishing in the top 10. Davis Fisher (Double D Performance), Robbie Pearson (R/J Performance), Chad Cose (Indian Motorcycle of OKC) and Jeffrey Carver Jr. (Roof Systems, Indian of Metro Milwaukee) finished sixth, seventh, eighth and ninth, respectively.
"Our factory and privateer riders continue to perform and compete at a high level," said Gary Gray, Vice President – Racing, Technology & Service for Indian Motorcycle. "As we hit a stretch of Miles, we're excited for Bryan Smith's return next week in Sacramento. The 'mile master' will surely give the competition a run for their money."
Indian Wrecking Crew rider Bryan Smith, who missed his second consecutive race with a broken left fibula, plans to return at the Sacramento Mile on May 19. Smith has won at Sacramento for the past seven years in a row and hopes to return to the track and extend his win streak to eight.
www.americanflattrack.com/results/
# # #
ABOUT INDIAN MOTORCYCLE
Indian Motorcycle is America's First Motorcycle Company. Founded in 1901, Indian Motorcycle has won the hearts of motorcyclists around the world and earned distinction as one of America's most legendary and iconic brands through unrivaled racing dominance, engineering prowess and countless innovations and industry firsts. Today that heritage and passion is reignited under new brand stewardship. To learn more, please visit www.indianmotorcycle.eu
# # #
CONTACT
Dan Tye
PR Manager (EMEA)
Follow us on Twitter @IndianEMEA_PR
+44 (0) 1525 270100
press@indianmotorcycle.media