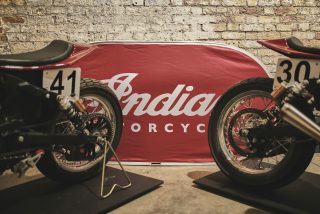 Indian Motorcycle is the title sponsor for this year's DTRA Nationals
Spectating welcome at races throughout the season
Five rounds of Hooligan racing will culminate with the winner riding away on a Scout Sixty
[The Bike Shed, London] – Indian Motorcycle and the Dirt Track Riders Association (DTRA) have announced a partnership for the coming season of dirt track racing.
Indian Motorcycle will be the title sponsor for the 2018 DTRA Flat Track Nationals.
Competition classes are:
Hooligan Class
Rookie Class
Adult Intermediate Class
Pro Class
Sportax Thunderbike Class
Sideburn Magazine Vintage Class (Two Stroke and Four Stroke)
Mini Bike Class
Youth Junior Flat Track Class
Youth Intermediate Flat Track Class
Youth Senior Flat Track Class
Rider entries are now open for all classes and Anthony Brown, DTRA Club Director said they are really excited about the 2018 season. "We cannot wait to get things underway in April," he says. "We have a new meeting format that will help us to showcase the Pro riders and the Hooligan class. I am really pleased to have Indian Motorcycle on board; we have many shared interests and they really understand the people we have riding with us and the direction we are travelling with our sport."
Indian Motorcycle debuted in last year's Hooligan Class, with five of the 28 riders on an Indian Scout or Indian Scout Sixty up against a field of Kawasaki, Harley-Davidson, Triumph and other road bike derived machines.
The Hooligan racers gave great action right up to the last round at DirtQuake, where Spanish rider Ferran Mas won the DTRA Hooligan Championship on a Krazy Horse prepared Indian Scout Sixty (pictured below).
The Hooligan class rules are simple and designed to keep costs down and fabrication to a minimum; riders enter on street bikes with a capacity of 750cc and up, stripped down and fitted with flat track tyres.
There will be five Hooligan class races this season with the first taking place at the Adrian Flux Arena in Kings Lynn in April. The second race moves to the Netherlands on the Lelystad Speedway, also known as Hells Race. Races three and four take place in close succession during the weekend of the MCN Festival. There'll be a couple of quiet months before the final round in August at DIRTQUAKE at the Arena Essex, giving racers and spectators five weekends of fun, excitement and partying between April and August. The overall winner of the 2018 DTRA Indian Motorcycle Hooligan Class will ride away as the proud owner of a stunning Scout Sixty.
Most of the races are free to attend and spectate at, so the more the merrier.
While the El Rollo flat track race during the Wheels & Waves festival isn't part of the championship, many of the competitors also make the trip over to Spain to take part (and to party) so all are welcome to join Indian out in Biarritz too.
HOOLIGAN CHAMPIONSHIP DATES
April 7                        Adrian Flux Arena   Kings Lynn, UK
May 5 & 6                  Hells Race                 Speedway Leylstad, Netherlands
May 19 & 20             MCN Festival            Peterborough Showground, UK
August 18                  DIRTQUAKE            Arena Essex, UK
Find out more about all the race classes and dates at www.dirttrackriders.co.uk
Photos by Paul France. 
# # #
ABOUT THE DTRA
The Dirt Track Riders Association is run by riders and racers to promote European Flat Track racing. The series has grown year on year and is gaining popularity with riders from all disciplines of motorcycle sport from Rookie riders to Pro racers. Racing classes mean racing is open to many different levels of riders and types of bike. The DTRA has been instrumental in growing all forms of Dirt Track Racing outside of the USA and the UK scene has grown to be the second largest outside North America.
ABOUT INDIAN MOTORCYCLE
Indian Motorcycle Company, a wholly owned subsidiary of Polaris Industries Inc. (NYSE: PII), is America's First Motorcycle Company. Founded in 1901, Indian Motorcycle has won the hearts of motorcyclists around the world and earned distinction as one of America's most legendary and iconic brands through unrivalled racing dominance, engineering prowess and countless innovations and industry firsts. Today that heritage and passion is reignited under new brand stewardship. To learn more, please visit www.indianmotorcycle.eu
MEDIA CONTACT
Steve Cain
External Relations Manager (UK)
+44(0)7916 371113
steve.cain@polaris.com