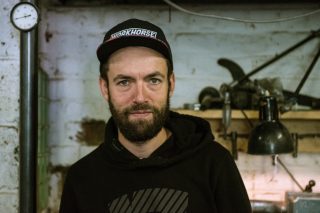 BELGIUM (March 7, 2019) – Indian Motorcycle is taking the fight to the 2019 Sultans of Sprint Factory Class with a unique Scout Bobber racer. Brice Hennebert of Workhorse Speed Shop will be transforming a Bobber over the coming weeks with technical expertise and premium components from project partners Akrapovič, MOTOREX and Öhlins.
Founded by Brice in 2016, Belgian based Workhorse Speed Shop has become known for exceptional creations which use the history surrounding the donor motorcycle as their inspiration.
"During the 2018 Sultans of Sprint series, I was really impressed with the bike by Workhorse Speed Shop," says Grant Bester, Vice President and General Manager for Indian Motorcycle EMEA. "Talking with Brice, I realised that he has a real talent for telling a story through his work. This brought Brice right to the front of my mind to create something special for our 2019 Sultans entry. I am really looking forward to unveiling the final build and revealing the inspiration behind it."
Brice Hennebert says, "It's a real pleasure to work on this project for Indian. With such a rich legacy to draw on it's going to be an exciting journey transforming the Scout Bobber into a full-blooded sprint racer. I think that people will really be surprised by the end result."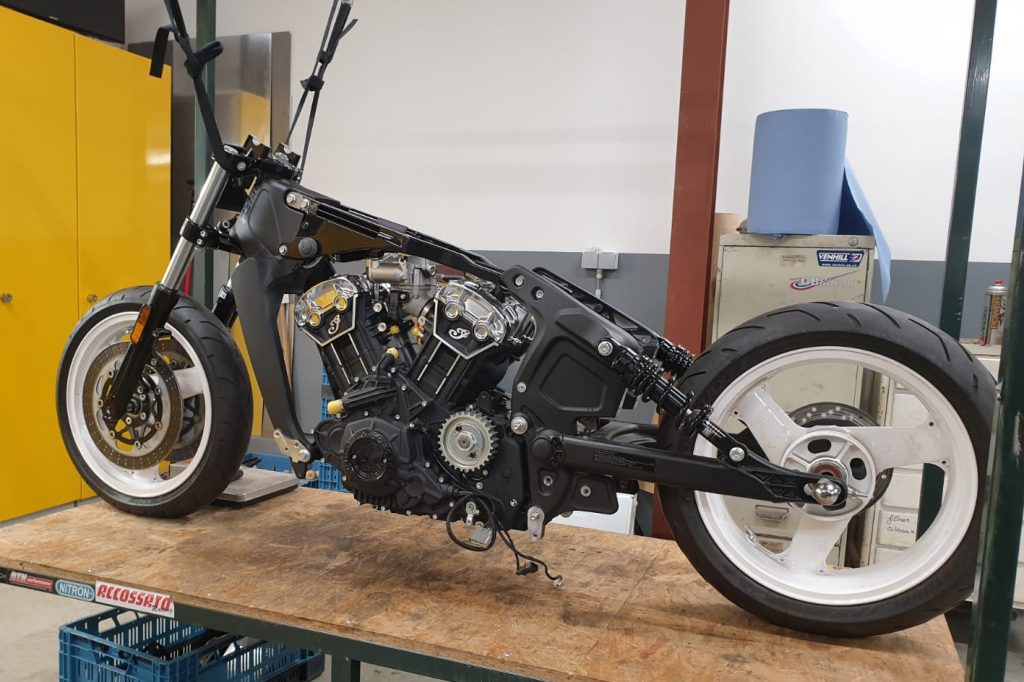 "Although I don't want to reveal too much at this early stage, work has already begun," continues Brice. "The Bobber has been stripped down to a rolling chassis and I've narrowed the fuel tank by 200mm, although it now won't be housing the fuel, but more on that in the future. I'm experimenting with wheels, more for sizing than design at this stage, and I've fabricated the aluminium sub-frame to support the rider during fast launches."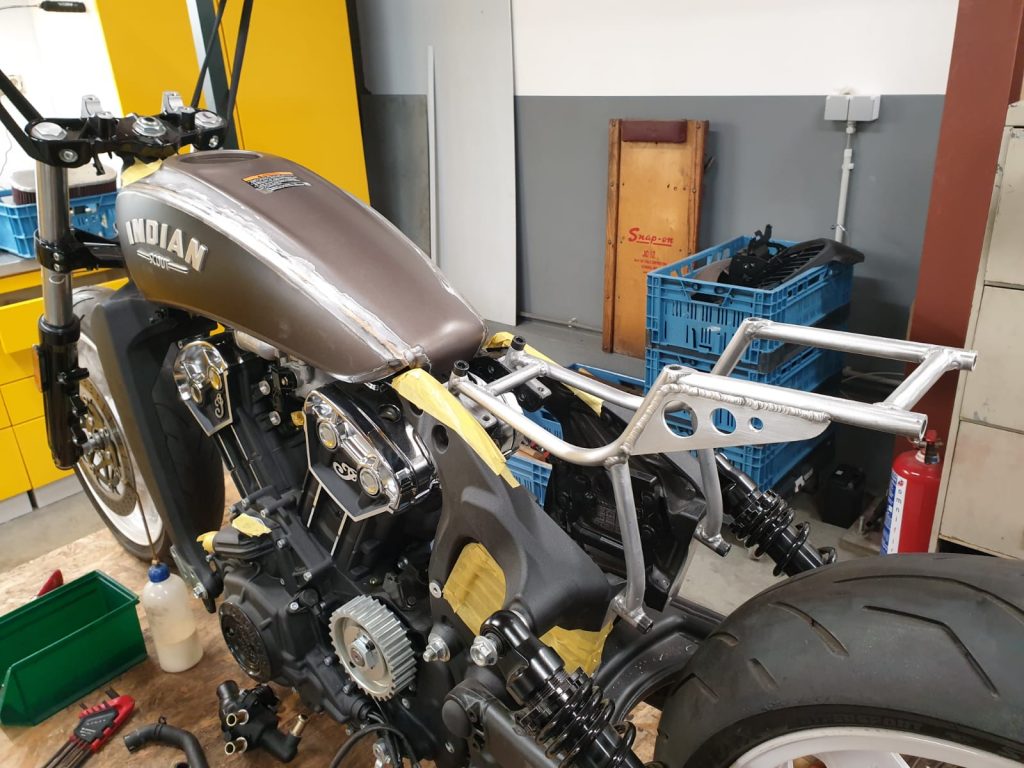 Brice and the Scout Bobber will soon be visiting Akrapovič where the Low-Mount Slip-On exhausts for the FTR 1200 are born and where their team of engineers, who work with racing teams that have won various world championships, will use their highly advanced technology and lightweight titanium to create a bespoke exhaust system to obtain maximum output and extract the best possible sound from the 1133cc V-Twin.
To ensure the tuned engine performs at its full potential, MOTOREX are supplying their advanced motorcycle lubricants which have been developed and tested in the most extreme conditions. Having achieved numerous motorcycle racing triumphs, MOTOREX lubricants will ensure the Scout Bobber benefits from maximum power, optimum performance of the clutch and precise gear shifts.
With high performance sprint racing, grip and stability are key to achieving the best times, therefore Öhlins are providing Workhorse with a complete package of their advanced suspension technology including front forks, matching rear shock and a steering damper. With Öhlins long history in the motorsport industry, from national racing to MotoGP, the Scout Bobber will gain an advantage from 40 years of championship winning experience and development.
Progress of the Scout Bobber sprint racer project can be followed on social media channels in the coming weeks. Follow us to keep up to date.
Workhorse Speed Shop
Instagram: @workhorse_speedshop
Facebook: /workhorsespeedshop
Akrapovič
Instagram: @Akrapovic
Facebook: /Akrapovic
Twitter: @MyAkrapovic
Youtube: /myAkrapovic
MOTOREX
Instagram: @motorex_powersports
Facebook: /MOTOREXPowersports
Öhlins
Instagram: @Ohlinsracing
Facebook: /Ohlinsracing
Twitter: @ohlinsracing
LinkedIn: @Ohlins Racing AB
Indian Motorcycle Facebook
Benelux: /IndianMotorcycleBenelux
Czech Republic: /IndianMotorcycleCZ
Denmark: /indiandanmark/
France: /IndianMotorcycleFrance
Germany & Austria: /IndianMotorcycleGermany
Greece: /indianmotorcyclegreece
Indian: /Indianmotorcycleindia
Italy: /indianmotorcycleitalia
Norway: /IndianMotorcycleNorway
Poland: /IndianMotocyklePolska
Portugal: /IndianMotorcyclePortugal
Qatar: /IndianMotorcycleQatar
Saudia Arabia: /indianmcksa
South Africa: /IndianMotorcycleSouthAfrica
Spain: /IndianMotorcycleSpain
Sweden: /indianmotorcyclesweden
Switzerland: /indianmotorcycleswitzerland
United Arab Emirates: /Indian.Motorcycle.UAE
UK & Ireland: /indianmotorcycleuk
Notes for editors
• Additional images are available to download at www.indianmotorcycle.media
• Sign in with your existing account or register for access at www.indianmotorcycle.media/register
###
ABOUT WORKHORSE SPEED SHOP
Workhorse is the story of a passion. Brice Hennebert grew up surrounded by his father's motorcycles and was raised by a creative mother. Learning mechanics at an early age, Brice later trained as a graphic designer before opening a custom motorcycle workshop in 2012 with a like-minded bike fanatic. In 2016, Brice returned to the workshop of his childhood in Nodebais, Belgium to launch Workhorse Speed Shop. Workhorse provides a full range of services from accessory fitment through to complete custom builds. To learn more, please visit www.workhorsespeedshop.com
ABOUT AKRAPOVIČ
Akrapovič is a market-leading manufacturer of premium exhaust systems for motorcycles and performance cars. It is a pioneer in the innovative use of super-alloys and at the forefront of carbon components. Akrapovič exhaust systems are renowned for increasing performance, unmistakable sound, innovative design, lightweight construction, quality workmanship, and durability. Founded in Slovenia twenty-eight years ago by former motorcycle racer Igor Akrapovič, the brand has grown to international prominence through its successful support of racing teams that lead their class in many forms of premier motorsport. To learn more, please visit www.akrapovic.com
ABOUT MOTOREX – Oil Of Switzerland
Manufactured to the highest standards in Langenthal, Switzerland, MOTOREX products are well-known around the world for their superior quality and performance. Founded by pioneer Arnold Bucher in 1917, the BUCHER-MOTOREX Group is an independent family owned business that pride themselves on high-quality products and world class customer care. To learn more, please visit www.motorex.com
ABOUT ÖHLINS
Öhlins Racing has been an integrated part of the motorsport industry as well as the motorcycle and automotive industry for 40 years. Our focus has always been on high quality products, service and support, all the way from the MotoGP circuits to the local national racing events in over 50 distributing countries. Our philosophy has always been to supply the aftermarket, OEM partners and teams with high-end suspension technology and we are all dedicated to exceed our customer's expectations throughout the world. To learn more, please visit www.ohlins.com
ABOUT INDIAN MOTORCYCLE
Indian Motorcycle, a wholly owned subsidiary of Polaris Industries Inc. (NYSE: PII), is America's first motorcycle company. Founded in 1901, Indian Motorcycle has won the hearts of motorcyclists around the world and earned distinction as one of America's most legendary and iconic brands through unrivalled racing dominance, engineering prowess and countless innovations and industry firsts. Today that heritage and passion is reignited under new brand stewardship. To learn more, please visit www.indianmotorcycle-intl.eu/select-country/
MEDIA CONTACT
Ian Austin
EMEA Press Indian Motorcycle
Follow us on Twitter @IndianEMEA_PR
+44 7471 030 606
press@indianmotorcycle.media