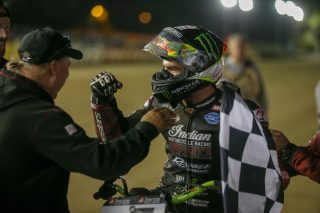 Reigning champion Jared Mees, Indian privateer Kenny Coolbeth Jr. & Wrecking Crew rider Bryan Smith sweep podium 
SACRAMENTO, CA (May 21, 2018) – Indian Motorcycle Racing's Scout FTR750 continues its dominance in American Flat Track (AFT) racing – sweeping the top seven positions at the Sacramento Mile.
Reigning Grand National Champion Jared Mees again took the top position, with Nila Racing/Columbia Avionics privateer Kenny Coolbeth Jr. securing second place, and Wrecking Crew rider Bryan Smith placing third. The podium sweep marks the third consecutive race of an all Scout FTR750 podium.
In typical Mees fashion, he quickly worked his way to the front and remained in the first-place position through the 25 laps. Coolbeth worked his way to third place from a challenging position, finally holding the second-place spot. Smith returned to the dirt track after breaking his left fibula during a Semi Final race at the Texas Half-Mile on April 28 and secured his best finish of the season.
"It feels great to finally get the win at the legendary Sacramento Mile. This has been a track I have desperately wanted for many years," said Mees. "The Indian Scout FTR750 once again proved it's the best bike on the track – this time taking the top seven spots."
Wrecking Crew rider Brad Baker finished fourth, while Indian Motorcycle privateers Henry Wiles (Wilco Racing/Willy Built/Bandit Industries), Davis Fisher (No. 67 RMR/Double D Performance) and Chad Cose (Indian Motorcycle of Oklahoma City), placed fifth, sixth and seventh, respectively.
"It was another thrilling night to see all seven of the Scout FTR750s lead the board," said Gary Gray, Vice President – Racing, Technology & Service for Indian Motorcycle. "We were impressed to see Smith make such a quick comeback and finish third after breaking his leg just weeks ago."
Through the six races this season, Mees continues to sit atop of the leaderboard with 125 points and five wins, while Wiles ranks second with 89 points. Baker, Coolbeth, Fisher and Jeffrey Carver Jr. currently sit fourth, fifth, sixth and seventh place, respectively.
The Indian Wrecking Crew and stable of privateers aboard the Scout FTR750 will continue its season on May 27 at the Springfield Mile.
Photo Credit: Scott Hunter/AFT
RESULTS here.
# # #
ABOUT INDIAN MOTORCYCLE
Indian Motorcycle is America's first motorcycle company. Founded in 1901, Indian Motorcycle has won the hearts of motorcyclists around the world and earned distinction as one of America's most legendary and iconic brands through unrivalled racing dominance, engineering prowess and countless innovations and industry firsts. Today that heritage and passion is reignited under new brand stewardship. To learn more, please visit www.indianmotorcycle.eu.
MEDIA CONTACT
Dan Tye
PR Manager (EMEA)
Follow us on Twitter @IndianEMEA_PR
+44 (0) 1525 270100
press@indianmotorcycle.media