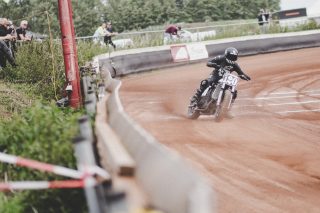 NETHERLANDS – Shrimp Mille, the Indian Scout Sixty tracker built by Anvil Motociclette, continued its European tour with race success at the Flat Lands Festival in Lelystad. Racing on the flat track oval, Shrimp proved to be one of the fastest on the track adding to its previous race success.
After the official launch at Artride during Wheels and Waves, the Anvil Racing Team has taken the Shrimp to the main European festivals and events in partnership with Indian Motorcycle. Shrimp quickly secured a race win with Vittorio Emanuele Marzotto during Over the Top Flat Track Championship in Italy and has now come back to the top of the rankings at Flat Lands Festival 2018.
During the first day of the festival, Stefano Erba challenged all the other racers on the oval, but it was on the Sunday when Alessandro Phonz Fontanesi, one of the minds behind Anvil and the bike, took the Shrimp to victory. Phonz took to the saddle of the Shrimp after he broke his own motorcycle on the Saturday and decided to keep racing the bike that Anvil dedicated to legendary Indian Motorcycle racer Albert "Shrimp" Burns.
In the early qualification runs, Phonz was 5th fastest as he got used to the Scout Sixty based tracker but improved his results during the day to achieve second place in two of the early race heats. In the super final, Shrimp arrived at the first turn in third place, and over the next eight laps Phonz improved his pace to keep all the watching race fans on the edge of their seats as he moved to the front and crossed the line in first place.
The style, the design and the flexibility of Shrimp clearly impressed the crowd, who were very interested in both the Indian Motorcycle brand and this unique vision of the Indian Scout Sixty built with the unmistakable touch of "Hell Made" motorcycles by Anvil.
The Shrimp Mille will be displayed at INTERMOT from October 3rd to October 7th on the Indian Motorcycle show stand.
More images available to download at www.indianmotorcycle.media. Register for access or sign in with your existing account.
###
ABOUT ANVIL MOTOCICLETTE
Anvil Motociclette is not just a garage, it is a creative studio and always aims to develop full projects following its own quality and beauty standards. Anvil always starts from history to create a story that describes their projects. www.anvilmotociclette.com
ABOUT INDIAN MOTORCYCLE
Indian Motorcycle, a wholly owned subsidiary of Polaris Industries Inc. (NYSE: PII), is America's first motorcycle company. Founded in 1901, Indian Motorcycle has won the hearts of motorcyclists around the world and earned distinction as one of America's most legendary and iconic brands through unrivalled racing dominance, engineering prowess and countless innovations and industry firsts. Today that heritage and passion is reignited under new brand stewardship. To learn more, please visit www.indianmotorcycle.eu
MEDIA CONTACT
Ian Austin
EMEA Press Indian Motorcycle
Follow us on Twitter @IndianEMEA_PR
+44 7471 030606
press@indianmotorcycle.media