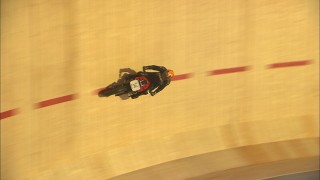 Indian Scout was used by Guy Martin to prepare for live TV show on Channel 4
More details released about the 'Wall of Death' Scout built by the Krazy Horse Indian dealership in Bury St Edmunds
In a live televised event shown on Channel 4 in the UK on Easter Monday, Guy Martin set a new world record for the fastest speed around a Wall of Death.
While Guy set the overall speed record on his own custom-built motorcycle, to prepare for the live attempt, he had access to two Indian Scouts, made 'Wall ready' by Krazy Horse, an Indian Motorcycle dealership based in Bury St Edmunds.
Thousands tuned in on the Monday evening to watch Guy brave the steep wooden sides of the huge Wall of Death (with a 118m circumference) in a disused hangar in Lincolnshire – the aim to break the 60 mph mark live on TV.
On his first attempt riding the Indian Scout, Guy hit 60.1 mph, an instant Guinness World Record. On his second attempt, he achieved 70.33 mph. Guinness World of Records confirmed the result, but then Guy decided to try and beat it with a home built BSA R3 running on aviation fuel (with a Rob North frame) that he had custom-built as a tribute to his father.
Back up on the wall Guy reached 78.15 mph riding the custom bike and this speed was taken as the final World Record.
The Indian Scout he rode was a standard machine that was specially prepared to be 'Wall ready'. Back in 2014, Indian built a Wall of Death Scout to mark the launch of the new model at the Sturgis Rally. The same team behind this first Wall of Death Scout then advised Ken Fox, engineer Curly Porter and the team at the Krazy Horse dealership. Differences from the standard machine include Renthal handlebars, lay-back risers, modified lower frame struts to accommodate foot-plates, 18″ wheels, a shortened rear fender and a special paint job.
Jim Clarke, Country Manager for Polaris UK & Ireland said: "We congratulate Channel 4 on a fantastic achievement. Seeing Guy ride the Indian Scouts in preparation for the live show and initially setting a new world record was an extremely proud moment for us. Indian Motorcycle was very pleased to supply the Scouts for this project and support Ken Fox and Krazy Horse in working their magic. It's testament to the Scout that a production motorcycle with very little modification could ride around that gigantic Wall of Death and help to set a new World Record."
Those who didn't see the event live can now watch the show online at All4: http://www.channel4.com/programmes/guy-martins-wall-of-death-live/on-demand/60452-001
###
CREDIT TO USE FOR ALL PHOTOS IS: Guy's Wall of Death: LIVE
###
ABOUT GUY'S WALL OF DEATH: LIVE
The 'Wall of Death' is an epic stunt that involves riding a motorcycle around a circular vertical wall at high speeds. The spectacle dates back to the early 1900s and became a popular staple of travelling fairgrounds across America and Britain. Guy and his support team of scientists and engineers planned to revive this stunt in epic fashion by attempting to set a Wall of Death world speed record. The record attempt required them to build the largest Wall of Death the world has ever seen. Guy, a professional motorcycle racer, then had to learn how to ride along the vertical wall at high speed and how to cope with extreme G-forces usually only experienced by seasoned fighter pilots. Guy trained with the legendary Ken Fox's Hell Riders – the UK's No. 1 Wall of Death troupe. The Fox family has been touring and entertaining since the 1920s and Ken Fox is recognised as one of the world's leading Wall of Death riders. Guy then graduated to ride the largest ever Wall of Death. It spanned a massive 40 metres in diameter – over four times larger than a traditional fairground Wall of Death. To allow Guy to train day and night, rain or shine, in the run up to his record attempt, the huge structure was built in an aircraft hangar close to Guy's Lincolnshire home. Finally, almost two years of graft all came down to one spectacular night of live TV, when Guy attempted to ride at over 60mph on this vertical wall. The show – Guy's Wall of Death: LIVE – was commissioned by Sara Ramsden, Commissioning Editor for Specialist Factual for Channel 4 and was produced by North One Television. Sara Ramsden says: "Yet again Guy shows his daring appetite for speed. This time he proves you don't have to cross to the other side of the world to get a major adrenaline rush. Instead he's travelling just a few miles from his home to push the limits of what a human body can withstand."
ABOUT INDIAN MOTORCYCLE
Indian Motorcycle, a wholly-owned subsidiary of Polaris Industries Inc. (NYSE: PII), is America's first motorcycle company. Founded in 1901, Indian Motorcycle has won the hearts of motorcyclists around the world and earned distinction as one of America's most legendary and iconic brands through unrivalled racing dominance, engineering prowess and countless innovations and industry firsts. Today that heritage and passion is reignited under new brand stewardship. To learn more, please visit www.indianmotorcycle.com.
ABOUT POLARIS INDUSTRIES
Polaris Industries Inc. (NYSE: PII) is a global powersports leader with annual 2015 sales of $4.7 billion. Polaris fuels the passion of riders, workers and outdoor enthusiasts with our RANGER®, RZR® and POLARIS GENERAL™ side-by-side off-road vehicles; our SPORTSMAN® and POLARIS ACE® all-terrain off-road vehicles; VICTORY® and INDIAN MOTORCYCLE® midsize and heavyweight motorcycles; SLINGSHOT® moto-roadsters; and Polaris RMK®, INDY®, SWITCHBACK® and RUSH® snowmobiles. Polaris enhances the riding experience with parts, garments and accessories sold under multiple recognizable brands, and has a growing presence globally in adjacent markets with products including military and commercial off-road vehicles, quadricycles, and electric vehicles. www.polaris.com
MEDIA CONTACT
Dan Tye
EMEA PR
@IndianEMEA_PR
+44 7471 030606
press@indianmotorcycle.media