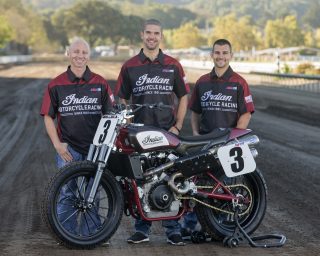 American Flat Track kicks off this coming Thursday at the all-new DAYTONA TT circuit inside Daytona International Speedway.
The DAYTONA TT marks the start of a new era of flat track racing as Indian sets out to unleash its FTR750 and Wrecking Crew consisting of Bryan Smith, Brad Baker and Jared Mees.
Look out for the race number 1 for Bryan Smith, race number 6 for Brad Baker and race number 9 for Jared Mees.
The freshly rebranded American Flat Track series (formerly AMA Pro Flat Track) has an expanded 18-round schedule and includes a mix of track configurations (six Miles, seven Half-Miles, two Short Tracks and three TTs) and boasts the most number of rounds ever on a schedule since 2011.
Here are the dates of the 18 rounds:
Mar 16:           DAYTONA TT – Daytona International Speedway, Daytona Beach, Fla
Mar 25:           Atlanta Short Track – Dixie Speedway, Woodstock, Ga
Apr 1:              Charlotte Half-Mile – Charlotte Motor Speedway, Concord, NC
May 13:         Arizona Mile – Turf Paradise, Phoenix, Ariz
May 20:         Sacramento Mile – Cal Expo Fairgrounds, Sacramento, Calif
May 27-28:   Springfield Mile I* – Illinois State Fairgrounds, Springfield, Ill
Jun 3:             Red Mile – The Red Mile, Lexington, Ky
Jun 17:           OKC Mile – Remington Park, Oklahoma City
Jun 24:          Lima Half-Mile – Allen County Fairgrounds, Lima, Ohio
Jul 8:              Rolling Wheels Half-Mile – Rolling Wheels Raceway Park, Elbridge, NY
Jul 29:           Calistoga Half-Mile – Calistoga Speedway, Calistoga, Calif
Aug 6:            Buffalo Chip TT presented by Indian Motorcycle – Campgrounds, Sturgis, SD
Aug 8:            Black Hills Half-Mile – Black Hills Speedway, Rapid City, SD
Aug 13:          Peoria TT – Peoria Motorcycle Club, Peoria, Ill
Sep 2-3:        Springfield Mile II** – Illinois State Fairgrounds, Springfield, Ill.
Sept. 9:          Williams Grove Half-Mile – Williams Gove Speedway, Mechanicsburg, Pa
Sept. 23:       Lone Star Half-Mile – Texas Motor Speedway, Fort Worth, Texas
Oct. 7:            Perris Short Track – Perris Auto Speedway, Perris, Calif
* AFT Singles will race a TT on May 27
** AFT Singles will race a Short Track on September 2
On race day, Indian Motorcycle owners can receive a limited edition, race-inspired patch. These patches will also be available from Indian Motorcycle of Daytona Beach dealership throughout Daytona Bike Week.
Everyone can watch the race live online at http://fanschoice.tv/american-flat-track on Thursday 16th March.
The AFT Twins Race (25 laps) kicks off at 03:10am Central European Time.
###
Facebook pages
Bryan Smith Racing              https://www.facebook.com/BryanSmith42/
Brad The Bullet Baker          https://www.facebook.com/BradtheBullet/
Jared Mees Racing              https://www.facebook.com/jaredmeesracing/
Twitter profiles
@bsmithforty2
@bradthebullet
@jmees1
###
ABOUT INDIAN MOTORCYCLE
Indian Motorcycle, a wholly owned subsidiary of Polaris Industries Inc. (NYSE: PII), is America's first motorcycle company. Founded in 1901, Indian Motorcycle has won the hearts of motorcyclists around the world and earned distinction as one of America's most legendary and iconic brands through unrivalled racing dominance, engineering prowess and countless innovations and industry firsts. Today that heritage and passion is reignited under new brand stewardship. To learn more, please visit www.indianmotorcycle.eu
MEDIA CONTACT
Dan Tye
EMEA PR
Follow us on Twitter @IndianEMEA_PR
+44 7471 030606
press@indianmotorcycle.media