Files
Indian Motorcycle startet mit FTR1200 Custom beim Sultans of Sprint in der Factory Class

Login to Download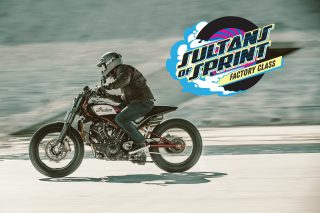 Six months ago, Indian Motorcycle revealed one of the most exciting custom motorcycles ever built to celebrate their return to flat track racing and winning the championship. 
In those six months over thirty thousand comments made on social media have confirmed the FTR1200 Custom's popularity, so Indian has decided to bring it to Europe to compete in the Sultans of Sprint races and ask our EU fans the all-important question: "Should Indian build this bike?".
With #speedisoureligion as its hashtag, the Sultans of Sprint series bring together the best bike builders from the new custom bike scene in Europe in to race and to party at key festivals in Italy, Belgium, Germany and France.
The series has a number of categories of sprint racing, with the Scout FTR1200 Custom able to enter the newly created Factory Class.
In this Factory Class, motorcycles must be four-stroke (air or water cooled) and there is no limit regarding the engine capacity providing that the tuned bike does not exceed a specific power-to-weight ratio.
Bikes in the Factory Class can either be customised by private workshops or can be entered by a manufacturer as an 'in house' custom built racer.
Grant Bester, VP and General Manager for Indian in EMEA says he is thrilled to be able to bring the FTR1200 Custom back over in to Europe. "We've been overwhelmed by the response to this bike, so to finally be able to let people see and hear it race in the Sultans of Sprint really excites everyone working at Indian," he says. "We'll be racing it in four key countries, Italy, Belgium, Germany and France, and we cannot wait to see people's reactions when they see this sprint race."
You'll be able to see the FTR1200 Custom in action at The Reunion event in Italy in May, followed by Biker's Classics in Spa in July, then Glemseck in early September and finally the Dandy Riders festival in France in late September. Indian also plans to have the bike on static display in the UK at The Bike Shed and during Wheels & Waves in France.
Sultans of Sprint founder, Sébastian Lorentz says: "I am very excited to welcome Indian Motorcycle in the Sultans of Sprint challenge within the new FACTORY CLASS that we have just launched this season. I think that the combination of sprint racing and creativity is a perfect match between Indian Motorcycle and Sultans of Sprint. We are super happy to have the Indian Motorcycle team with the race number #12 which will be added on the Indian FTR1200 to compete for this season. This custom bike is really a show stopper and I am sure it will be exciting to watch on our 1/8-mile races all over Europe this summer."
Race 1 at The Reunion, Monza, Italy, 19th to 20th May
Race 2 at Bikers Classic, Spa, Belgium, 30th June to 1st July
Race 3 at Glemseck, Germany, 30th August to 2nd September
Race 4 at Dandy Rider's Festival, 22nd to 24th September
The FTR1200 Custom will also make an appearance at the Bike Shed and the Wheel & Waves festival.
UK > http://www.indianmotorcycle.co.uk/flat-track-race/ftr-1200-custom/
Spain >
Germany >
France >
# # #
NOTES TO EDITORS
The sprint racing has a points system that rewards not only for the racing, but also for the style, craziness and creativity of the teams taking part. Points are rewarded as follows.
10 points for participating in each event
10 points for winning a sprint round
35 points for a first place in the race
34 points for a second place in the race
33 points for a third place in the race
Double points for the last race event
ABOUT INDIAN MOTORCYCLE
Indian Motorcycle is America's first motorcycle company. Founded in 1901, Indian Motorcycle has won the hearts of motorcyclists around the world and earned distinction as one of America's most legendary and iconic brands through unrivalled racing dominance, engineering prowess and countless innovations and industry firsts. Today that heritage and passion is reignited under new brand stewardship. To learn more, please visit www.indianmotorcycle.eu.
MEDIA CONTACT
Dan Tye
PR Manager (EMEA)
Follow us on Twitter @IndianEMEA_PR
+44 (0) 7471 030606
press@indianmotorcycle.media