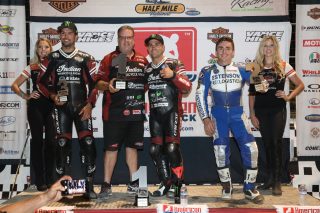 CALISTOGA, CA (JULY 31, 2017) – Indian Motorcycle Racing and the Scout FTR750 has secured its tenth first-place finish of the 2017 American Flat Track season with Jared Mees' dominant performance at the Calistoga Half-Mile.
Jared Mees captured his sixth win of the season and was joined on the podium by fellow Wrecking Crew rider Brad Baker, who placed third. Together, these finishes propel Indian Motorcycle Racing to 25 of 33 podiums during the season so far.
Jared Mees remained red hot and proved to be unstoppable around the Calistoga Speedway on his Scout FTR750 during the main event. Mees finished the 25-lap race with a significant 3.571-second margin of victory and sailed by the chequered flag in a one-handed wheelie. The closest battle was for third place between teammates Brad Baker and Bryan Smith, with the former edging out by 0.067 of a second for the podium finish.
"It felt good to get my sixth win of the season at Calistoga Half-Mile," said Jared Mees. "It was a long three week break since an AFT event, but my team continued to work hard and have my Scout FTR750 dialed for this race."
Through 11 races this season Jared Mees and Bryan Smith own ten first-place finishes. The Wrecking Crew also holds the top three positions in the season's point standings with Jared Mees at 227, Smith at 209 and Baker 166.
"Indian's return to flat track was contingent on our ability to develop a truly best-in-class race bike. It goes without saying that we're incredibly proud of what our team has accomplished with the Scout FTR750," said Gary Gray, Vice President – Product for Indian Motorcycle. "With seven more events, our Wrecking Crew will continue to prepare and work toward finishing the season as strong as they started."
Indian Motorcycle Racing, backed by Allstate Insurance, will look to continue its incredible run as American Flat Track heads to the Buffalo Chip TT presented by Indian Motorcycle on August 6.
# # #
ABOUT INDIAN MOTORCYCLE
Indian Motorcycle, a wholly owned subsidiary of Polaris Industries Inc. (NYSE: PII), is America's first motorcycle company. Founded in 1901, Indian Motorcycle has won the hearts of motorcyclists around the world and earned distinction as one of America's most legendary and iconic brands through unrivalled racing dominance, engineering prowess and countless innovations and industry firsts. Today that heritage and passion is reignited under new brand stewardship. To learn more, please visit www.indianmotorcycle.eu
MEDIA CONTACT
Dan Tye
EMEA PR
Follow us on Twitter @IndianEMEA_PR
+44 7471 030606
press@indianmotorcycle.media