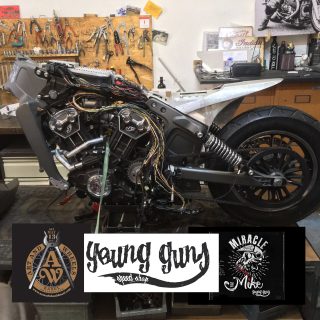 • Nik & Fabian will unveil 'Miracle Mike' at Art & Wheels in Basel
• Scout named 'Miracle Mike' after a chicken that lived for 18 months with no head
• First Essenza sprint race will be at the Café Racer Festival in France on Saturday 10th June
Nik and Fabian from the Young Guns Speed Shop are now two weeks away from unveiling their customised Scout at an art and motorcycle show in Switzerland.
Their silver Indian Scout has been transformed into a sprint racer and will be unveiled at the Art & Wheels show in Basel, Switzerland on Saturday 13th May.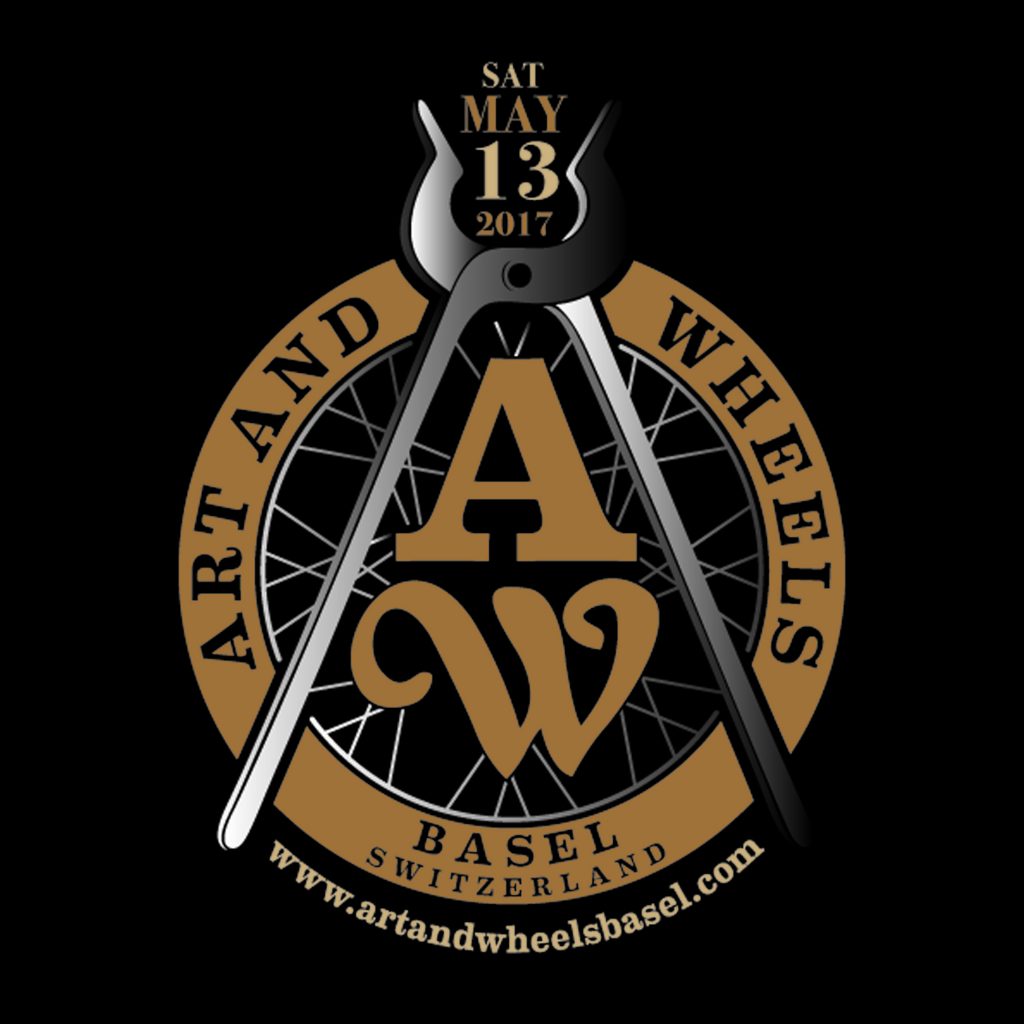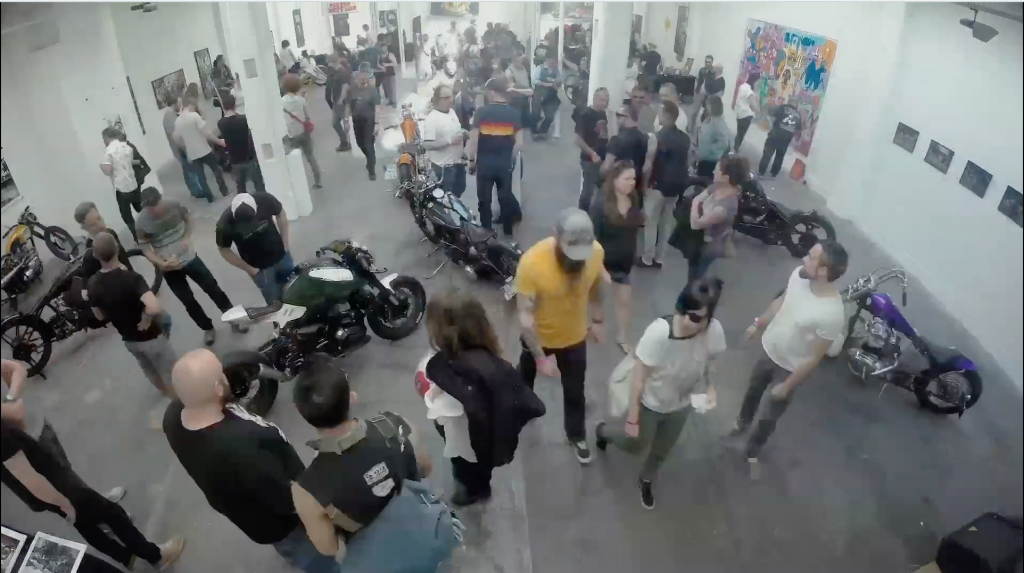 Miracle Mike, built with the official support of Indian Motorcycle, will be one of 16 motorcycles taking part in this year's Essenza sprint races and design competition.
There are two Essenza sprint races this year, one at the Café Racer Festival in Montlhery, France in June and one at Glemseck 101 in Germany in September.
Miracle Mike will face bikes entered by other manufacturers on a dead straight 1/8th of a mile strip. The winners will be the highest ranked participants in both sprints.
As well as the racing, during the three months between the two sprints a professional jury and the public will vote for which motorcycle should win the design competition. Nik and Fabian hope to win both the sprints and the design competition.
The pair's Indian Scout is called 'Miracle Mike' after a famous American chicken that had its had chopped off but continued to live for 18 months.
The true story can be read here and the Young Guns wanted to keep a theme of naming their motorcycles after birds, such as Ferdinand the Sparrow that they built to race on the Bonneville Salt Flats.
As Nik explains: "Miracle Mike was an incredible chicken which lived without its head for 18 months. We can't think about anything that's scarier to compete against than something you can chop the head off and it is still going strong!"
"Our Scout sprint racer, Miracle Mike, is a nitrous powered performance machine. It has been the most complicated and difficult build we have done so far, even more difficult than our winning bike in the Sultans of Sprint and our Bonneville 750ccm vintage record holder. In planning and building this Indian Scout we have invested over 500 hours of work."
Essenza organizer Katrin Oeding said: "We are delighted that the Young Guns are participating with Indian at Essenza. They are a part of a new generation of customisers and the youngest in the competition. Nik and Fabian have petrol in their blood, love speed and they combine it with design and their own lifestyle."
The Young Guns will also enter Miracle Mike in the Punks Peak race on the Friday during the Wheels & Waves festival (which Indian Motorcycle is sponsoring). This race takes place along the GI-3440 mountain road between San Sebastian and the airport in Spain.
Follow the Young Guns on Facebook at www.facebook.com/younggunsspeedshop/ or on their website www.ygspeedshop.com
A large gallery of high resolution images of the Young Guns building Miracle Mike can be downloaded from the media site. Registration required.
Miracle Mike will be unveiled in the afternoon of Saturday 13th May at the Art & Wheels show in Basel. A press release with images will be issued, but press are welcome to attend by emailing Dan Tye at press@indianmotorcycle.media
###
ABOUT NIK HEER
Nik is the head of the Young Guns Speed Shop and a creative brain and mechanical mastermind. From an early age, Nik was fascinated with engines; he read his first book about engines long before he was allowed to ride a motorised bike. During his youth he was constantly working on bikes, the only thing that changed was the size of the toys. He soon started to help out his fellow friends to fix and modify their bikes. After finishing his education as a multi-disciplined engineer, Nik now builds, restores and customises motorcycles for a living, working on a wide range of bikes. Aged just 26 Nik is one of the very young bucks that holds a record in Bonneville. Besides land speed racing he is a feared dirt track rider and when not working on his projects or racing motorbikes, he can be found snowboarding, skateboarding, making music or working on his art projects.
ABOUT FABIAN WITZIG
Fabian is a mechanical mastermind. His father owns a tractor company and as soon as he could start walking he was surrounded by an enormous garage of agricultural machines and started to learn everything about wrenching. Fabian is never short of an idea how to work around a technical problem with any type of motorcycle and this makes him a true master of craftsmanship. He holds a degree in engineering and for his very young age has an extremely independent free-spirited mind. When he sets his mind into something he won't let go until it's accomplished and exactly the way he wants it. Everything that he spies with his eyes inspires him and he is continuously curious. When he is not in the workshop (where he currently is almost 24/7) Fabian loves playing guitar, or he helping out on his dad's grain farm. He is a warm fellow that loves jamming with his guitar together with friends around bonfires and drinking rum until late into the night.
ABOUT INDIAN MOTORCYCLE
Indian Motorcycle, a wholly owned subsidiary of Polaris Industries Inc. (NYSE: PII), is America's first motorcycle company. Founded in 1901, Indian Motorcycle has won the hearts of motorcyclists around the world and earned distinction as one of America's most legendary and iconic brands through unrivalled racing dominance, engineering prowess and countless innovations and industry firsts. Today that heritage and passion is reignited under new brand stewardship. To learn more, please visit www.indianmotorcycle.eu
MEDIA CONTACT
Dan Tye
EMEA PR
Follow us on Twitter @IndianEMEA_PR
+44 7471 030606
press@indianmotorcycle.media