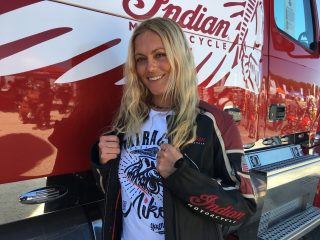 The stunning Katja Poensgen, German motorcycle racer, has been announced as the rider of Indian's 'Miracle Mike' Scout and will race it for the first time on Sunday.
Katja will race 16 other competitors in the first Essenza sprint race tomorrow at the Montlhéry Autodrome in France.
Katja said: "I am really looking forward to riding this killer machine! It looks great and it has really does have a lot of power. That's exactly what I need. On Sunday I hope that me and Miracle Mike will get our first trophy."
To put Katja's comment about the Scout's power into context, last week the Young Guns Speed Shop spent time tuning Miracle Mike's 1133ccc V-twin engine at Polaris Swissauto. There they worked with the very same engineers that designed the 750cc V-twin engine that's powering the Scout FTR750 in the American Flat Track series. So far the Scout FTR750 has been undefeated in all seven races held to date.
Nik Heer, creative mastermind at the Young Guns says that he and Fabian Witzig have managed to strip an incredible 48kg from the standard Scout's 245kg weight and were thrilled with the power increase they saw. The pair crafted their own exhaust pipe system feeding into a prototype Akrapovič system, supplied directly by the factory as a special favour for the project.
Nik explains: "We spent two full days on the dyno at Polaris Swissauto for fuel mapping and setting up the Nos computer.
"At reaching 150HP we had to fight issues with a slippery clutch but we've sorted that.
"At the end of the two days we had solid 185HP measured at the rear wheel and Miracle Mike did not run lean or suffer from any other crazy issues. Made us very happy."
The Essenza sprint races operate on a knockout system; you lose your race, you don't go through. The first round of sprints halves the competitors down to eight, then there's four more races to find the final four bikes. The winners of those two races then compete in the final.
A second Essenza sprint race will then be held in September at Glemseck 101 event in Germany near Stuttgart with the overall winner being the fastest to compete at both races.
More to come in a press release issued after the race tomorrow.
# # #
ABOUT MIRACLE MIKE
Miracle Mike, named after the famous Mike the Headless Chicken, is a true American/European collaboration with parts sourced from motorcycling brands such as Öhlins (Sweden), Brembo (Italy), Wizards of NOS (UK), LSL Motorcycle Parts (Germany), Metzeler tyres (Germany) and Motogadget (Germany).From their workshop in Rapperswil, just south of Zurich, the Young Guns completely re-wired and reshaped a standard Indian Scout transforming it in to a snarling sprint machine. Follow the Young Guns on Facebook at www.facebook.com/younggunsspeedshop/ or on their website www.ygspeedshop.com. A large gallery of high-resolution images of the Young Guns building Miracle Mike can be downloaded from the media site. Registration required.

ABOUT NIK HEER
Nik is the head of the Young Guns Speed Shop and a creative brain and mechanical mastermind. From an early age, Nik was fascinated with engines; he read his first book about engines long before he was allowed to ride a motorised bike. During his youth he was constantly working on bikes, the only thing that changed was the size of the toys. He soon started to help out his fellow friends to fix and modify their bikes. After finishing his education as a multi-disciplined engineer, Nik now builds, restores and customises motorcycles for a living, working on a wide range of bikes. Aged just 26 Nik is one of the very young bucks that hold a record in Bonneville. Besides land speed racing he is a feared dirt track rider and when not working on his projects or racing motorbikes, he can be found snowboarding, skateboarding, making music or working on his art projects.
ABOUT FABIAN WITZIG
Fabian (23) is a mechanical mastermind. His father owns a tractor company and as soon as he could start walking he was surrounded by an enormous garage of agricultural machines and started to learn everything about wrenching. Fabian is never short of an idea how to work around a technical problem with any type of motorcycle and this makes him a true master of craftsmanship. He holds a degree in engineering and for his very young age has an extremely independent free-spirited mind. When he sets his mind into something he won't let go until it's accomplished and exactly the way he wants it. Everything that he spies with his eyes inspires him and he is continuously curious. When he is not in the workshop (where he currently is almost 24/7) Fabian loves playing guitar, or he helping out on his dad's grain farm. He is a warm fellow that loves jamming with his guitar together with friends around bonfires and drinking rum until late into the night.
ABOUT INDIAN MOTORCYCLE
Indian Motorcycle, a wholly owned subsidiary of Polaris Industries Inc. (NYSE: PII), is America's first motorcycle company. Founded in 1901, Indian Motorcycle has won the hearts of motorcyclists around the world and earned distinction as one of America's most legendary and iconic brands through unrivalled racing dominance, engineering prowess and countless innovations and industry firsts. Today that heritage and passion is reignited under new brand stewardship. To learn more, please visit www.indianmotorcycle.eu
MEDIA CONTACT
Dan Tye
PR Manager (EMEA)
Follow us on Twitter @IndianEMEA_PR
+44 7471 030606
press@indianmotorcycle.media