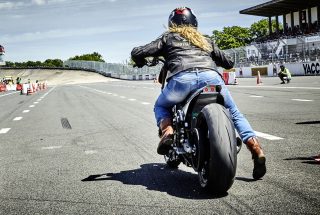 Katja Poensgen cheered by crowds at Autodrome Linas-Montlhery
Sub-200kg Scout has 185HP
Miracle Mike beat Dragger, Alienor, V-Track-1000 then Café Racer Magazine's Thruxton R to take the win
MONTLHÉRY, FRANCE: Indian celebrated today after blasting away the competition in the first Essenza sprint race contest of the year.
Taking place on the Autodrome Linas-Montlhéry in front of thousands attending the Café Racer Festival, Katja Poensgen, the popular and well-liked German motorcycle racer showed she can cut it in sprint racing too.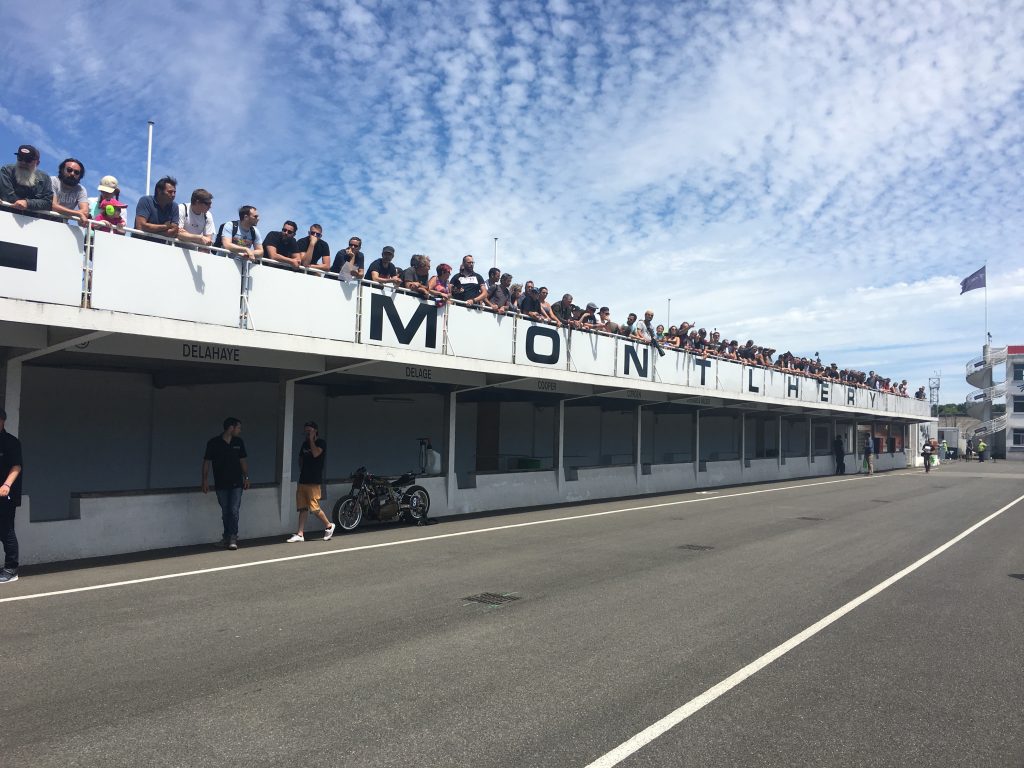 The Essenza sprint races operate on a knockout system; you lose your race, you don't go through. The first round of sprints halves the competitors down from 16 to eight, then down to four and then two for the final.
A draw was held on Sunday morning to decide the first set of races and Katja found herself with the number 13 (unlucky for some) and up against Mai Lin Senf, another female German racer on a Yamaha XV950 called 'Dragger'.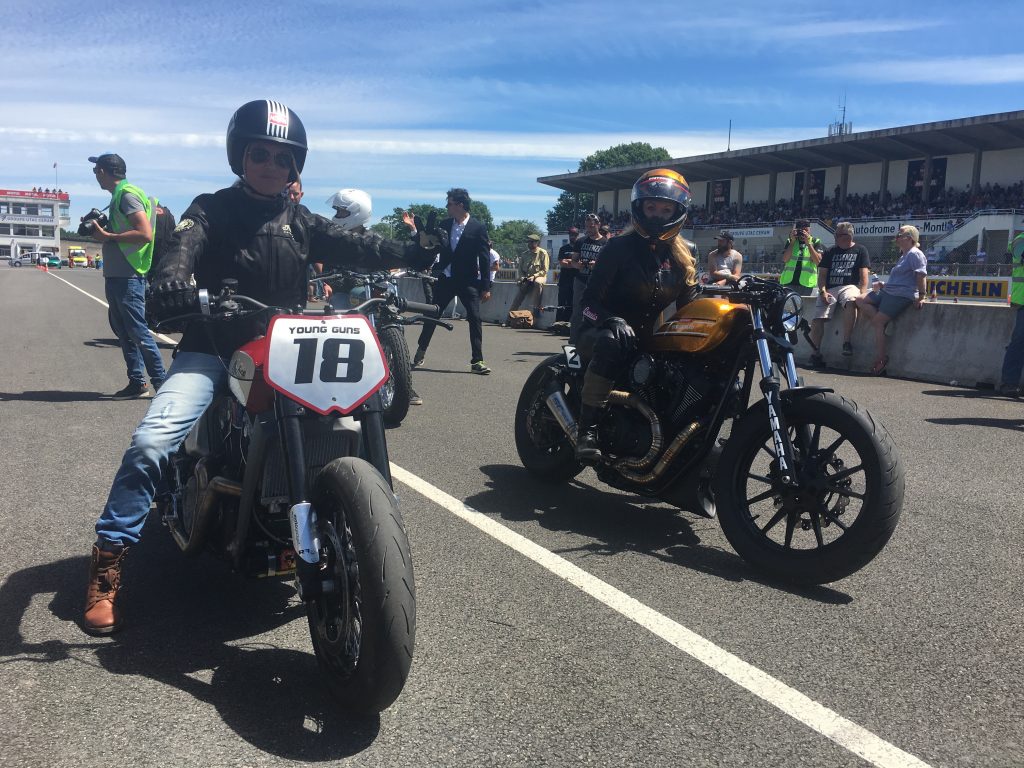 After comfortably winning against Dragger, Katja's second race was against Mathie Menard on a Triumph Street Twin built by FCR Original and called 'Alienor'.
With 'Alienor' beaten, Katja then faced 'V-Track 1000' ridden by Amir Brajan and built by Mellow Yellow Motorcycles for a place in the final. By this point the crowd was really roaring as Katja blasted through the chequered flag with her blonde hair whipping out the back of her helmet.
The final then saw Katja up against a formidable machine, namely Café Racer Magazine's entry, a very powerful Triumph Thruxton R built by Triumph Rouen and ridden by Jérome Savary.
A pause in the action before the final allowed the Essenza compère to really gee up the crowds and build up the tension for an exciting final sprint.
As the yellow flag dropped, the Triumph made the most noise, but Katja pulled ahead, really gaining her lead in the second half of the 1/8th mile taking Indian and the Young Guns to a solid win.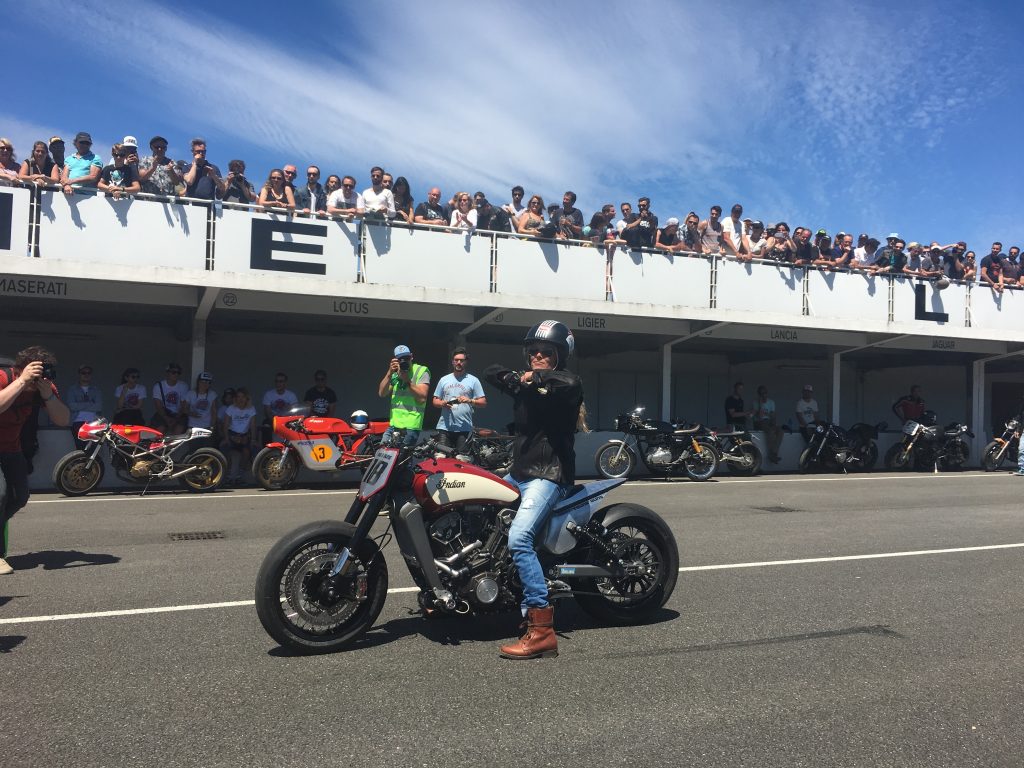 Going in to the race, the Young Guns knew their Indian Scout had serious power; Nik and Fabian had trimmed 48kg off the Scout's 245kg weight to bring it down to 197kg and in dyno testing at Polaris Swissauto they saw a steady 185HP after two days of fettling and tweaking.
Nik Heer said: "I am extremely happy. We were confident before the race because the way we treated it on the dyno was the worst you could do to a bike. Today it was so cool, everybody expected our own guy Marco Zesiger to ride, so when people heard Katja was racing it, everybody was like 'Whoah, that's serious racing'."
Katja was thrilled with her win and even more astounded by the cheering and support she received from the French crowd. "I want to say that for me it's a very special win and the bike is great," she said. "I was not sure on the way here what to expect from the Indian Scout, but I am really impressed. It was very easy to ride and everything worked so well, from the seat position to the power to the brakes, it was perfect. I'm happy for Indian, the Young Guns and for myself."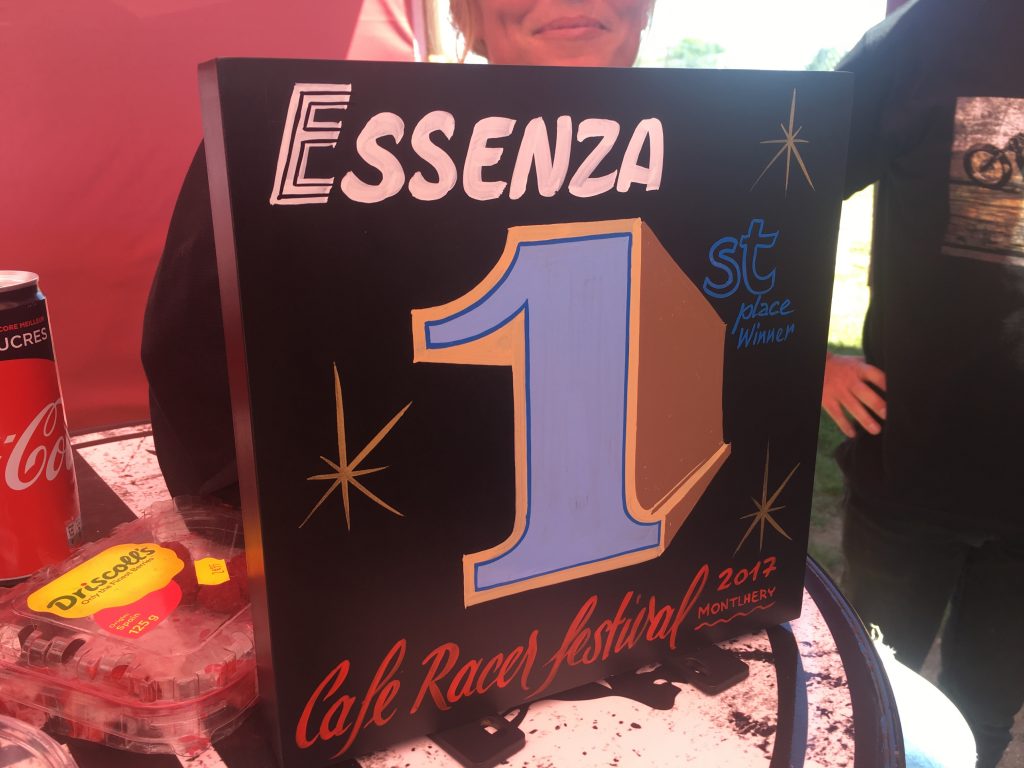 Katrin Oeding, organizer of the Essenza races said: "I think it was really crazy today. I first saw Miracle Mike in Basel and for me it was surprising. I know the previous designs from the Young Guns before, but it was amazing what they did with the Scout. Technology and design has to be in balance, and on Miracle Mike, it's a good tension. The other thing is taste and fashion, it's not retro, it's now. It's a new inspiration and that's what I love really much. All people that are a part of Essenza like to make something new, not a copy."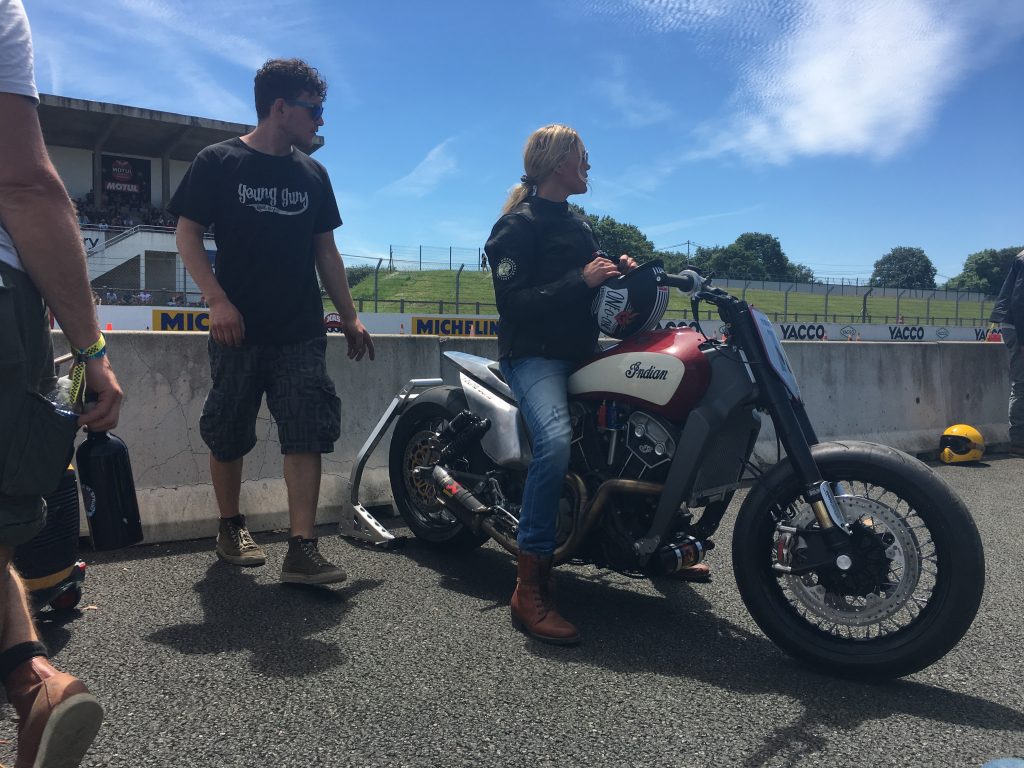 Uwe Ehinger, the technical director of Essenza was enthused by all 16 of the entries this weekend: "We have such a different set of bikes, but it's a simple formula to work out who competes against each other. It's a very nice event because of the simple rules, it's fun and we like to bring back the philosophy of pure riding. What's important is that Indian is really back now and it can now continue in design and competition. It's restarted to be successful again and its heritage is so nice too."
Miracle Mike's next appearance will be in the Punks Peak race on the Friday at the Wheels & Waves festival (which Indian Motorcycle is sponsoring). This race is held on the GI-3440 mountain road near San Sebastian.
The second Essenza sprint race will be held in September at Glemseck 101 event in Germany near Stuttgart. The overall winner is the fastest to compete at both races.
A large gallery of high-resolution images of the Young Guns building Miracle Mike can be downloaded from the media site. Registration required.
# # #
ABOUT MIRACLE MIKE
Miracle Mike, named after the famous Mike the Headless Chicken, is a true American/European collaboration with parts sourced from motorcycling brands such as Öhlins (Sweden), Brembo (Italy), Wizards of NOS (UK), LSL Motorcycle Parts (Germany), Metzeler tyres (Germany) and Motogadget (Germany). From their workshop in Rapperswil, just south of Zurich, the Young Guns completely re-wired and reshaped a standard Indian Scout transforming it in to a snarling sprint machine. Follow the Young Guns on Facebook at www.facebook.com/younggunsspeedshop/ or on their website www.ygspeedshop.com.
ABOUT NIK HEER
Nik (26) is the head of the Young Guns Speed Shop and a creative brain and mechanical mastermind. From an early age, Nik was fascinated with engines; he read his first book about engines long before he was allowed to ride a motorised bike. During his youth he was constantly working on bikes, the only thing that changed was the size of the toys. He soon started to help out his fellow friends to fix and modify their bikes. After finishing his education as a multi-disciplined engineer, Nik now builds, restores and customises motorcycles for a living, working on a wide range of bikes. Nik is one of the very young bucks that hold a record in Bonneville. Besides land speed racing he is a feared dirt track rider and when not working on his projects or racing motorbikes, he can be found snowboarding, skateboarding, making music or working on his art projects.
ABOUT FABIAN WITZIG
Fabian (23) is a mechanical mastermind. His father owns a tractor company and as soon as he could start walking he was surrounded by an enormous garage of agricultural machines and started to learn everything about wrenching. Fabian is never short of an idea how to work around a technical problem with any type of motorcycle and this makes him a true master of craftsmanship. He holds a degree in engineering and for his very young age has an extremely independent free-spirited mind. When he sets his mind into something he won't let go until it's accomplished and exactly the way he wants it. Everything that he spies with his eyes inspires him and he is continuously curious. When he is not in the workshop (where he currently is almost 24/7) Fabian loves playing guitar, or he helping out on his dad's grain farm. He is a warm fellow that loves jamming with his guitar together with friends around bonfires and drinking rum until late into the night.
ABOUT INDIAN MOTORCYCLE
Indian Motorcycle, a wholly owned subsidiary of Polaris Industries Inc. (NYSE: PII), is America's first motorcycle company. Founded in 1901, Indian Motorcycle has won the hearts of motorcyclists around the world and earned distinction as one of America's most legendary and iconic brands through unrivalled racing dominance, engineering prowess and countless innovations and industry firsts. Today that heritage and passion is reignited under new brand stewardship. To learn more, please visit www.indianmotorcycle.eu
MEDIA CONTACT
Dan Tye
PR Manager (EMEA)
Follow us on Twitter @IndianEMEA_PR
+44 7471 030606
press@indianmotorcycle.media