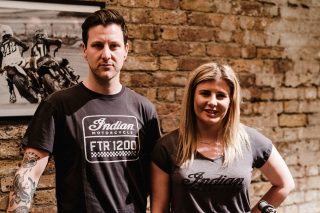 Krazy Horse fields two-rider team for Indian Motorcycle sponsored Hooligan Championship
DTRA UK and European Hooligan Championship contenders
Riders to represent Indian Motorcycle on and off the track
United Kingdom – Indian Motorcycle's DTRA Hooligan Championship contenders line-up for the season ahead as official brand ambassadors.
Indian Motorcycle and official racing partners Krazy Horse enter their third season competing in the Dirt Track Riders Association (DTRA) Hooligan Championship. Expanded for 2019, thanks to Indian Motorcycle's continued sponsorship support, the championship now extends across Europe with Hooligan rounds at Hells Race in the Netherlands and Wheels & Waves in northern Spain.
Riders Lee 'KP' Kirkpatrick and Leah Tokelove have been rewarded for their hard-battling riding styles, which enthralled flat-track crowds throughout the 2018 season, with official Indian Motorcycle Ambassador status and continued manufacturer support both on and off the track.
Mechanical Engineer Lee 'KP' Kirkpatrick (#152) spends his working life around Indian Motorcycle products in the workshops of Krazy Horse, Bury St Edmunds, maintaining and customising dream rides for the Suffolk based dealership's growing customer base. Lee is a self-confessed 'dirt junkie', spending his free time riding MX or Flat Track most weekends.
Speaking at the team's final testing and shakedown day Lee commented "It's totally rad to be back in the team as a rider for 2019, especially as an ambassador for Indian Motorcycle, over the winter I've stripped and re-worked the bikes at Krazy Horse using the knowledge we gained in the previous season. We're now running a chain drive conversion on the Scouts to improve final-drive performance and allow for gearing modifications, this has also saved weight, which is an added bonus when we're trying to hustle the Hooligan machines – I can't wait to get out there and have some fun!"
Business Masters Student Leah Tokelove (#37) joined Indian Motorcycle's Krazy Horse Hooligan team thanks to a racing scholarship from the Dirt Track Riders Association in 2018. Leah quickly showed her skills, gained in the 450cc DTX Pro-class, were more than a match for the 998cc Hooligan Scout Sixty as she aggressively hunted down the opposition throughout the season. Leah now joins Lee on the official Krazy Horse Race team as a brand ambassador for Indian Motorcycle with one objective in mind for the championship – Go Fast, Turn Left…
Leah commented "I am so stoked to be part of the Krazy Horse Race Team for the 2019 DTRA Hooligan Season. I was so grateful for the opportunity of riding for Indian on their scholarship programme last season and I'm pleased that my hard work on and off the track paid off and that I get another chance in 2019. With Lee 'KP' as my teammate I feel that we're gonna' be able to really work together to get the bikes dialled in. I'm really fortunate that Indian have supported me so much over the past year, I feel privileged to work alongside a motorcycle brand that shares my values and appreciates me for who and what I am – a racer. In 2018 I feel like I peaked, but it's only just April of 2019 and I've secured further prominent sponsors and I've got a lot of exciting trips planned, so 2019 is already heading in the right direction. With all that said I can't wait to get back out on track, with my shiny new paint job lighting up the stadiums, smiles for miles, bar to bar racing and a hell of a lot of fun aboard my Hooligan Scout. 2019 season – let's do it!"
Championship race entries for the first round of the DTRA series are now closed, but you can join the Hooligan spectacle at Adrian Flux Arena in Kings Lynn, under floodlights on Saturday night, 13th April. Spectators are very welcome 3pm to 9pm and it's free to watch.
Editors Notes:
Hooligan class rules are simple to keep costs down and fabrication to a minimum. Riders must use a lightly modified street bike with 750cc+ Twin-cylinder engines and standard frame, fitted with Dunlop flat track tyres.
2019 HOOLIGAN CHAMPIONSHIP DATES
April 13 – Adrian Flux Arena, Kings Lynn, UK
May 4/5 – Hells Race, Speedway Leylstad, NL – European Championship
May 17/19 – MCN Festival, Peterborough Showground, UK
June 15 – El Rollo, Wheels & Waves, ESP – European Championship
August 9/10 – DIRTQUAKE, Arlington Stadium, Sussex, UK
September 21/22 – Greenfield Oval, Alford, UK – European Championship
Additional images are available to download at www.indianmotorcycle.media
Sign in with your existing account or register for access at www.indianmotorcycle.media/register
Image at the top of this release should be credited to Tom Bing
###
ABOUT THE DTRA
The Dirt Track Riders Association (DTRA) is run by riders and racers to promote European Flat Track racing. The series has grown year on year and is gaining popularity with riders from all disciplines of motorcycle sport from Rookie riders to Pro racers. Racing classes mean racing is open to many different levels of riders and types of bike. The DTRA has been instrumental in growing all forms of Dirt Track Racing outside of the USA and the UK scene has grown to become the largest outside of North America. To learn more, please visit www.dirttrackriders.co.uk
ABOUT INDIAN MOTORCYCLE
Indian Motorcycle is America's first motorcycle company. Founded in 1901, Indian Motorcycle has won the hearts of motorcyclists around the world and earned distinction as one of America's most legendary and iconic brands through unrivalled racing dominance, engineering prowess and countless innovations and industry firsts. Today that heritage and passion is reignited under new brand stewardship. To learn more, please visit www.indianmotorcycle-intl.eu/select-country/
MEDIA CONTACT
Ian Austin
EMEA Press Indian Motorcycle
Follow us on Twitter @IndianEMEA_PR
+44 7471 030 606
press@indianmotorcycle.media