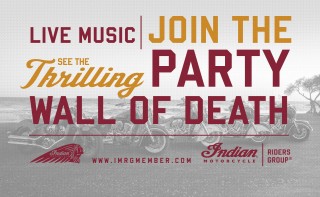 A launch party for the IMRG is taking place in Austria at Faak Am See on Saturday 12th September
Join hundreds of other IMRG members on a communal ride in to the party
Food, drink, live music and a special Wall of Death show is planned
The Indian Motorcycle Riders Group (IMRG) is getting ready for a launch party, taking place in Area1 at Faak Am See in Austria this September.
The Indian Motorcycle Riders Group (IMRG) was launched in Europe, the Middle East and Africa in June but in this short time over 500 owners have joined up.
The launch party takes place in Area1 next to Lake Faaker where hundreds of bikers camp and gather around for a week of motorcycling fun and entertainment.
Dario Baraggia, EMEA brand manager for Indian Motorcycle says: "This launch party will give our new IMRG members an unforgettable and once-in-a-lifetime experience. It's a great opportunity to celebrate the birth of the Indian Motorcycle community outside of the USA. We can't wait to see all our members ride in to Faak Am See for a party they'll always remember."
Here's the program:
Saturday 12th September
1pm – IMRG members meet between 1pm and 3pm (at a location near Faak Am See to be announced)
3pm – the group rides in together to Faak Am See
6pm – welcome drink at the IMRG tent
8pm – a private Wall of Death show for IMRG members
9pm – Live music performance from Gil Edwards ­then a lounge bar opens
After welcome drinks and a thrilling Wall of Death show, IMRG members will then be treated to live music from Gil Edwards and The Knuckleheads. Gil is a singer originally from Oregon in the USA whose emotive voice blends well with his gritty guitar playing.
Gil says he is really looking forward to meeting all the great folks at Faak Am See: "I have been playing music to bikers as long as I can remember. They are the absolute best audience," he says. "Someone once asked me why I like Indian Motorcycle and it goes back a long way. My father was riding an old Indian inline four when he met my mom. That bike and the Indian logo are the first I ever saw. I have wanted an Indian ever since. I had my eye on an old Chief, but it was sold out from under me. 
Gil has also given a few hints about what kind of music IMRG members will hear at the party: "I was thinking about the set list and have decided to go old school," he says. "My versions of some great rock and blues songs and a little Johnny Winter. Maybe even a little Gil Edwards. See ya all at Faak Am See."
The launch party is limited to IMRG members, but to attend they must pre-register on www.imrgmember.com
Attendees will receive an exclusive member welcome pack on arrival containing an IMRG collectable T-shirt, IMRG patch, helmet bag, temporary tattoo, lanyard and a VIP pass.
###
Notes to Editors
The IMRG has been set up to encourage community and camaraderie among Indian Motorcycle owners, no matter which country they live in. See more at www.imrgmember.com. Indian Motorcycle owners can get access to the IMRG website by visiting their local dealer and asking for a username and password.
Find out more about the Area1 enclosure next to Lake Faaker here > http://www.area1.cc/index.php
ABOUT INDIAN MOTORCYCLE
Indian Motorcycle, a wholly owned subsidiary of Polaris Industries Inc. (NYSE: PII), is America's first motorcycle company. Founded in 1901, Indian Motorcycle has won the hearts of motorcyclists around the world and earned distinction as one of America's most legendary and iconic brands through unrivaled racing dominance, engineering prowess and countless innovations and industry firsts. Today that heritage and passion is reignited under new brand stewardship. To learn more, please visit www.indianmotorcycle.com.
MEDIA CONTACT
Dan Tye
+44 7471 030606
@IndianEMEA_PR
press@indianmotorcycle.media
www.indianmotorcycle.media