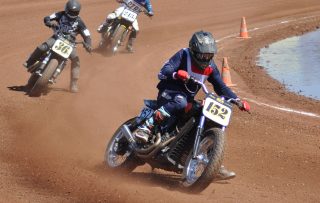 Indian Motorcycle reinforced their commitment to develop the growing European Flat Track scene over the weekend, by partnering 'Hells Race' short-track event, near Lelystad, NL.
While Indian's Pro 'American Flat Track' team took podium glory in the US; The Hells Race 'Indian Motorcycle Hooligan Class' was a gritty grass roots affair. Racing lightly modified street bikes on Lelystad speedway's tight 270-meter shale oval guaranteed spectacular bar banging short-track action, thrills and spills.
Hooligan riders from across Europe brought their wild rides to Lelystad, with Indian Motorcycle dealership Krazy Horse supporting Scout Sixty machines for team riders Lee 'KP' Kirkpatrick and Jonathan Falkman, plus DTRA Scholarship riders Leah Tokelove and Chris Hatton.
Lee Kirkpatrick #152 – Krazy Horse Race Team – P3
Krazy Horse Team Rider and Mechanic Lee 'KP' Kirkpatrick showed his talent early on, slipping and sliding his Scout Sixty Hooligan machine through the three heats with P2, P1, and P2 to place himself in the finals and claim a solid P3 podium on the short-track.
Commenting after the race, Lee said "I'm really finding the grove with the Scout now, it's performing really well. My confidence has improved so much that I now prefer riding the Indian Scout to my DTX flat track bike, I feel so much faster, bring on the next round at Peterborough."
Jonathan Falkman #50 – Krazy Horse Race Team – P6
Last year's Hells Race winner, Swedish racer Jonathan Falkman showed strong pace and great style in Saturday's practice sessions before a spectacular high-side saw him and the machine cartwheel out of contention. Despite dented pride and some damage to the machine, a battered Falkman was in good spirits; he heroically battled on to put in a strong show during Sunday's heats and secure a place in the final.
Falkman's exuberant riding style is always a crowd pleaser and he didn't disappoint at Lelystad, brushing off his bruises to showboat his way through the Hooligan Final, finishing a respectable P6 with some stylish riding antics to entertain the spectators.
Leah Tokelove #37 – Indian Motorcycle DTRA Scholarship Rider – P5
The fastest woman in UK flat track, Leah Tokelove, maintained her form throughout the weekend, her place in the final was never in question thanks to a blistering performance, securing P1 in all three of her heats. The final saw Tokelove get a poor start from pole position into turn one, she valiantly fought her way back through the field to finish P5 on the tight Lelystad short-track circuit.
Chris Hatton #170 – Indian Motorcycle DTRA Scholarship Rider – P7
Professional Tattooist Chris Hatton's second outing on the Indian Scout saw the Welsh rider gaining confidence on the Krazy Horse prepared machine. Hatton's smooth consistent riding style allowed him to stay out of trouble all weekend, building pace on the short-track oval to finish P7 overall and respectably rival his fellow Indian riders.
Next stop for the Indian Motorcycle Hooligan Series is a double header at the MCN Festival of Motorcycling, Peterborough Arena, UK, over the weekend of May 19th and 20th.
Watch and embed a video from the weekend here https://youtu.be/jPP3l9oKJf0
ABOUT THE DTRA
The Dirt Track Riders Association is run by riders and racers to promote European Flat Track racing. The series has grown year on year and is gaining popularity with riders from all disciplines of motorcycle sport from Rookie riders to Pro racers. Racing classes mean racing is open to many different levels of riders and types of bike. The DTRA has been instrumental in growing all forms of Dirt Track Racing outside of the USA and the UK scene has grown to be the second largest outside North America.
ABOUT INDIAN MOTORCYCLE
Indian Motorcycle Company, a wholly owned subsidiary of Polaris Industries Inc. (NYSE: PII), is America's First Motorcycle Company. Founded in 1901, Indian Motorcycle has won the hearts of motorcyclists around the world and earned distinction as one of America's most legendary and iconic brands through unrivalled racing dominance, engineering prowess and countless innovations and industry firsts. Today that heritage and passion is reignited under new brand stewardship. To learn more, please visit www.indianmotorcycle.eu
MEDIA CONTACT
Steve Cain
External Relations Manager (UK)
+44(0)7916 371113
steve.cain@polaris.com