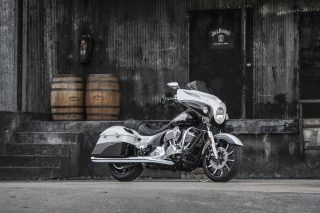 Only 100 going on sale globally with 10 available in the EMEA region
Designed in conjunction with Klock Werks Kustom Cycles
Hand-painted and hand-built with delivery in August 2017
Indian Motorcycle is proud to announce the availability of 100 Limited Edition Jack Daniel's Chieftain bikes with 10 of these going on sale in the EMEA region at 6pm CET on Tuesday 14th March.
This latest limited edition marks the second year that Jack Daniel's and Indian Motorcycle have joined forces. Last year all 150 Jack Daniel's Springfield bikes sold out in just eight hours.
In the same spirit this year, 100 Limited Edition Chieftain's will be available globally with 10 of these allocated to select countries in Europe, the Middle East and Africa (see below).
Each motorcycle comes with a commemorative American flag handcrafted out of Jack Daniel's barrel wood that includes the owner's name, motorcycle number and VIN.
The individually numbered bikes come with a two-year unlimited mileage factory warranty and free membership in the Indian Motorcycle Riders Group (IMRG) for one year.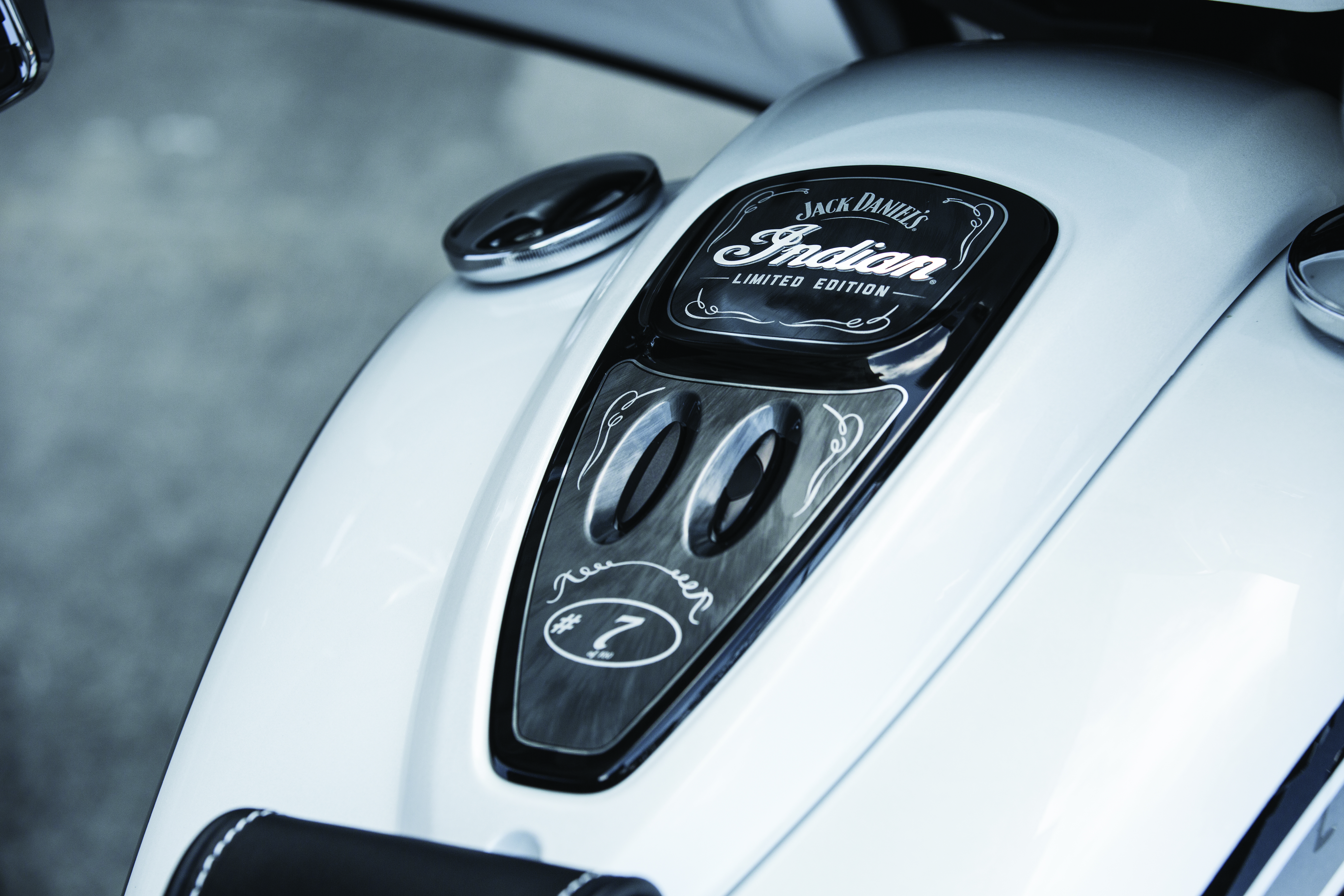 The Limited Edition Chieftain had design input from Klock Werks Kustom Cycles of Mitchell, South Dakota who came up with a wide array of custom details such as:
– A one-of-a-kind white and black crystal paint job with charcoal colored accents inspired by Jack Daniel's unique charcoal-mellowing process.
– A number of Jack Daniel's "Old No. 7" logos and custom badging is interspersed over the bike, including logoed billet driver and passenger floorboards, leather tank pouch, aluminium tank console with motorcycle number and unique cam, primary and air intake covers.
– The crowning detail is a handmade, pure silver Jack Daniel's horn cover badge, hand-crafted by the team at Montana Silversmith, exclusively developed and produced only for this motorcycle.
– The bike also carries an inscription of Jack Daniel's "Bottles and Throttles Don't Mix" mantra.
– The bike also features a 19-inch front wheel with an open fender and a host of premium touring amenities including LED headlight and driving lights, power adjustable flare windshield, gloss black front and rear highway bar, 200-watt premium audio system with fairing and saddlebag speakers, and Indian Motorcycle's proprietary Ride Command infotainment system.
Steve Menneto, President of Motorcycles for Polaris Industries says: "Once again, Brian Klock and his team at Klock Werks Kustoms exceeded our expectations with a totally unique Indian Chieftain that combines a sense of exclusivity with a tough, aggressive edge. We couldn't be happier with it."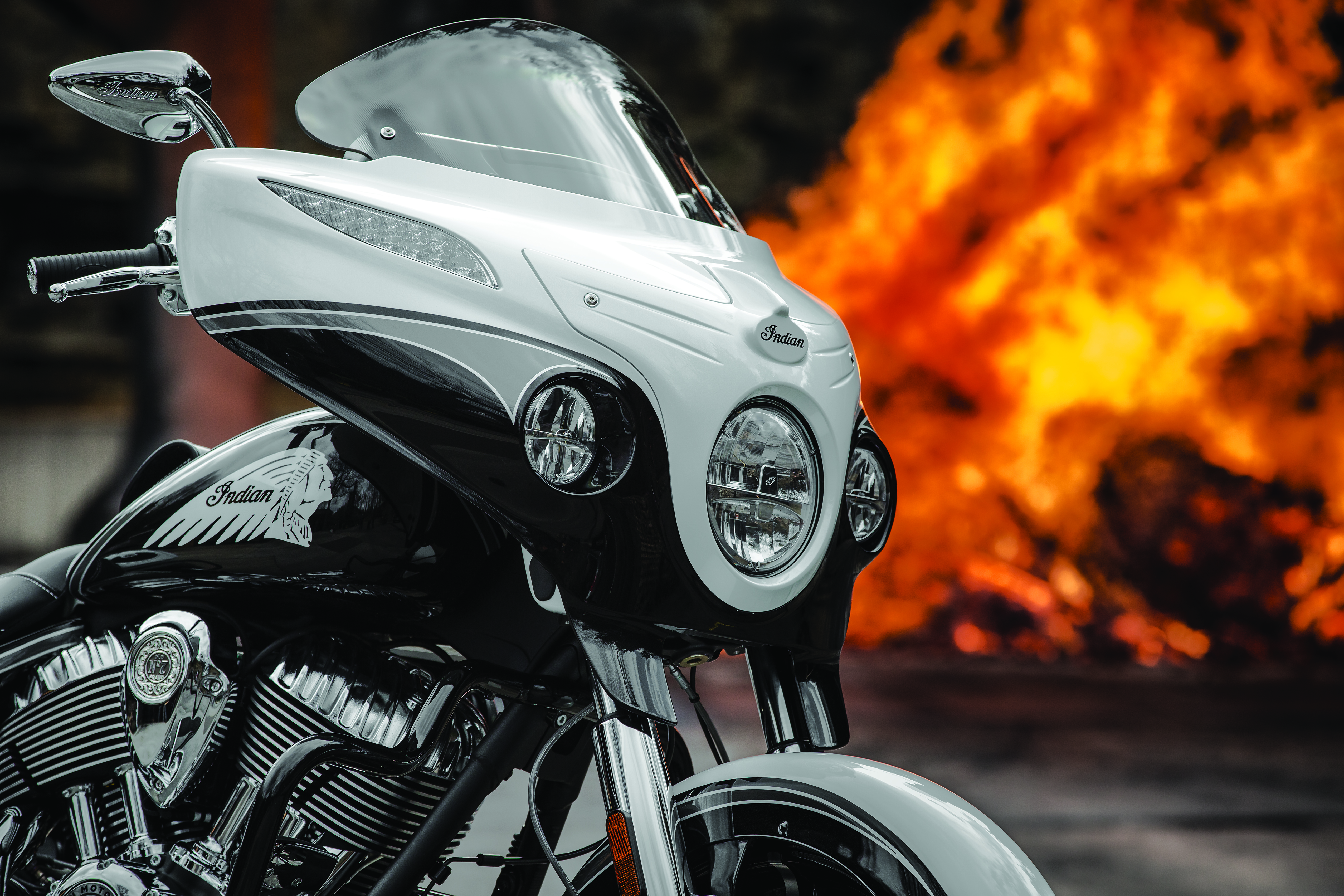 Dave Stang, Director of Events and Sponsorships for Jack Daniel's says: "The response to last year's collaboration was nothing short of spectacular and we're extremely proud to carry this partnership forward in 2017 to further reinforce our 'Bottles and Throttles Don't Mix' campaign."
"Both Jack Daniel's and Indian Motorcycle were born from a singular vision, powered by a relentless sense of ambition to bring a dream to life and that's ultimately what this Limited Edition Jack Daniel's Indian Chieftain represents."
To order one of these highly sought after limited edition motorcycles please visit or call your local Indian Motorcycle dealership at 6pm CET on Tuesday 14th March.
Delivery is expected to be August 2017.
| | |
| --- | --- |
| Country | No. of Jack Daniel's Chieftain allocated |
| Switzerland | 1 |
| Germany | 1 |
| Italy | 1 |
| Sweden | 1 |
| Norway | 1 |
| Benelux | 1 |
| UK | 1 |
| Finland | 1 |
| South Africa | 1 |
| Spain | 1 |
| EMEA TOTAL | 10 |
The 10 EMEA versions of this limited edition do not have the rear highway bar that the North American bikes have. Also, the front highway bar is chrome instead of the black one that's on the North American version. 
Pricing varies between these countries, but is expected to be around the €38,500 mark.
Confirmed prices so far are:
Germany: €38,500 inc VAT
Spain: €40,000 inc VAT
UK: £33,799 GBP inc VAT
Sweden: SEK 389,900 inc VAT
Norway: NOK 479,900 inc VAT
Note this motorcycle will not be on sale in France due to alcohol partnership laws.
###
ABOUT JACK DANIEL'S
Officially registered by the U.S. government in 1866 and based in Lynchburg, Tenn., the Jack Daniel Distillery, Lem Motlow, proprietor, is the first registered distillery in the United States and is on the National Register of Historic Places. Jack Daniel's is the maker of the world-famous Jack Daniel's Old No. 7 Tennessee Whiskey, Gentleman Jack Rare Tennessee Whiskey, Jack Daniel's Single Barrel Tennessee Whiskey, Jack Daniel's Tennessee Honey, Jack Daniel's Tennessee Fire, Jack Daniel's Sinatra Select and Jack Daniel's Country Cocktails. Jack Daniel's encourages its friends to drink responsibly and reminds bikers that Bottles and Throttles Don't Mix.
ABOUT INDIAN MOTORCYCLE
Indian Motorcycle, a wholly owned subsidiary of Polaris Industries Inc. (NYSE: PII), is America's first motorcycle company. Founded in 1901, Indian Motorcycle has won the hearts of motorcyclists around the world and earned distinction as one of America's most legendary and iconic brands through unrivalled racing dominance, engineering prowess and countless innovations and industry firsts. Today that heritage and passion is reignited under new brand stewardship. To learn more, please visit www.indianmotorcycle.eu
MEDIA CONTACT
Dan Tye
EMEA PR
Follow us on Twitter @IndianEMEA_PR
+44 7471 030606
press@indianmotorcycle.media