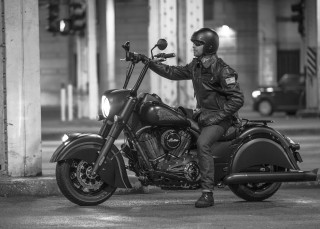 Indian Motorcycle has released accessories that can be added to the Chief Dark Horse to make it even darker.
The aim is to replace the silver metallic parts on the bike with blacked-out versions. Items such as the high flow air cleaner, the fender trim, the fuel gauge and fuel cap are a straightforward swap for black ones.
The result is a more aggressive looking machine – it's darker and even bolder – appealing to those riders who like to go all out or nothing.
Owners can also switch to black Ape Hanger handlebars giving them the added bonus of being able to add black War Bonnet floorboards, a black War Bonnet toe peg, a black War Bonnet heel shifter peg and a black Pinnacle heel shifter to finish the look.
And for those who use their machines to go touring (and with a pillion), a black luggage rack and black grab rail ensures that no part has been left unaccounted for.
Finally there are two options for fitting a blacked-out exhaust; the European countries that require a fully homologated exhaust can fit one especially designed by Remus while riders in the Middle East and Africa can fit an official Indian Motorcycle Stage 1 exhaust kit.
Both exhaust options will need black exhaust shields. The stage 1 kit can be fitted with 'Fish Tail' shaped exhaust tips. Andreas Geisinger, head of apparel, accessories and parts says: "This new accessories range gives our Dark Horse customers the ability to do what many customisers are doing at the moment: creating bikes that are fully black.
"Dealer feedback on the pre-launch of these accessories as well as the reactions on social media have been phenomenal," he comments while smiling. "It seems that black just became the new Indian Motorcycle red."
The full list:
Ape Hanger handlebars 2880968-266
High flow air cleaner 2880064-266
Fender trim 2880730
Pinnacle fender tip accents 2879646-266
War Bonnet toe peg 2880728-468
War Bonnet heel shifter peg 2880729-468
Pinnacle heel shifter 2880103-463
Fuel gauge 2880731-266
Fuel cap set 2880663-266
Pinnacle one-up luggage rack 2879545-266
Pinnacle solo rider grab rail 2880752-266
Exhaust shields 2880798
Fish tail exhaust tips 2879532-266
Indian Chief Stage 1 slip-on exhaust 2879768-266
Remus exhaust (for Europe) 2880864-463
Strut cover 2880662-266
ABOUT INDIAN MOTORCYCLE
Indian Motorcycle, a wholly owned subsidiary of Polaris Industries Inc. (NYSE: PII), is America's first motorcycle company. Founded in 1901, Indian Motorcycle has won the hearts of motorcyclists around the world and earned distinction as one of America's most legendary and iconic brands through unrivalled racing dominance, engineering prowess and countless innovations and industry firsts. Today that heritage and passion is reignited under new brand stewardship. To learn more, please visit www.indianmotorcycle.com.
ABOUT POLARIS
Polaris is a recognised leader in the powersports industry with annual 2014 sales of $4.5 billion. Polaris designs, engineers, manufactures and markets innovative, high quality off-road consumer and military vehicles, including all-terrain vehicles (ATVs) and the Polaris RANGER and RZR side-by-side vehicles, snowmobiles, motorcycles and on-road electric/hybrid powered vehicles. Polaris is among the global sales leaders for both snowmobiles and off-road vehicles and has established a presence in the heavyweight cruiser and touring motorcycle market with the Victory and Indian Motorcycle and Slingshot brands. Additionally, Polaris continues to invest in the global Work and Transportation vehicle industry with Global Electric Motorcars (GEM), Goupil Industrie SA, Aixam Mega S.A.S., and internally developed vehicles. Polaris enhances the riding experience with a complete line of Polaris Engineered Parts, Accessories and Apparel, Klim branded apparel and ORV accessories under the Kolpin, Cycle Country and Pro Armor brands. Polaris Industries Inc. trades on the New York Stock Exchange under the symbol "PII", and the Company is included in the S&P Mid-Cap 400 stock price index. Information about the complete line of Polaris products, apparel and vehicle accessories are available from authorized Polaris dealers or anytime at www.polaris.com
# # #
MEDIA CONTACT
Dan Tye
+44 7471 030606
@IndianEMEA_PR
press@indianmotorcycle.media
www.indianmotorcycle.media