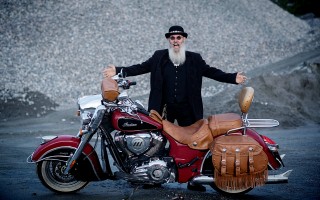 Gil Edwards is celebrating 50 years in the music business this year and what better way to spend the summer than to ride between gigs on an Indian Motorcycle.
In fact all of the members of his band, 'Gil & The Vintage Chiefs', are riding all over Norway on Indian Motorcycles and will be playing music they say is 'Road House' style.
"It's the kind of music that I grew up with," Gil explains. "I have just finished recording an album in Germany called Celebration, and I have two previously released albums called Can't give it up in 1999 and Mayday Situation in 2004."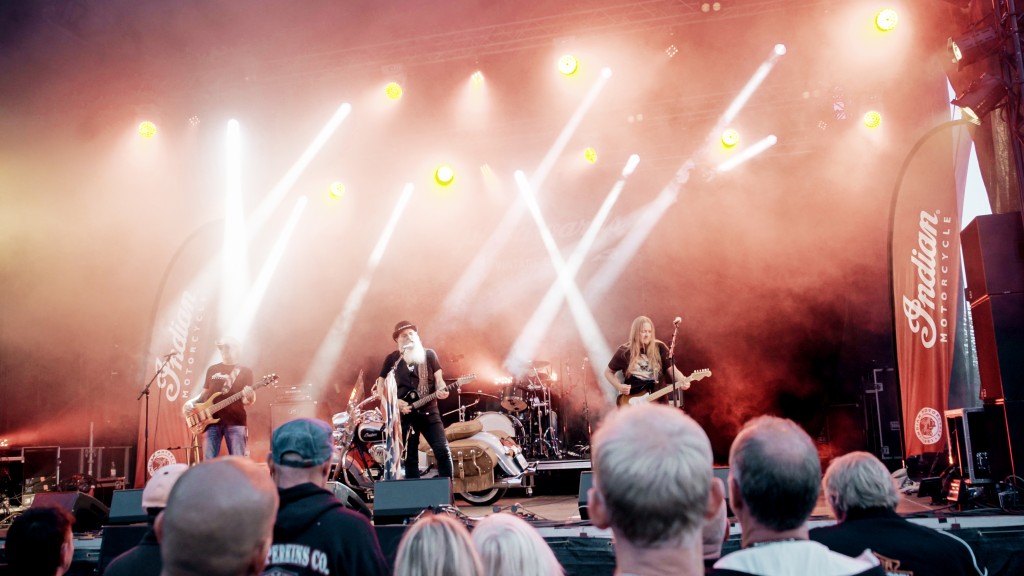 Gil Edwards was actually born in the USA, in Medford, Oregon. His father owned a four-cylinder Indian and whenever Gils' Harley-Davidson-riding uncle came over to visit, discussions filled the room about which bike was the best.
"The Indian-logo actually is the first logo that I can remember," reflects Gil. "My dad used to joke that I was 'made' on an Indian; I'm 25% Cherokee and 100% Indian."
When he was 10-years-old, Gils' father gave him a hunting dog, but Gil wasn't a hunting kind of guy and a few weeks later he swapped it for his first guitar and three years after that he had enough guitar skills to join his first band. That was 50 years ago.
"Yeah, you might say that I celebrate my 50th anniversary in the music business this year," says Gil.
In the middle of the 60s, the young, soon to be musician also got his first motorcycle. It was a 200cc Triumph Tiger Cub, which was followed by a 400cc BSA before he went on to the heavy American steel.
"Nothing beats a big American V-twin," says Gil.
Today, Gil lives in Ålesund, Norway. It might be a long way from the North American west coast to the Norwegian west coast, but as he explains, "sometimes things just happen in life".
His move to Norway came about in 1981 when Gil was playing with a band in Seattle. He met some Norwegian musicians that were visiting the USA. A few months later they called him and offered him a job as bass player in a band in Norway.
"I had never been to Europe, so I saw this as a great opportunity," says Gil who first thought that he would only be there for a few months, maybe a year, but 35 years on and he's still in Ålesund.
Gil has performed all over Scandinavia and has a strong fan base in Germany and all over the world. "Today all of us live some of our lives in the virtual world and I have lots of American fans on the internet, even if I do not live there any more!" Gil jokes.
Gil bought an Indian Chief Vintage earlier this year. "I truly was amazed and I love it," he beams. "The engine has the most impressive torque and you can ride comfortably over longest distances. When I ride it in on twisty roads, I don't feel like I have to slow down for the corners, but instead I can push it in a bit more and twist the throttle. So the Harley-Davidson I had is for sale now," he says smiling.
During this summer, Gil and the Vintage Chiefs will be riding on Indian motorcycles between their gigs, leaving their roadies to transport their band equipment in the bus.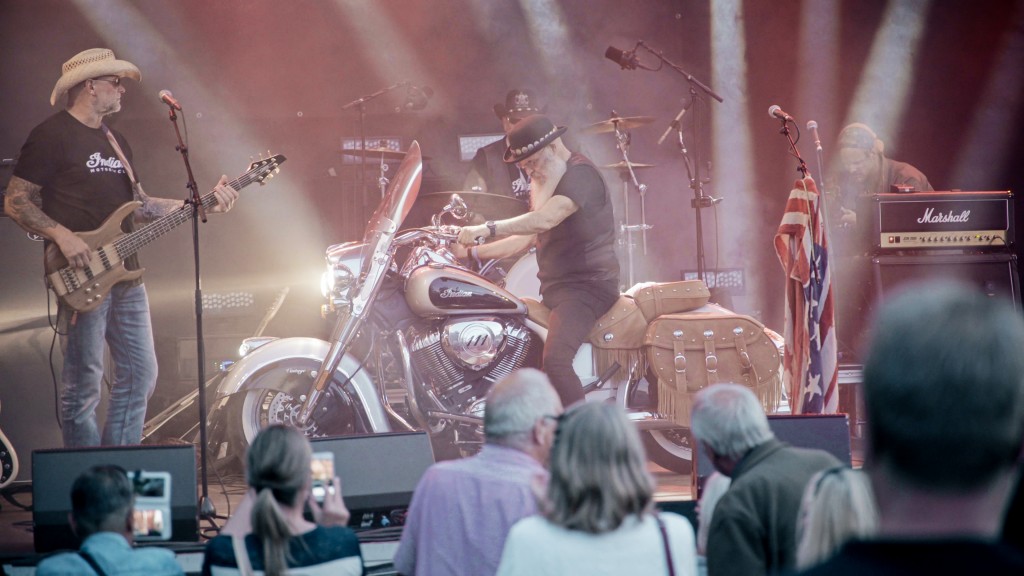 "We can't wait to get going," says Gil. "And we look forward to thundering in to each and every one of our gigs."
###
ABOUT INDIAN MOTORCYCLE
Indian Motorcycle, a wholly-owned subsidiary of Polaris Industries Inc. (NYSE: PII), is America's first motorcycle company. Founded in 1901, Indian Motorcycle has won the hearts of motorcyclists around the world and earned distinction as one of America's most legendary and iconic brands through unrivaled racing dominance, engineering prowess and countless innovations and industry firsts. Today that heritage and passion is reignited under new brand stewardship. To learn more, please visit www.indianmotorcycle.eu.
ABOUT POLARIS INDUSTRIES
Polaris Industries Inc. (NYSE: PII) is a global powersports leader with annual 2015 sales of $4.7 billion. Polaris fuels the passion of riders, workers and outdoor enthusiasts with our RANGER®, RZR® and POLARIS GENERAL™ side-by-side off-road vehicles; our SPORTSMAN® and POLARIS ACE® all-terrain off-road vehicles; VICTORY® and INDIAN MOTORCYCLE® midsize and heavyweight motorcycles; SLINGSHOT® moto-roadsters; and Polaris RMK®, INDY®, SWITCHBACK® and RUSH® snowmobiles. Polaris enhances the riding experience with parts, garments and accessories sold under multiple recognizable brands, and has a growing presence globally in adjacent markets with products including military and commercial off-road vehicles, quadricycles, and electric vehicles. www.polaris.com
MEDIA CONTACT
Dan Tye
EMEA PR
Follow us on Twitter @IndianEMEA_PR
+44 7471 030606
press@indianmotorcycle.media