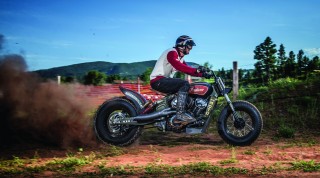 Scout customised for the Sturgis Rally and set to go hill climbing later this year
Indian Motorcycle continues its run of bikes in the Custom Scout Series with the 'Black Hills Beast' – built by Doug Siddins and Nick Jaquez from IndianMotorcycles.net.
The Black Hills Beast is a 2015 Indian Scout and customised to emulate historic hill climb motorcycles. It was put on show at the Sturgis Rally (in the Black Hills, hence the name) in August.
Indian Motorcycle put a call in to Doug and Nick with a simple brief: "Build us a hill climber".
"Building this bike was sort of easy and sort of a challenge," says Doug Siddins. "Enthusiasts know what a hill climber looks like, so some of the mods were logical, but scaling them to fit the new Scout was the key and took a lot of work. We are proud of the overall effect and know that the bike was a hit in Sturgis for its important 75th anniversary."
Doug and Nick took a standard Scout and transformed it into the 'Black Hills Beast' by extending the swingarm, adding chunky tyres (with bike chains for extra grip), a set of custom handlebars and a custom exhaust. Work started on the exhaust first, then on the swingarm and handlebars. The front race plate incorporates an LED headlight. Some official Indian Motorcycle accessories were used too, including the 1920 Solo Saddle Seat and a set of the Accessory Laced Wheels.
"We settled in on the design quickly," explains Nick Jaquez. "But none of it would have worked out without the assistance of our suppliers and partners in this build. We cranked on it for a month and tossed out a few bits along the way. I do feel like we delivered one cool machine and it was a blast getting it dirty too."
Additional support for the Black Hills Beast came from Aeromach (floorboards and heel shifter), Dobeck Performance (engine tuning), Fox Shocks (suspension), RPW USA (exhaust), Starr Studios (paint), Ricochet Customs (powder coating), BTR Moto (swingarm and tyre chain), Zippers Performance (chain drive conversion) and Traxxion Dynamics (front suspension).
The Black Hills Beast Scout joins other Indian Scouts in the Custom Scout Series; namely the Black Bullet Scout, the Custom Military Scout, the Scout 42 and the Outrider Custom Scout.
Hi res mages are available at the Indian Motorcycle media site www.indianmotorcycle.media
# # #
NOTES TO EDITORS
Links to previous press releases in the Custom Scout Series:
Announcing Indian Motorcycle's custom 'Black Bullet Scout' http://www.indianmotorcycle.media/?p=1687
Indian Motorcycle's 'Custom Scout Series' and the Custom Military Scout http://www.indianmotorcycle.media/?p=1441
Dirty Bird Concepts' custom Scout – the Scout 42http://www.indianmotorcycle.media/?p=486
'Outrider' custom Scout by Klock Werks http://www.indianmotorcycle.media/?p=483
# # #
ABOUT INDIAN MOTORCYCLE
Indian Motorcycle, a wholly owned subsidiary of Polaris Industries Inc. (NYSE: PII), is America's first motorcycle company. Founded in 1901, Indian Motorcycle has won the hearts of motorcyclists around the world and earned distinction as one of America's most legendary and iconic brands through unrivalled racing dominance, engineering prowess and countless innovations and industry firsts. Today that heritage and passion is reignited under new brand stewardship. To learn more, please visit www.indianmotorcycle.com
ABOUT POLARIS
Polaris is a recognised leader in the powersports industry with annual 2014 sales of $4.5 billion. Polaris designs, engineers, manufactures and markets innovative, high quality off-road consumer and military vehicles, including all-terrain vehicles (ATVs) and the Polaris RANGER and RZR side-by-side vehicles, snowmobiles, motorcycles and on-road electric/hybrid powered vehicles. Polaris is among the global sales leaders for both snowmobiles and off-road vehicles and has established a presence in the heavyweight cruiser and touring motorcycle market with the Victory and Indian Motorcycle and Slingshot brands. Additionally, Polaris continues to invest in the global Work and Transportation vehicle industry with Global Electric Motorcars (GEM), Goupil Industrie SA, Aixam Mega S.A.S., and internally developed vehicles. Polaris enhances the riding experience with a complete line of Polaris Engineered Parts, Accessories and Apparel, Klim branded apparel and ORV accessories under the Kolpin, Cycle Country and Pro Armor brands. Polaris Industries Inc. trades on the New York Stock Exchange under the symbol "PII", and the Company is included in the S&P Mid-Cap 400 stock price index. Information about the complete line of Polaris products, apparel and vehicle accessories are available from authorized Polaris dealers or anytime at www.polaris.com
 
MEDIA CONTACT
Dan Tye
EMEA PR
@IndianEMEA_PR
+44 7471 030606
press@indianmotorcycle.media
www.indianmotorcycle.media