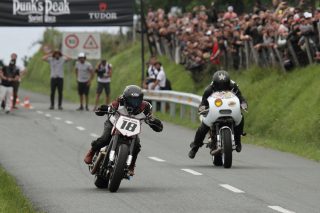 Punks Peak sprint race held on a mountain road near San Sebastian
12 motorcycles competed in the 'Superbikes' category
Former 250cc GP rider Katja Poensgen rode Miracle Mike to her second win
HONDARRIBIA, SPAIN – The Young Guns Scout AKA Miracle Mike continues to prove itself as a formidable sprint racer after winning the Superbike category at Punks Peak today.
Ridden by the former 250cc GP rider Katja Poensgen, the Indian Scout blasted easily through its three sprint races to go up against the powerful BMW built by the Workhouse Speed Shop and ridden by Sebastien Lorentz in the final.
Katja came to Punks Peak (the GI-3440 mountain road across the top of Mount Jaizbikel near San Sebastian) buoyed by her win last weekend in the Essenza sprint race and was confident going in to the race.
"The Scout is running so, so well," she said. "I know that the Young Guns dialled up the power for the race and I could certainly feel that on the sprints today."
In her third sprint Katja sent sparks flying from underneath Miracle Mike as she leant him over through the small bend halfway in the course giving the Young Guns a job to replace a section of exhaust that she scraped away.
The Young Guns, Fabian Witzig and Nik Heer, celebrated in the pits with Katja and were absolutely thrilled with the win. For Fabian, the technical mastermind behind much of the engine work on the Scout, it was a relief that Katja had returned safely, but also that his creation thrashed a field made up of Ducati, BMW, Yamaha, Buell, Harley-Davidson machines and even an electric bike from Essence Motorcycle.
Fabian said: "It feels amazing. You just have to look in the pits now to see how the standard of bikes is increasing. The best thing for me was to see Katja today take that corner at full throttle, it really was an amazing sight."
In a field of over 100 machines and five different classes, Miracle Mike topped the most prestigious class. This stripped down sprinter – with a nitrous oxide system mated to the Scout's already powerful 1133cc V-twin engine – is gaining a large fan following of people who love both the headless chicken story behind it and the craftsmanship by the Young Guns.
Grant Bester, VP/GM for Indian Motorcycle in Europe said: "This project was all about bringing the right cool people together to see what Indian could do. We wanted to try and bring back the essence of the Indian Motorcycle Company in building, competing and having fun. Seeing Katja ride Miracle Mike today was a thrill and I'm delighted that Indian came out on top."
There's some downtime for the Young Guns and Miracle Mike now as the second and final Essenza sprint race is a few months away in September at Glemseck, Germany.
# # #
Indian would like to thank Öhlins Racing, Akrapovič and Brembo for their support and partnership in this build.
It's the first time a female rider has won at Punks Peak and the first time an Indian has competed.
The other entries in the Superbike category were:
No 32             Trojano Marco                      Ducati 1000GT
No 33             Herve Libner                         Ducati Monster
No 43             Laurent Cochet                     BMW RnineT Scrambler
No 54             Bruno Belva                          Ducati S4SR
No 58             Katja Poensgen                    Indian Scout 'Miracle Mike'
No 59             Eric Muchmore                    Harley-Davidson Sportster Flat Tracker
No 60             Pierre Mouneu                     Yamaha XSR900
No 61             Anthony Partridge                Yamaha MT10 Dragbike Custom
No 62             Ralf Rohde                            Buell XB 12 SS
No 68             Martin Hulin                        Essence e-raw
No 72             Sebastien Guillemot            BMW RnineT
Follow the Young Guns on Facebook at www.facebook.com/younggunsspeedshop/ or on their website www.ygspeedshop.com
A large gallery of high-resolution images of the Young Guns building Miracle Mike can be downloaded from the media site. Registration required.
# # #
ABOUT NIK HEER
Nik is the head of the Young Guns Speed Shop and a creative brain and mechanical mastermind. From an early age, Nik was fascinated with engines; he read his first book about engines long before he was allowed to ride a motorised bike. During his youth he was constantly working on bikes, the only thing that changed was the size of the toys. He soon started to help out his fellow friends to fix and modify their bikes. After finishing his education as a multi-disciplined engineer, Nik now builds, restores and customises motorcycles for a living, working on a wide range of bikes. Aged just 26 Nik is one of the very young bucks that holds a record in Bonneville. Besides land speed racing he is a feared dirt track rider and when not working on his projects or racing motorbikes, he can be found snowboarding, skateboarding, making music or working on his art projects.
ABOUT FABIAN WITZIG
Fabian (23) is a mechanical mastermind. His father owns a tractor company and as soon as he could start walking he was surrounded by an enormous garage of agricultural machines and started to learn everything about wrenching. Fabian is never short of an idea how to work around a technical problem with any type of motorcycle and this makes him a true master of craftsmanship. He holds a degree in engineering and for his very young age has an extremely independent free-spirited mind. When he sets his mind into something he won't let go until it's accomplished and exactly the way he wants it. Everything that he spies with his eyes inspires him and he is continuously curious. When he is not in the workshop (where he currently is almost 24/7) Fabian loves playing guitar, or he helping out on his dad's grain farm. He is a warm fellow that loves jamming with his guitar together with friends around bonfires and drinking rum until late into the night.
ABOUT INDIAN MOTORCYCLE
Indian Motorcycle, a wholly owned subsidiary of Polaris Industries Inc. (NYSE: PII), is America's first motorcycle company. Founded in 1901, Indian Motorcycle has won the hearts of motorcyclists around the world and earned distinction as one of America's most legendary and iconic brands through unrivalled racing dominance, engineering prowess and countless innovations and industry firsts. Today that heritage and passion is reignited under new brand stewardship. To learn more, please visit www.indianmotorcycle.eu
MEDIA CONTACT
Dan Tye
PR Manager (EMEA)
Follow us on Twitter @IndianEMEA_PR
+44 7471 030606
press@indianmotorcycle.media