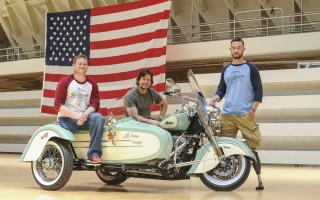 • Indian Motorcycle's 'Veterans Charity Ride to Sturgis' is currently underway
• 20 veterans with various back stories are riding together on Indian motorcycles
• Therapeutic effects of motorcycling showcased as way to heal and inspire
The 'Veterans Charity Ride to Sturgis' is currently underway with 20 wounded and amputee veterans riding on a 1,776-mile, multi-state tour on Indian motorcycles.
Veterans from all branches of the military in the USA have been hand-selected to experience 'motorcycling therapy' on Indian motorcycles, trikes and Champion sidecars on a ride from Los Angeles to the Sturgis Motorcycle Rally in South Dakota.
To see the full list of veterans and their stories please visit http://veteranscharityride.org/meet-the-veterans/
The nine-day journey stops in various towns and cities along the way, giving the veterans a chance to meet the grateful citizens they have made sacrifices for.
Towns along the route include Las Vegas, Moab, Utah, Denver and Hot Springs.
Once in Sturgis, the veterans will spend the week of the rally riding in the Black Hills, attending events and taking part in the ultimate Sturgis Experience.
Mark Wahlberg, actor, producer and an Indian Motorcycle enthusiast is backing the charity ride and said: "I'm so grateful to the participants in this year's ride and all our veterans for their service to our country. This ride is a wonderful opportunity to support each other and enjoy the natural beauty of this great nation."
Watch his video message here > https://www.youtube.com/watch?v=u2haj3OgF4A
The charity ride was conceived and developed by veteran Army Paratrooper David Frey and Emmy Award-winning producer and director Robert Manciero of Full Vision Productions.
The idea is to leverage the therapeutic effects of motorcycle riding and create an adventure of a lifetime for wounded veterans, helping them to look forward and regain a sense of purpose.
For the second year in a row, the charity ride is being filmed so the message can be shared with as many veterans as possible. Last year's films can be seen here > https://www.youtube.com/watch?v=xw8yGKYoYz0&list=PLDcKnjZUAr9TR3OIJ0XnY6417TSO7NnAQ
David Frey said: "We'll spend over a week riding on America's most beautiful roads, getting to know each other and helping each other through motorcycle therapy. The shared experience of serving brings us together, veteran to veteran, to help each other heal. We also show the veterans just how much their service means to America by stopping in small towns along the way to meet the people of our nation who want to celebrate these brave men and women."
Indian Motorcycle Marketing Director Reid Wilson said the brand is proud to be a founding sponsor of the Veterans Charity Ride to Sturgis in honour of the sacrifices made by brave men and women: "Indian Motorcycle has a long and proud heritage of supporting the U.S. Military and our troops over the course of the past century, and we are pleased to continue that tradition as a part of this noble and worthwhile initiative," he said.
Many of the veterans are riding in Indians fitted with a Champion sidecar. Indian Motorcycle realised that they would need a way to include veterans on this ride that are not able to operate a motorcycle themselves. The idea of sidecars was presented to Champion and they did not hesitate even for a moment to say yes.  The custom sidecars they created are gorgeous. The sidecars perfectly match the style and colour of the Indian Motorcycles. The side car bikes have been to several events and they are a crowd favourite. Their support has been honest and generous. Visit Champion.
Website http://veteranscharityride.org/
Twitter  https://twitter.com/VeteransRide
Photo gallery http://veteranscharityride.org/photo-gallery/
Images by Sara Liberte http://saraliberte.zenfolio.com/p441166216
Pictured above left to right: Sean Carroll who lost his leg in an IED blast in Iraq in 2004, Mark Wahlberg and Jed Morgan who lost both legs and knees and the use of his right hand in an IED blast in 2012 in Afghanistan.
###
ABOUT INDIAN MOTORCYCLE
Indian Motorcycle, a wholly-owned subsidiary of Polaris Industries Inc. (NYSE: PII), is America's first motorcycle company. Founded in 1901, Indian Motorcycle has won the hearts of motorcyclists around the world and earned distinction as one of America's most legendary and iconic brands through unrivaled racing dominance, engineering prowess and countless innovations and industry firsts. Today that heritage and passion is reignited under new brand stewardship. To learn more, please visit www.indianmotorcycle.eu.
ABOUT POLARIS INDUSTRIES
Polaris Industries Inc. (NYSE: PII) is a global powersports leader with annual 2015 sales of $4.7 billion. Polaris fuels the passion of riders, workers and outdoor enthusiasts with our RANGER®, RZR® and POLARIS GENERAL™ side-by-side off-road vehicles; our SPORTSMAN® and POLARIS ACE® all-terrain off-road vehicles; VICTORY® and INDIAN MOTORCYCLE® midsize and heavyweight motorcycles; SLINGSHOT® moto-roadsters; and Polaris RMK®, INDY®, SWITCHBACK® and RUSH® snowmobiles. Polaris enhances the riding experience with parts, garments and accessories sold under multiple recognizable brands, and has a growing presence globally in adjacent markets with products including military and commercial off-road vehicles, quadricycles, and electric vehicles. www.polaris.com
MEDIA CONTACT
Dan Tye
EMEA PR
Follow us on Twitter @IndianEMEA_PR
+44 7471 030606
press@indianmotorcycle.media