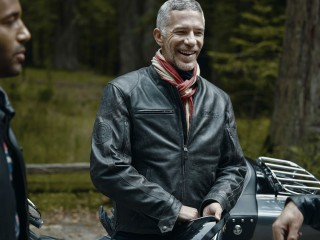 Four new 'Indian Motorcycle-branded' jackets will be on sale in dealerships mid-October.
They are:
The Hedstrom Jacket
The Freeway Jacket
The Perforated Route Jacket
The Military Jacket
HEDSTROM JACKET

This is a black distressed leather jacket with antique brass zippers, an Indian Motorcycle logo debossed on the front, one embroidered (in black stitching so it's quite subtle) on the back and a leather circle headdress patch on the right sleeve. It has a removable plaid quilted liner and adjustable ventilation. There are hidden ventilation panels on the back and arms, side adjusting zippers and snap-shut cuffs. Removable CE protectors are in the shoulders and elbows. Perfect for everyday riding and comes in a 'V-Twin Fit'. Matching Hedstrom gloves are available.
Sizes from S to 3XL
€579
£489.99
SEK 6090kr
NOK 5590kr
FREEWAY JACKET

This is for riders who want a lighter weight leather jacket. The Freeway Jacket has more prominent Indian Motorcycle branding than others in the range. There's an Indian Motorcyle red and cream stripe stitched around at chest height, a small logo on the front, a larger one across the rear and a headdress patch on the right sleeve and an American flag patch on the left sleeve. It has 'Powerstretch' side panels
 for comfort, comes in a 'V-Twin fit' and has a removable plaid liner.
Sizes S to 5XL
€499
£419.99
SEK 5190kr
NOK 4790kr
PERFORATED ROUTE JACKET
If you're riding in warm weather then this is the jacket you want. The perforated leather helps riders stay cool, but it also comes with a removable quilted liner (in plaid) to add a bit of warmth when it becomes chillier. The colour is washed grey and the ecru-coloured stripes down the sleeves gives the jacket a vintage racing look. There's a circular headdress patch on the right sleeve and an American flag patch on the left. The front of the jacket is plain, but the back has an Indian Motorcycle logo embroidered into it. There are zippered side expansion panels and snap-shut cuffs. 'V-Twin fit'.  
Sizes from S to 3XL
€579
£439.99
SEK 5490kr
NOK 5090kr
MILITARY JACKET

This Military Jacket is something a little bit different in the range, because it's styled like a classic military rider's jacket
 in khaki green. The outer shell is a water resistant canvas and inside is a warm fleece lining and removable CE armour. There's a coloured Indian Motorcycle headdress logo above the right-hand chest pocket and a small one embroidered logo on the collar on the back. An American flag patch is on the left sleeve. Comfort fit.
Sizes from S to 5XL
€319
£259.99
SEK 2890kr
NOK 2690kr
Hi-res images of all of these jackets are available to download from the media site.
An extended range of jackets, casualwear and gifts will be available from October.
# # #
MEDIA CONTACT
Dan Tye
EMEA PR
press@indianmotorcycle.media
@IndianEMEA_PR
+44 7471 030606