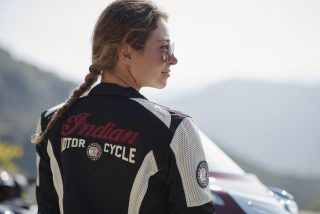 Indian Motorcycle has always had great clothing for women to wear and this latest batch gives the best choice of riding and casual gear to date. 
Indian's Head of Parts, Garments and Accessories, Andreas Geisinger, says: "Our casual and riding clothing must look and feel comfortable. We have added new items for women that include fringe, studs, lace and chiffon. We don't just print a logo on our women's clothing either, we carefully select fabrics and colours that are on-trend and have a timeless style."
DRIFTER MESH JACKET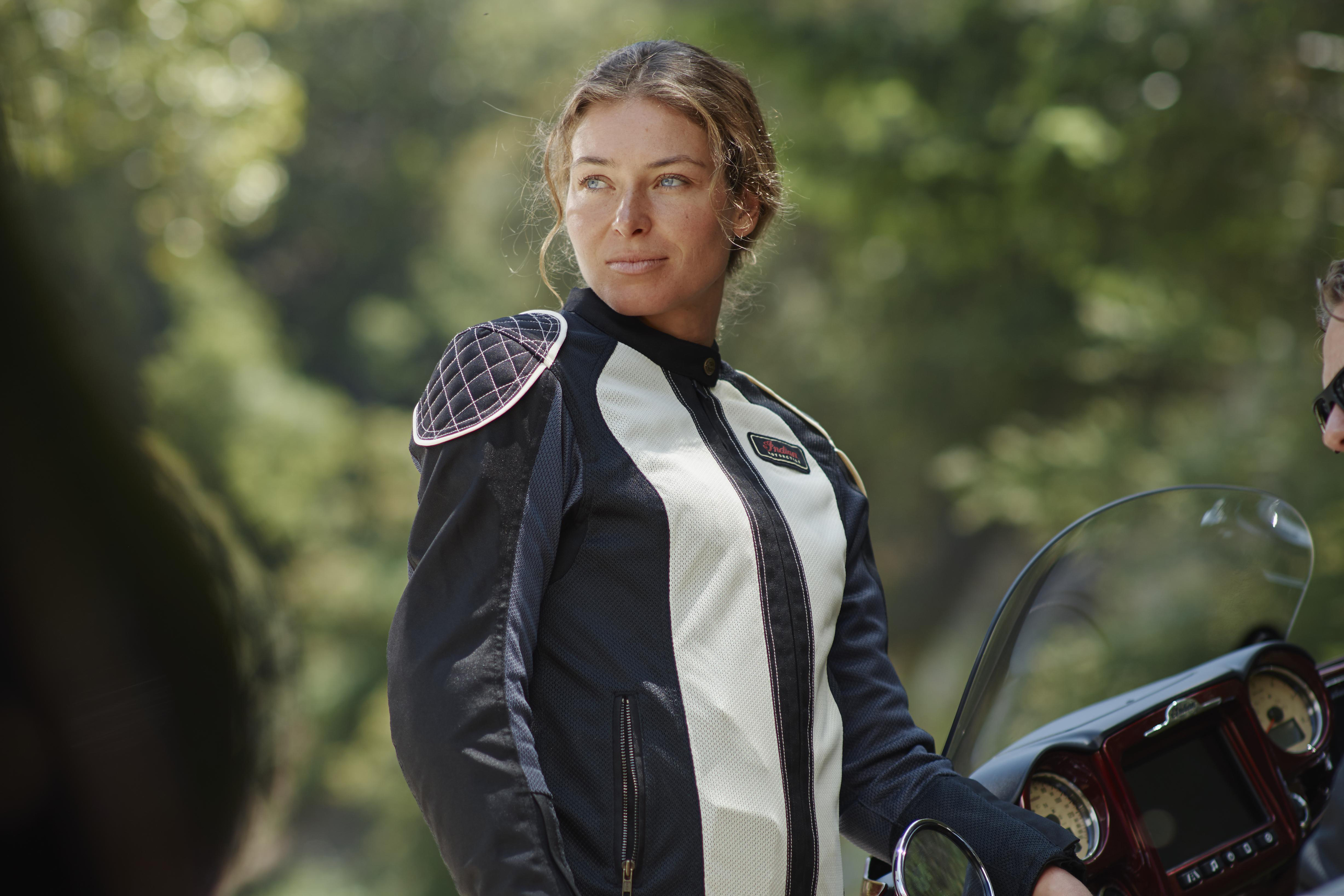 Made from mesh material, this is ideal for riding in warm climates. There's an inner windproof liner that can be added in for those cooler days Sizes XS to 3XL. CE certified, Directive 89/686/EEC prEN 17092 Level AAA.
LORETTO JACKET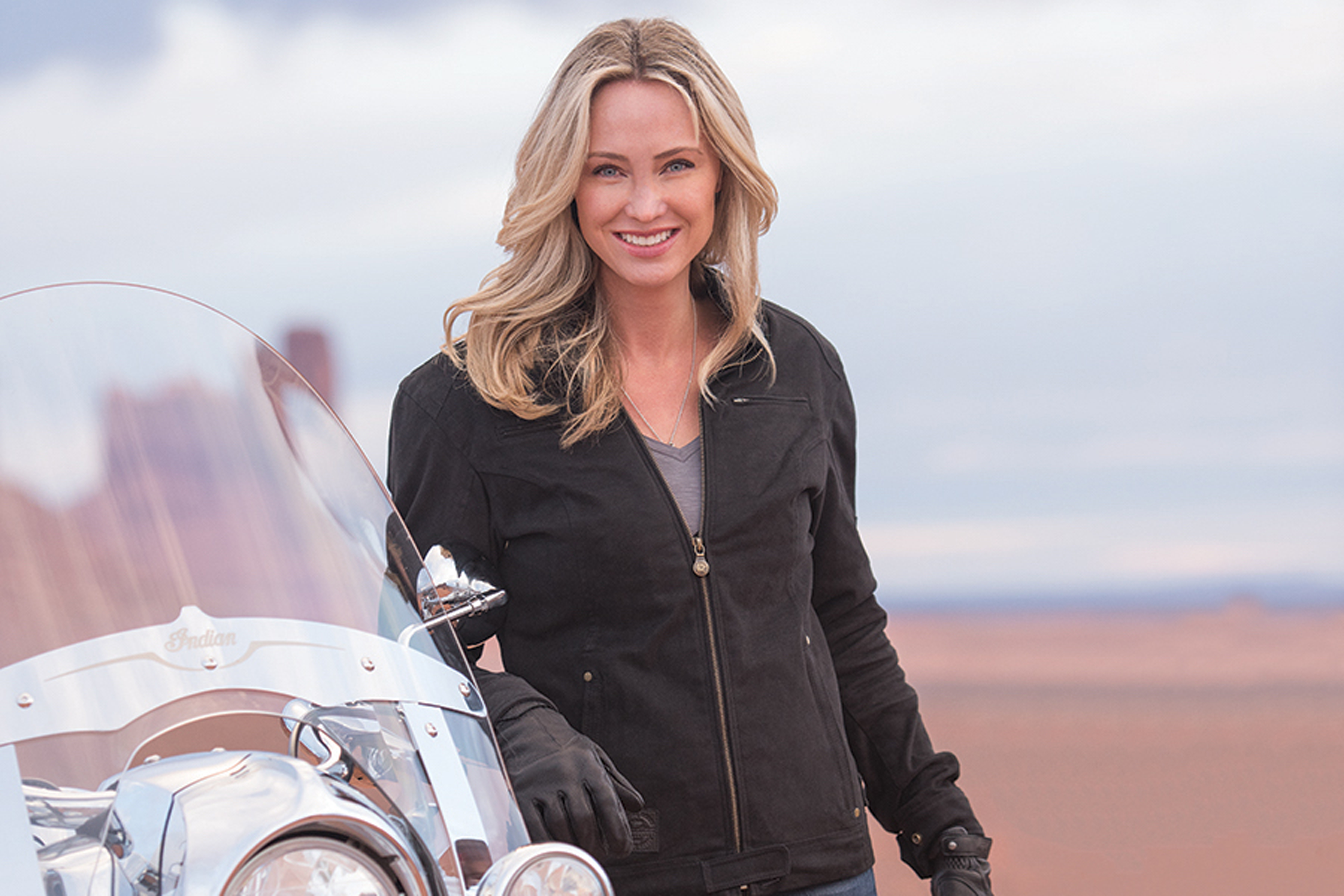 This is a casual jacket, made with stretch cotton and has a rib knit collar for comfort. There's a leather Indian patch on the bottom right and a small logo on the back near the neck, so it's subtle branding. Sizes XS to 3XL.
HEADDRESS MARL TEE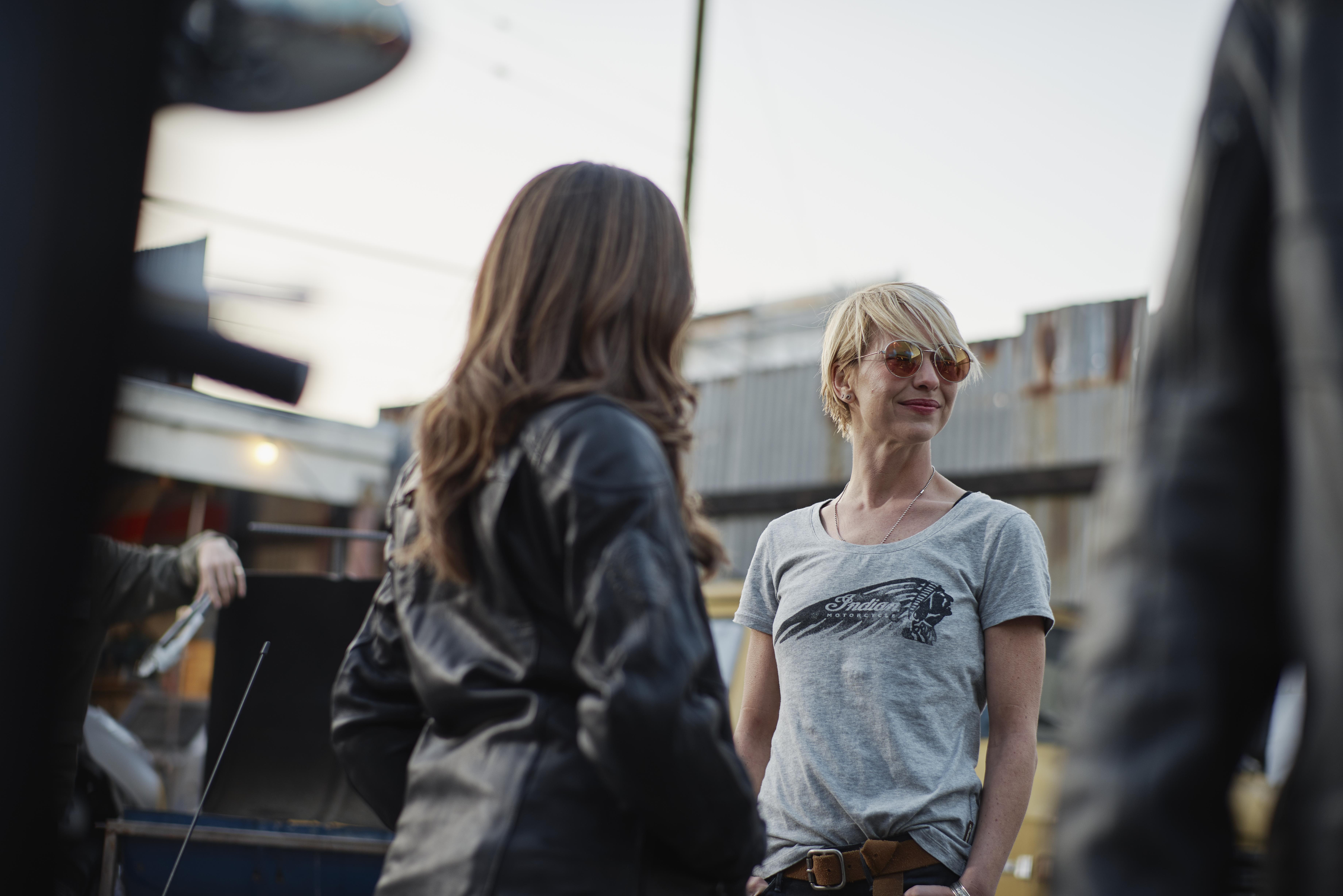 This scoop neck tee comes in a stretch fabric and is cut for a close fit. A distressed-look Indian headdress logo across the front is on the front. Sizes XS to 3XL.
ICON HENLEY, PURPLE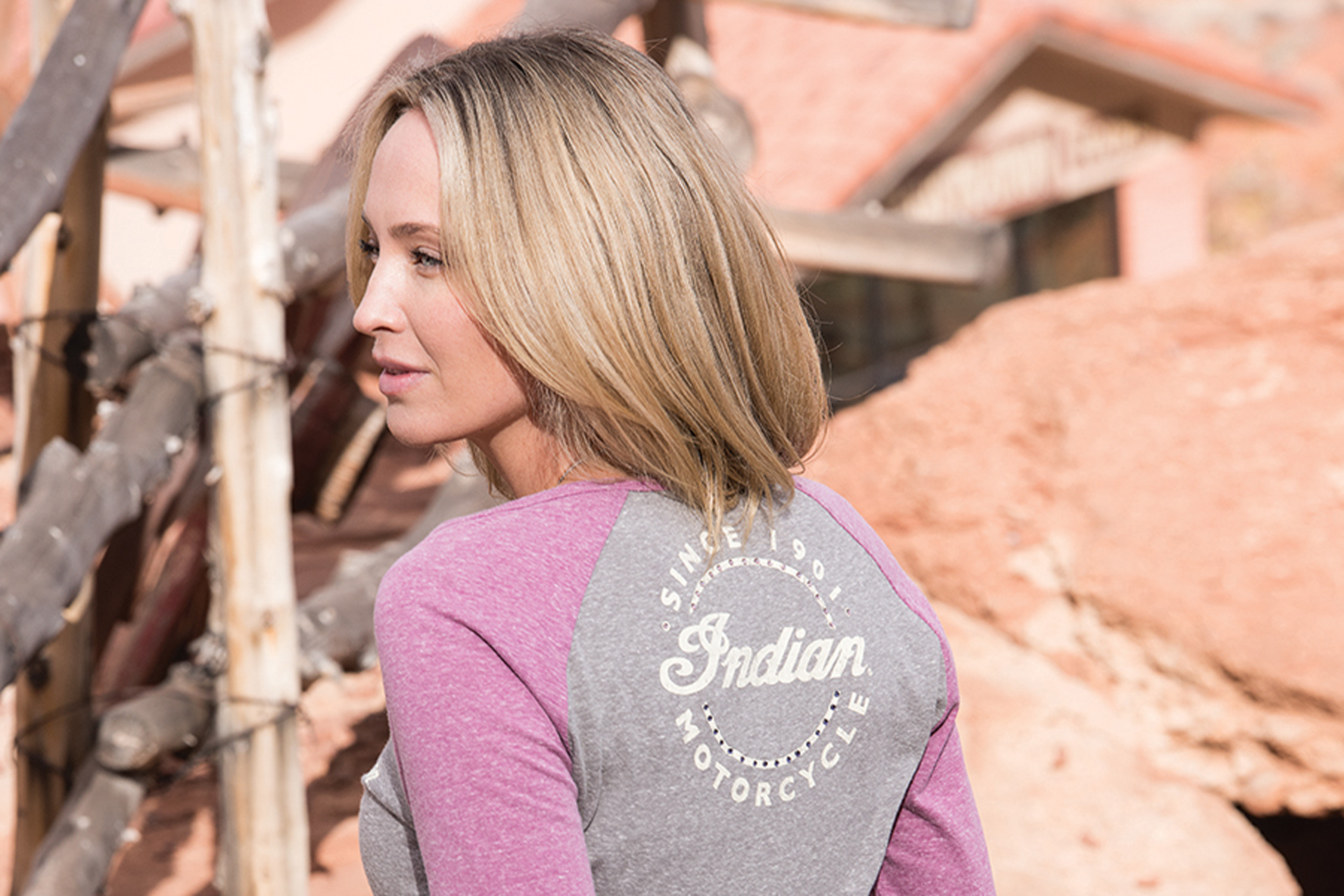 Branded graphics are on the front and back of this purple-sleeved tee. The graphics on the rear have purple rhinestones embedded in to them. Sizes XS to 3XL.
SILVER SPARKLE TEE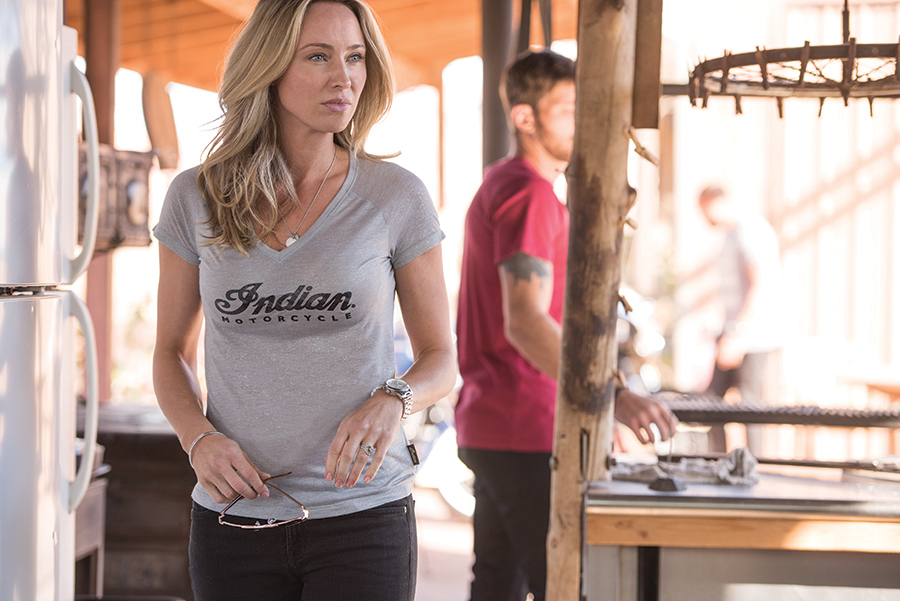 This t-shirt has a silver foil print over it which makes it sparkle. The black logo has also been applied with glitter paint. In sizes XS to 3XL.
LOGO LACE TANK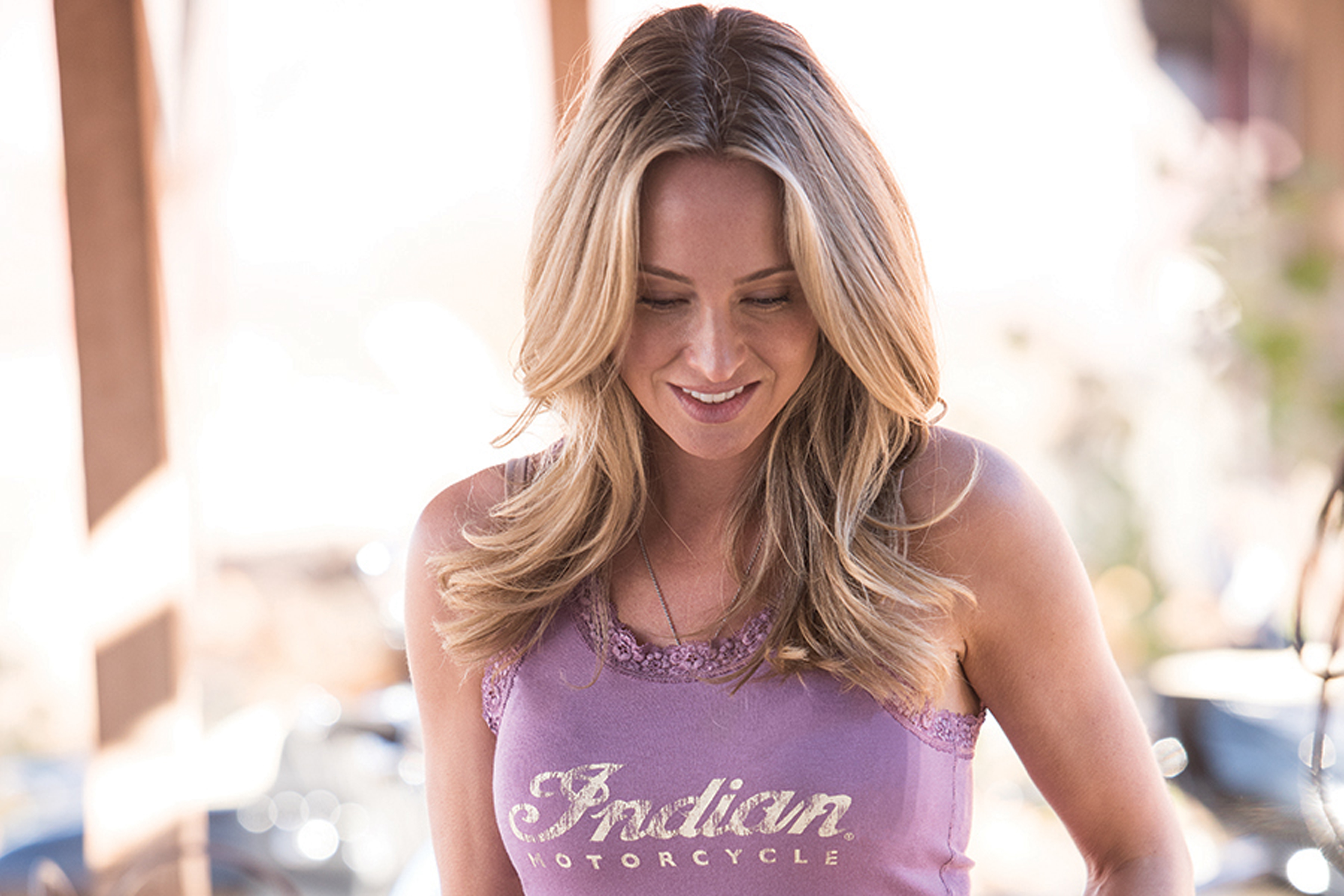 This is a soft t-shirt with intricate lace detailing and a distressed Indian logo. Sizes XS to 3XL.
LACE PANEL TEE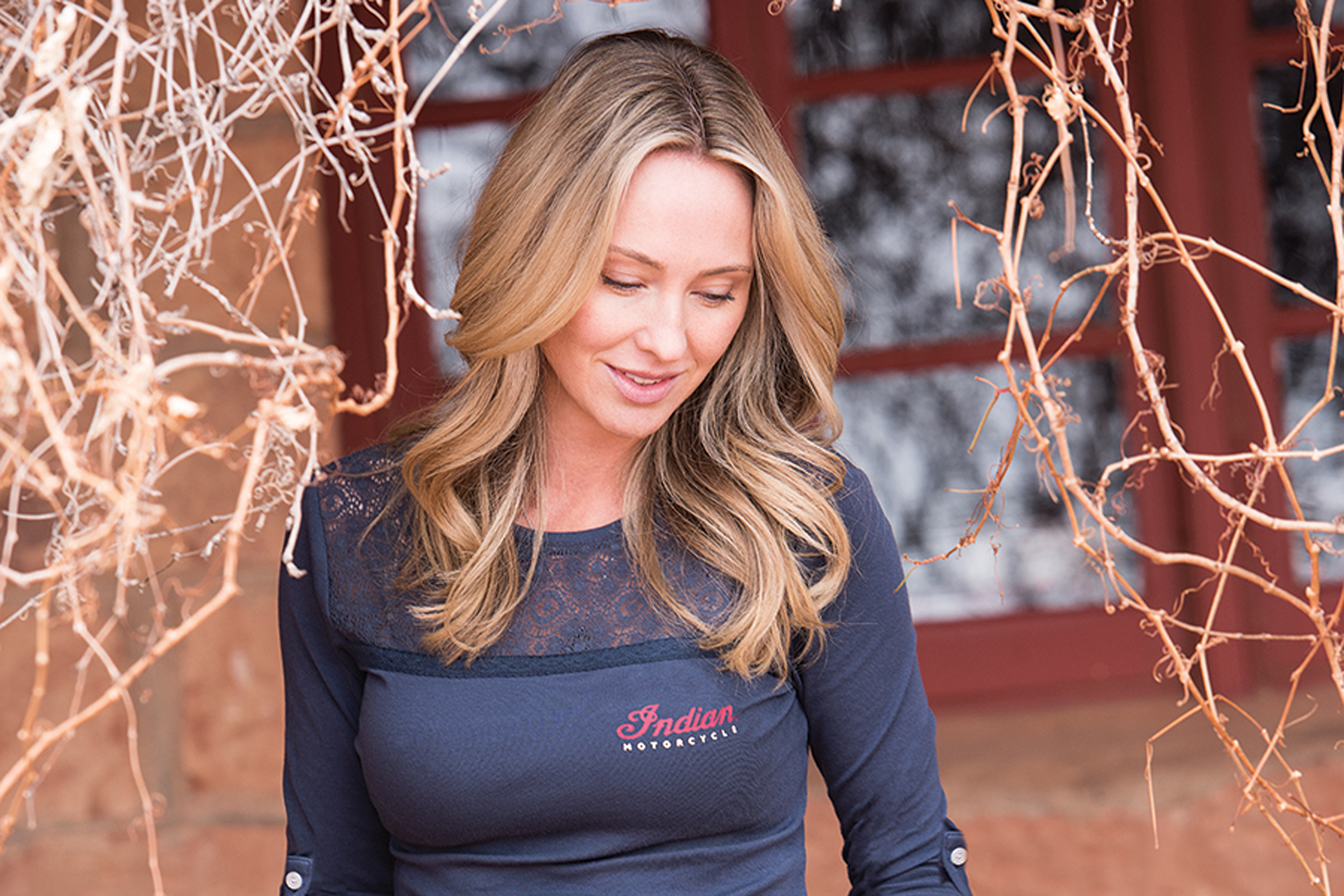 Check out the lace panel section in this long sleeve t-shirt. The buttons on the sleeve give you the option to roll them up and wear it as a 3/4 sleeve. Sizes XS to 3XL.
FRINGE TEE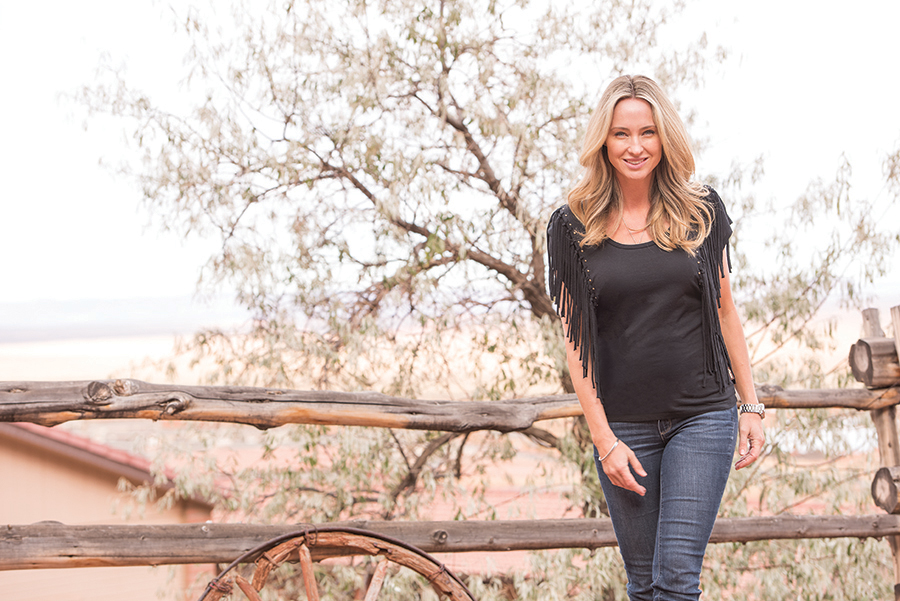 The key feature on this top is the fringe detailing and bronze studs tying in with the fringe seen on the Chief Vintage and Roadmaster Classic bikes. On the back there's a small bronze foil logo just under the neck. Sizes XS to 3XL.
CHIFFON SLEEVE TEE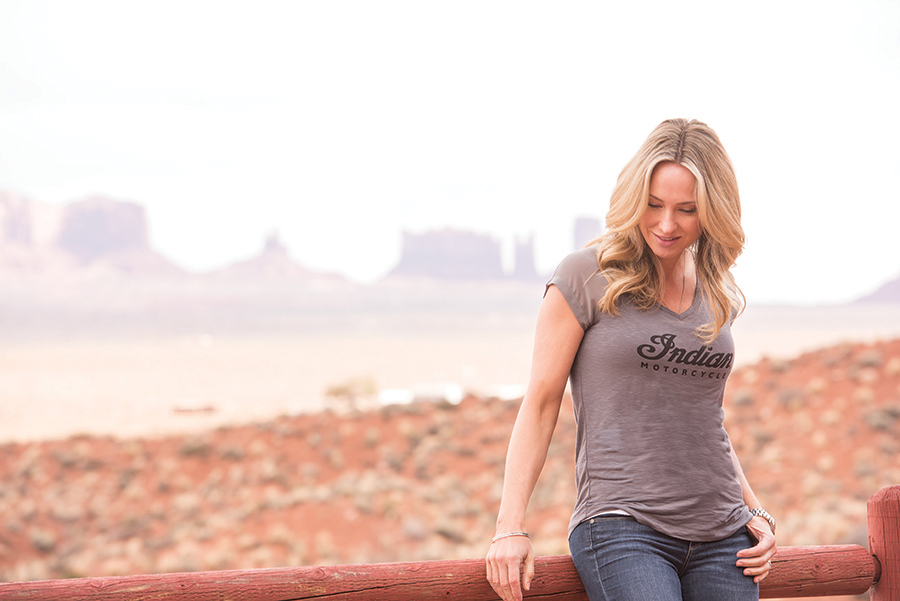 A classic style, this relaxed fit tee is made from lightweight viscose material and has chiffon sleeves for a feminine look. Sizes XS to 3XL.
QUALITY SWEAT, GRAY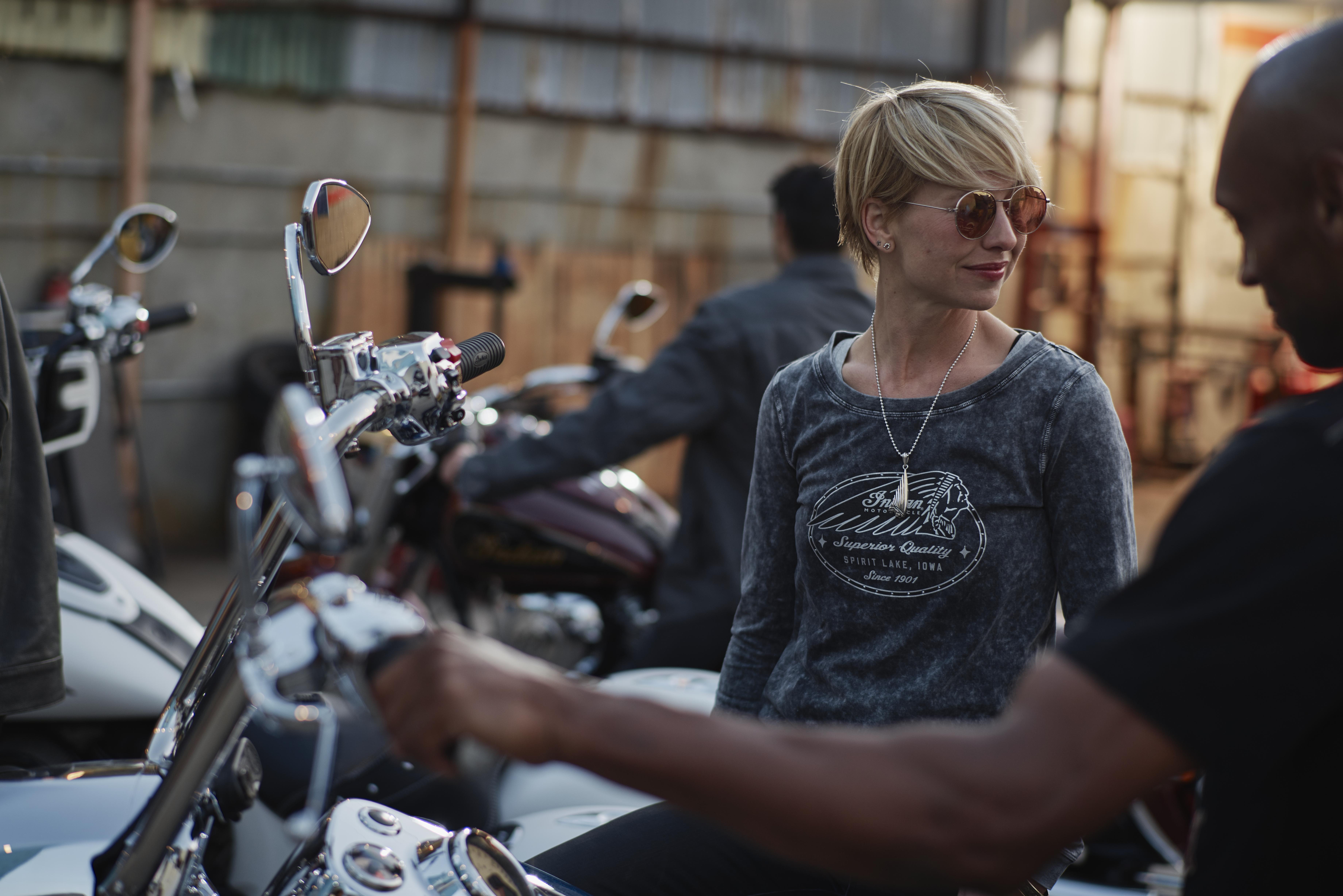 This lightweight sweat contrasts a heavy vintage wash with silver foil print chest logo design, finished with black glitter and rhinestones. Sizes XS to 3XL.
RAGLAN LACE TEE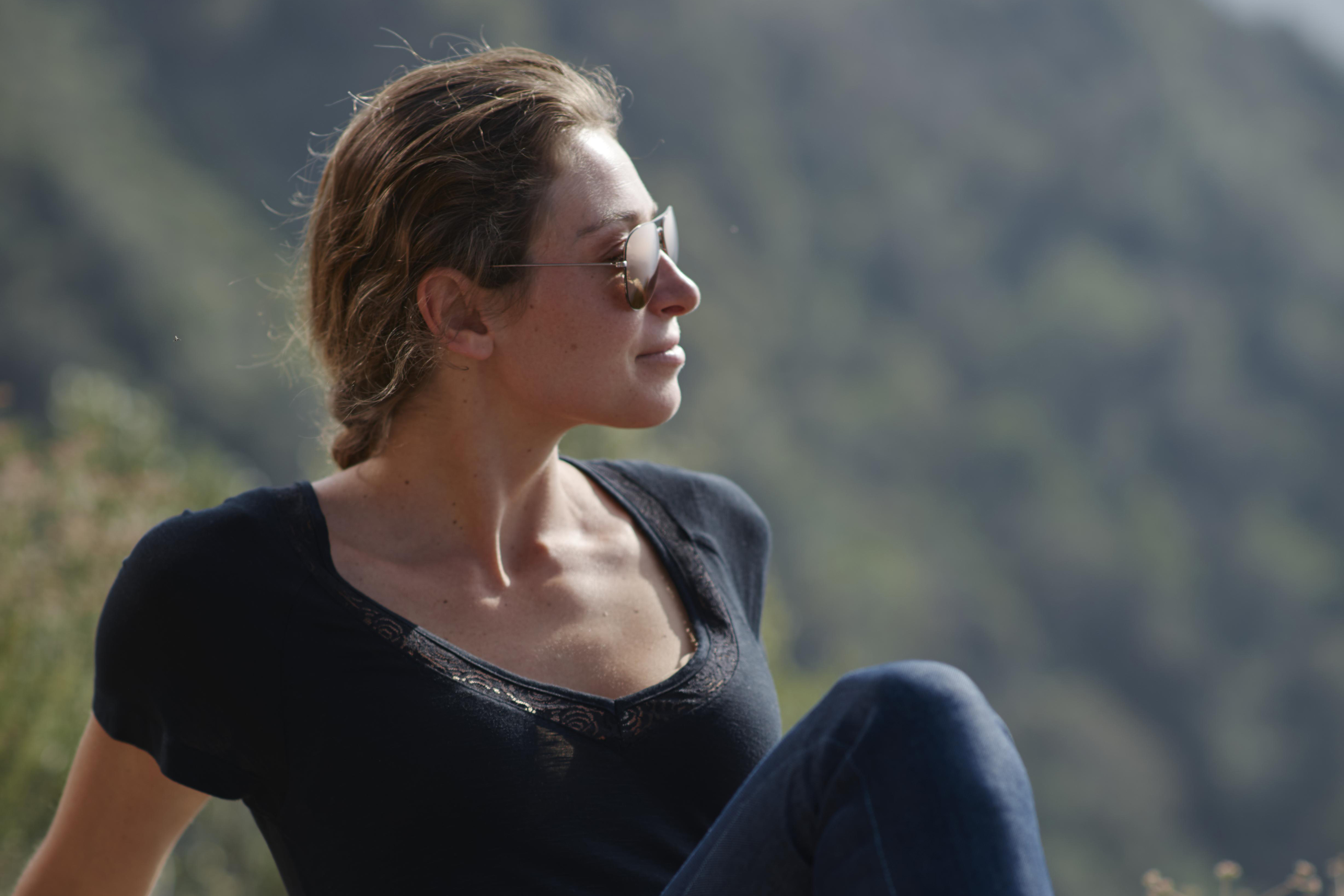 A subtly branded raglan tee with a deep V-neck, finished with a stylish lace trim, this is the Indian tee for wearing day or night. Sizes XS to 3XL.
CONTRAST ZIP THRU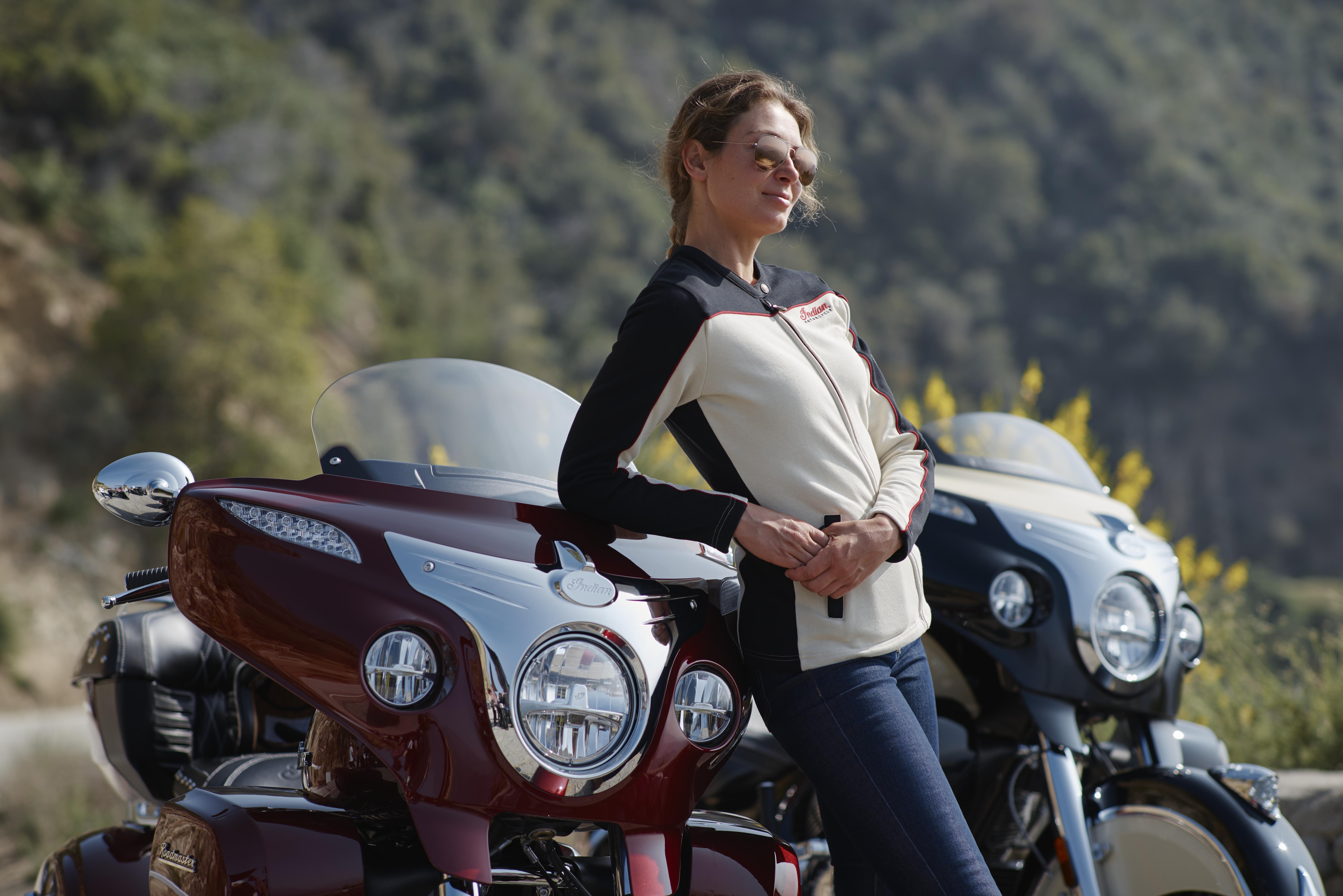 Black and cream coloured panels combine to create a chic, flattering look on the zip thru, which also includes pockets and front/back Indian branding. Sizes XS to 3XL.
# # #
ABOUT INDIAN MOTORCYCLE
Indian Motorcycle is America's first motorcycle company. Founded in 1901, Indian Motorcycle has won the hearts of motorcyclists around the world and earned distinction as one of America's most legendary and iconic brands through unrivalled racing dominance, engineering prowess and countless innovations and industry firsts. Today that heritage and passion is reignited under new brand stewardship. To learn more, please visit www.indianmotorcycle.eu.
MEDIA CONTACT
Dan Tye
PR Manager (EMEA)
Follow us on Twitter @IndianEMEA_PR
+44 (0) 1525 270100
press@indianmotorcycle.media