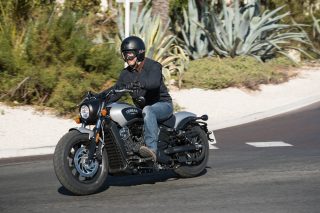 IF LESS IS MORE, THIS BIKE IS LOADED. Slammed stance. Chopped fenders. Knobby tires. Blacked-out and stripped-down. The Scout Bobber is no frills, all attitude. The only place we didn't hold back: the 94 barely-tamed horsepower of a 69-cubic-inch V-Twin. Grab on. Hold fast. Your legend is just getting started.
CHOPPED FENDERS
The Scout Bobber proves that less is truly more. True to classic Bobber style, the front and rear fenders are chopped.
BARELY-TAMED HORSEPOWER
A 69-cubic-inch, 1133-cc V-Twin with 6 speed transmission pumps out an impressive 94 horsepower for head-snapping acceleration and plenty of passing power. All of this power comes with confident control and sporty, firm handling through every curve and straightaway.
STRIPPED-DOWN, BLACKED-OUT
The Scout Bobber has more of what you need and nothing that you don't. It has a raw, mechanical look, minimal engine covers, and blacked-out exhaust, frame, handlebars and mirrors. It may be stripped down, but it always stands out.
SLAMMED STANCE
A slammed stance with the rear suspension lowered 25mm creates a low-slung profile that delivers unfiltered feedback from every inch of blacktop.
BLACKED-OUT HEADLIGHT NACELLE
When we say blacked-out, we mean it. The Scout Bobber is drenched with premium black finishes, including the front headlight nacelle.
CARTRIDGE FORK FRONT SUSPENSION
The Scout Bobber is a smooth ride in a mean body. With cartridge forks and expertly tuned front suspension, you'll experience a stable ride at all speeds.
AGGRESSIVE, KNOBBLY TYRES
Every inch of this bike is a premium expression of aggressive street style. Knobbly tyres give this bike a menacing look.
PURPOSEFUL PEG POSITION
We pulled the pegs 38mm closer to the rider and added street tracker handlebars, putting you in a more aggressive riding position. The bond between man and machine has never been greater.
LIQUID-COOLED, V-TWIN PERFORMANCE
The Scout Bobber is fuelled by a 94 horsepower V-Twin engine that delivers best-in-class performance. Liquid cooling ensures optimal performance in a wide variety of conditions and a cool, comfortable ride.
LOW-SLUNG LEATHER BOBBER SEAT
A low-slung, brown leather bobber seat heightens the Scout Bobber's minimalistic style. It gives the bike an aggressive stance with the agility to rip through every curve and straightaway.
STREET TRACKER HANDLEBARS
The Scout Bobber comes standard with street tracker handlebars. Their low-rise profile puts you in a forward, more aggressive riding position so you can carve through the urban jungle with ease.
BLACK GAUGE FACE
The black gauge face complements the bike's blacked-out style, making everything about the Scout Bobber mean and aggressive.
ALL-NEW TANK BADGE
No motorcycle brand is as legendary as Indian Motorcycle. The Scout Bobber proudly features an all-new tank badge. Bold block lettering pulls the iconic Scout emblem into a more commanding place.
BLACKED-OUT, SLOTTED EXHAUST
The Scout Bobber has a commanding presence that won't be ignored. Blacked-out, slotted exhaust pipes reinforce its bold, sinister styling.
BLACK CAST ALUMINIUM WHEELS
The Scout Bobber isn't afraid to make a bold statement. Black cast aluminium wheels hugged by knobbly tyres merge on-road performance with urban style.
LED TURN SIGNALS
Details matter. And we've thought about every one. For a minimalistic look, bright LED lights take over duties for stop, turn, and tail signals. They tightly hug the rear fender for a clean line from tip to tail.