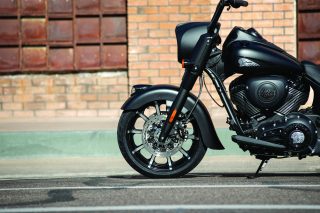 2020 Springfield – Thunder Stroke 111
Pure and classic styling define the Indian Springfield. Standard with Ride Modes and Rear Cylinder Deactivation, the Indian Springfield maintains rider-favourite features such as the quick release windshield, genuine leather seats, remote-locking saddlebags and adjustable passenger floorboards. ABS, cruise control, keyless ignition and tire pressure monitoring also come standard.
Colours: Thunder Black; Burgundy Metallic over Titanium Metallic
2020 Springfield Dark Horse – Thunder Stroke 116
Redesigned and restyled for 2020, the Indian Springfield Dark Horse features slammed saddlebags, rogue seat, 12-inch mini apes, premium blacked-out finishes and the beefed-up Thunder Stroke 116 engine with premium blacked-out finishes. Standard features include Ride Modes, Rear Cylinder Deactivation, remote locking saddlebags, ABS, cruise control, keyless ignition and tire pressure monitoring.
For the first time in the company's history, Indian Motorcycle will offer a 116 cubic-inch Thunder Stroke 116 engine in select models. Straight from the factory, the new air-cooled V-twin engine features a new high-flow cylinder head that delivers class-leading performance with 168 Nm of torque. The Thunder Stroke 116 is now standard on the Indian Springfield Dark Horse, Chieftain, Chieftain Dark Horse, Chieftain Limited, Chieftain Elite, Roadmaster and Roadmaster Dark Horse.
Colours: Thunder Black Smoke; Sagebrush Smoke; White Smoke
For pricing and availability, please ask your country marketing specialist.
Note that images may show the North American model or be shown with additional modifications and/or accessories. International models may vary.
SELECTABLE RIDE MODES With all Thunder Stroke models, riders can choose between three Ride Modes on the fly – Tour, Standard or Sport – for a ride experience that's customized to their riding style. The throttle map for each Ride Mode has been designed with a specific application in mind, resulting in one motorcycle with three distinct personalities. Tour mode features a smooth throttle response for relaxed cruising. Standard mode features a crisp throttle response and well-balanced power delivery for responsive passing power and predictable, slow-speed handling. Sport mode features an instant throttle response and aggressive power delivery for head-snapping acceleration.
REAR CYLINDER DEACTIVATION To increase rider comfort, all Thunder Stroke 111 and Thunder Stroke 116 models feature a Rear Cylinder Deactivation. When the engine reaches operating temperature and the ambient temperature exceeds 15˚ C the rear cylinder will automatically deactivate when the bike is at a standstill, resulting in less engine heat for improved comfort in slow-moving or stopped traffic. The rear cylinder instantly reactivates when throttle is applied for a seamless transition to full power.
KEYLESS IGNITION Keyless starting is secure and convenient. With an Indian Motorcycle key fob, riders just need to throw a leg over the bike, push a button and take off. If the fob is misplaced, riders can use their customizable security code to start it up.
ADDITIONAL STANDARD FEATURES All Thunder Stroke 111 and Thunder Stroke 116 models are also equipped with automotive quality throttle-by-wire cruise control and a reliable antilock braking system (ABS).
NEW ACCESSORIES For riders looking to add or customize their passenger accommodations, Indian Motorcycle now offers a new, more modern styled Passenger Backrest Pad that matches the styling of its Rogue Seat. Also new for 2020 are the Headdress Passenger Floorboard Pads for added cushion to combat road vibration. The passenger floorboard pads match the current Headdress Rider Floorboard Pads.
HANDLEBARS New for 2020, Indian Motorcycle will offer a 12 In. Ape Hanger Handlebar Kit for all Chief and Indian Springfield models, the same bars that now come stock on the 2020 Indian Springfield Dark Horse. Indian Motorcycle Mid Rise Handlebar Kit continues to be a top seller for riders who are looking for extra space and more aggressive styling for their Chieftain or Roadmaster.
APPAREL Indian Motorcycle is more than a brand name. It's a symbol of everything we stand for. A rich heritage that, since 1901, has focused on one thing: the ride. With Indian Motorcycle apparel, we stand united in that belief. T-shirts, jackets, boots, hats, helmets and more. Whether you're riding or not, you can wear your heart on your sleeve. Visit your local dealer to view the full line of rider-tailored gear and apparel.