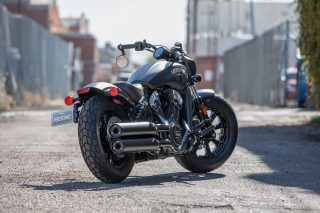 New 2021 Scout Accessories Prep Riders for the Long Haul – Features Heated Grips,
Low & Mid Wind Deflectors, Fairing Bag & Semi-Rigid Saddlebags
The Scout Bobber is powered by the same 70 kilowatt (94 hp) engine as the Scout, but features a black-out, stripped-down look and a more aggressive riding position. The chopped fenders, a low-rise handlebar, side-mount license plate, and updated primary cover deliver a mean, old-school look that commands attention.
And for aspiring and new riders, all Scout models continue to be available in A2 compliant specification.
Already a robust line of genuine Scout accessories, Indian Motorcycle is adding even more in 2021. With all-new Scout touring parts, riders can turn their city cruiser into a capable long-haul touring machine. A Scout Bobber low or mid wind deflector protects riders from the elements, while heated grips for all 2017-2021 Scout models keep your hands warm in cold weather conditions. In addition, a new fairing bag and semi-rigid saddlebags add stylish storage options. Finally, a colour-matched quick release fairing with a 50mm (2 inch) windshield is available for all Scout models in new 2021 colourways.
Specifications TBC