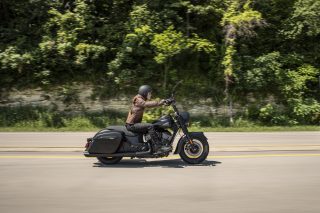 Turn heads with matte paint with blacked-out finishes, an open fender with 19″ 10-spoke contrast cut front wheel, and mid-rise handlebars. The mean look is complimented by an array of amenities including remote-locking hard saddlebags, keyless ignition, cruise control, USB charging, ride modes and rear cylinder deactivation.
Furthermore, the power buttons on the Chieftain, Roadmaster, Indian Springfield, and Indian Challenger models have been relocated to the switch cube on the handlebars to accommodate a new 12-volt charge port on the dash. The charge port conveniently provides riders with an opportunity to plug in and connect to a wider range of electronics.
Innovative Technology
The 2021 lineup boasts new ride-enhancing technology, both as standard equipment and as an upgrade.
ClimaCommand Heated & Cooled Seat
In addition to being standard equipment on the Roadmaster Limited and Roadmaster Dark Horse, Indian Motorcycle's new ClimaCommand heated and cooled seat is also available as an upgrade across all Thunderstroke models. New for 2021, the ClimaCommand seat is available in two style variations, Classic and Rogue, which has more modern, streamlined style. With a low, medium, or high setting, the thermoelectric technology is used to independently cool or heat the rider and passenger seat, while a flexible graphene material allows the heating or cooling to disperse through the entire surface area of the seat. The non-perforated seat is 100% water-resistant and highly durable. The ClimaCommand seat is available as an added accessory for all 2014 through 2021 Thunderstroke models.
Touring & Comfort Accessories
For both Indian Challenger and Thunderstroke models, a new low-profile quick-release padded sissy bar with low-profile passenger pad is available to those who want added passenger comfort without sacrificing the bike's low-profile and sleek styling.
Additionally, Indian Challenger and Thunderstroke riders can add even more wind protection with taller accessory windshield options and added comfort with an extended reach seat, infinite highway pegs and a pinnacle heel shifter. For those riding two-up, a quick-release passenger sissy bar, passenger backrest pad, and passenger floorboards add passenger comfort.
For Thunderstroke models, Indian Motorcycle offers a full package of comfort and passenger accommodations, including extended reach seat, mid-rise and 406mm (16-inch) ape hanger handlebars, rider and passenger backrests, colour matching Quick Release Trunk, passenger armrests and more.
Specifications TBC