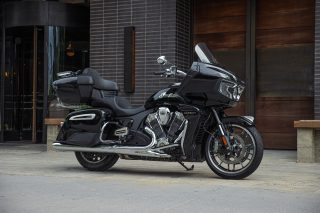 The Next Generation of American V-Twin Touring Performance is Here –
2022 Indian Pursuit Touts Class-Leading Power, All-Day Comfort & Seamless
Ride-Enhancing Technology
Indian Pursuit – the next generation of American V-Twin touring performance. Featuring the liquid-cooled PowerPlus engine, seamless ride-enhancing technology, a chassis-mounted fairing, and loads of touring amenities, the 2022 Indian Pursuit and stakes its claim as the most capable and refined American touring machine on the road.
The Indian Pursuit builds on the successful platform launched with the Indian Challenger that took American V-Twin performance and handling to a new level. The platform, built around the liquid-cooled PowerPlus motor, introduced a world-class level of sophistication from its lightweight cast aluminium frame, chassis-mounted fairing, premium running gear and state-of-the-art electronics.
The Indian Pursuit is packed with unparalleled comfort and performance and was thoughtfully engineered for discerning riders who value the journey as much as the destination. Available in two premium models for international markets, riders can select an offering to fit their personal style.
At the heart of the Pursuit is the smooth and high revving Indian Motorcycle PowerPlus engine, a 1768cc, liquid-cooled V-twin that delivers a class-leading 90kW (121 hp) and 178Nm (131 ft-lbs) of torque. Overhead camshafts and four valves per cylinder deliver incredible V-twin performance and power from a powertrain that features a six-speed transmission with true overdrive, assist clutch to reduce clutch effort, and hydraulic valve lash adjusters and camshaft chain tensioners for a low maintenance and reliable powerplant. In addition, the Indian Pursuit features a refined PowerPlus calibration, which improves low-speed drivability and further enhances the rider experience.
Riders can customise the bike's throttle mapping to suit their riding style, or the conditions, by selecting from three ride modes, including Rain, Standard and Sport. Each mode has been engineered with its own distinct traction control settings to match its throttle mapping and provide maximum confidence to the rider.
The Indian Pursuit is designed for optimal comfort on long, epic journeys. The chassis-mounted fairing provides for lighter steering and is less affected by the wind. The adjustable windscreen and vented lower fairings provide superior protection from the elements and a heightened level of flexibility to adjust to varying weather and temperature conditions. Premium style integrated driving lights in the lower fairings improve visibility at night and in colder weather, heated grips keep riders' hands warm while the Pursuit's new Heated Touring Comfort seat delivers unprecedented comfort. In addition, a premium cargo trunk and spacious saddlebags combine for more than 133 litres of power-locking storage – allowing riders to pack everything they need for longer rides.
Keeping the rider informed, the Pursuit comes with the glove-friendly, industry-leading seven-inch touchscreen display powered by RIDE COMMAND. With RIDE COMMAND, the touchscreen display offers Apple CarPlay®, GPS with turn-by-turn navigation* and a multitude of bike data to customise your view.
The Indian Pursuit features an all-new electronically adjustable rear suspension preload from Fox®, which allows riders to adjust their preload for optimal comfort and handling under varying conditions. Whether riding solo, two-up or carrying more cargo – the electronically adjustable rear suspension preload is managed from the convenience of the bike's infotainment system. The new electronic preload is also available as an accessory upgrade for all Indian Challenger models.
Race-spec radially-mounted Brembo® brakes provide powerful and progressive stopping power, and performance touring Metzeler® Cruisetec® tyres offer supreme traction and unbeatable line holding. In addition, both models offer intuitive Smart Lean Technology, which keeps riders confidently grounded by utilising a Bosch® IMU to add cornering control to the dynamic traction control and ABS for precise cornering, maximised braking, and maximised acceleration.
Indian Pursuit riders looking to further personalise their ride can do so with two kit options for their Hard Lower Fairings, a set of Mitered Mid-Rise Handlebars, LED lighting options, and various soft luggage pieces. To further utilise the space within the Pursuit's Hard Lower Fairings, riders can add additional storage compartments or integrate an Indian Motorcycle PowerBand Audio Kit. When fully upgraded with PowerBand Audio, riders will experience surround sound with four points, including front fairing, lower fairings, saddlebags and cargo trunk. The Indian Motorcycle Mitred Mid-Rise Handlebars not only add a stylish custom look, but also place the upper controls in a comfortable, elevated position. Riders can also add LED lighting for enhanced visibility, including an Adaptive LED Headlight option that automatically optimises where light shines based on the bike's lean angle. And finally, riders can choose from four versatile pieces in the Spirit Lake Luggage Collection for protected, organised gear that's easy to attach and detach from the bike.
The Indian Pursuit Limited will be available in Black Metallic and the Indian Pursuit Dark Horse will be available in Black Smoke and Silver Quartz Smoke. For pricing and availability in your region, please contact your local Indian Motorcycle press contact.
Note: Images show the North American model and may have accessories fitted. International models may vary.
For more information on Indian Motorcycle visit IndianMotorcycle.eu and follow along on Facebook, Twitter and Instagram.
*navigation may not be available in all countries.