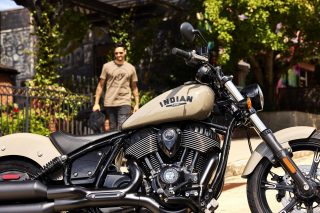 In 1921 Indian Motorcycle unveiled the iconic Indian Chief, one of the most historic and influential motorcycles of all time. The totally reimagined Indian Chief combines iconic, American V-twin style with modern performance and technology and is designed with a simplistic and mechanical aesthetic that pays homage to the glory days of American motorcycling. With a beautifully simple steel-tube frame wrapping tightly around the powerful Thunderstroke motor, the Indian Chief provides a stripped-down riding experience where power, minimalism and attitude lead the way. It reaches back to the glory days of American V-twins when hitting the road to nowhere, with good friends and only the essentials, was the stuff of legends.
The Chief lineup, like all 2023 Thunderstroke and PowerPlus models, receives a new clutch – improving the overall feel and forgiveness. This new slipper clutch reduces engine drag which provides a smoother down shifting experience and comfortable ride while improving your ability to maintain traction when facing poor road conditions. Lastly, the larger friction zone and decreased lever effort reduces your clutch fatigue, which can be beneficial in urban areas or when riding in traffic.
The lineup features a 15.1 litre fuel tank, bobbed rear fender, dual outboard preload-adjustable rear shocks, dual exhaust, LED lighting, keyless ignition, and Pirelli Night Dragon tires. Along with cruise control, Chief riders can adjust throttle response by selecting one of three ride modes: sport, standard or tour. The short wheelbase of 1626 mm, low seat height of 662 mm and a wet weight as low as 304 kg, the Indian Chief lineup inspires confidence and is approachable for any rider. Conventional 46mm front forks with 132 mm of travel, 28.5-degree lean angle, and comfortable ergonomics, create a capable machine for even the most technical of routes.
The Indian Chief Dark Horse features stripped-down, mechanical styling highlighted by drag handlebars, 19-inch cast wheels, mid-mount foot controls, a slim headlight bucket and a solo bobber seat. The Chief Dark Horse is offered in Black Smoke, Sagebrush Smoke and Quartz Gray. Powering all premium Chief models is Indian Motorcycle's Thunderstroke 116 (1890cc) engine with 162 Nm of torque.
Additionally, each model delivers a premium experience with its industry-first, 101 mm round RIDE COMMAND system. Riders can operate the RIDE COMMAND system through grip controls or via the digital IPS touchscreen display. Riders can cycle through multiple interfaces, including two different gauge configurations, bike and ride information, and turn-by-turn navigation. If using a wireless helmet communicator, riders can control their music within the RIDE COMMAND system once their phone is paired via Bluetooth or USB. Riders can also access phone information, including recent calls, contacts, number pad and text message history. When connected, incoming calls will appear and can be accepted or declined directly through the RIDE COMMAND system.
New Accessories
For 2023, Indian Motorcycle brings new accessories for the Indian Chief lineup to add storage and enhance comfort:
• Two new Chief bag options allow riders to pack more without sacrificing style.
• Chief Fork Bag: Attached to the front of the handlebars, this bag is perfect for storing smaller items like gloves, glasses, cell phones or water bottles
• Chief Bobber Saddlebags: Complementing the bike's mean demeanor, weather-resistant saddlebags add convenient storage
• The new Chief Comfort+ Solo Seat pulls design inspiration from old-school muscle car interiors and contours to hold the rider securely and comfortably, while also offering even more padding than the stock seat
• The new Chief Syndicate Seat complements the bike's distinct design, while adding comfort and support for both rider and passenger. It's made with a durable, weather resistant black vinyl that won't fade, and is easy to install
• For two-up riding, the Chief Low Profile Passenger Backrest not only complements the bike's style, but adds cushioned support to the passenger's posterior
• Two CruzTOOLS® Tool Kits Compatible with all Indian Motorcycle Models
• All-Weather Vinyl Tailbag, which attaches to select passenger seat or luggage racks
Notes for editors:
• For pricing and availability in your region, please contact your local Indian Motorcycle press contact.
• Images may show North American models and may have accessories fitted. International models may vary.
• Navigation may not be available in all countries.