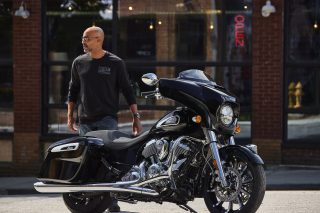 The Indian Motorcycle Chieftain Limited provides premium finishes, modern technology, and overall highlights American craftsmanship. Standard features include Ride Command with Apple CarPlay® integration, selectable ride modes, rear cylinder deactivation, new Metzeler® Cruisetec® tires, ABS, cruise control, highway bars, remote-locking saddlebags, tire pressure monitoring and full LED lighting.
The Chieftain packs the high-displacement Thunderstroke motor with 171 Nm of torque, engineered to dominate the road. Saddlebags provide plenty of storage for riding gear and cargo, while wind protection, comfortable ergonomics, floorboards, amenities, and a comfortable two-up seat make these models the ultimate long-distance machines.
The Chieftain lineup, like all 2023 Thunderstroke and PowerPlus models, receives a new clutch – improving the overall feel and forgiveness. This new slipper clutch reduces engine drag which provides a smoother down shifting experience and comfortable ride while improving your ability to maintain traction when facing poor road conditions. Lastly, the larger friction zone and decreased lever effort reduces your clutch fatigue, which can be beneficial in urban areas or when riding in traffic.
For 2023, the Chieftain, Indian Challenger, Roadmaster and Indian Pursuit models also feature a redesigned LED headlight, which improves reach and spread of light — helping the rider see what lies ahead, while also improving their visibility to other motorists on the road.
Ride Command Infotainment System
• Screen Size: 178 mm
• Audio System: 100-Watt with AM/FM, Bluetooth® and USB input
• Apple Carplay® Integration
• GPS Navigation: Turn-by-turn directions, built-in points of interest
• Customizable Route Builder: Add up to 100 way points
New Accessories
For 2023, Indian Motorcycle brings new following new accessories:
• Two CruzTOOLS® Tool Kits Compatible with all Indian Motorcycle Models
• All-Weather Vinyl Tailbag, which attaches to select passenger seat or luggage racks
• Color matched Quick Release Low Profile Trunk factory engineered to add style, passenger comfort, and extra storage space to bagger and touring models. With a 10 kg cargo limit and 46 litres of volume riders can easily fits two half helmets, gloves, and a jacket, Perfect for day trips and small adventures it can also be installed and removed without tools with no mounting hardware remaining on the motorcycle.
Notes for editors:
• For pricing and availability in your region, please contact your local Indian Motorcycle press contact.
• Images may show North American models and may have accessories fitted. International models may vary.
• Navigation may not be available in all countries.