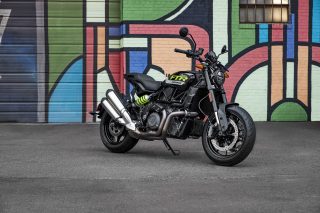 FTR: An American Original
Designed for riders to cut loose and enjoy the pure sport of motorcycling, the FTR is a totally unique take on American V-twin performance. With an unmistakable, muscular style, the FTR truly is an American original.
Lineup Updates
Indian Motorcycle made several updates to enhance the rider experience.
• A retuned front braking system provides a firmer feel
• A new clutch improves feel and performance
• All speedometers were moved up for easier viewing
• All models are now standard with a new sport exhaust muffler
With the tank panel design featuring bold, vibrant colours, the refreshed FTR further broadens the appeal of the FTR lineup to more riders and is available in Metallic Black, contrasted by Lifted Lime branding with matching rear shock, or Stealth Gray, featuring Orange Burst branding, rear shock and wheels.
New Accessories
For 2023, Indian Motorcycle is launching nine new FTR accessories.
• In partnership with Gilles Tooling®, Indian Motorcycle is offering five co-branded pieces, including:
• Performance Adjustable Rearsets
• Billet Bar End Weights
• Billet Oil Cap
• Billet Radiator Cap
• Performance Adjustable Levers (Available Spring 2023)
• Indian Motorcycle is also expanding its carbon fiber offering with three new pieces:
• Carbon Fiber Exhaust Heat Shield
• Carbon Fiber Frame Guard
• Carbon Fiber Sprocket Cover
• For enhanced comfort, Indian Motorcycle debuts a durable and weather-resistant Comfort+ Seat, which combines comfortable ergonomics with additional padding where needed most.
• One CruzTOOLS® Axle Adapter for all FTR Models
• Two CruzTOOLS® Tool Kits Compatible with all Indian Motorcycle Models
• All-Weather Vinyl Tailbag, which attaches to select passenger seat or luggage racks
Notes for editors:
• For pricing and availability in your region, please contact your local Indian Motorcycle press contact.
• Images may show North American models and may have accessories fitted. International models may vary.