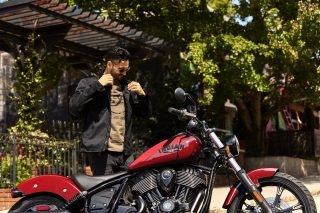 In 1921, Indian Motorcycle introduced the legendary Indian Chief, a motorcycle that stands as one of the most historic and influential bikes of all time. The Indian Chief Dark Horse seamlessly blends iconic American V-twin style with contemporary performance and technology. Its design embraces a simple, mechanical aesthetic that pays tribute to the golden age of American motorcycling. Wrapped within a beautifully straightforward steel-tube frame, the potent Thunderstroke engine powers the Indian Chief Dark Horse, delivering a stripped-down riding experience where power, minimalism, and attitude take the lead. It harks back to the days when cruising aimlessly with close friends and only the essentials were the stuff of legends.
The Chief lineup, along with all Thunderstroke and PowerPlus models, features a clutch that enhances the overall feel and user-friendliness. This innovative slipper clutch reduces engine drag, resulting in smoother downshifting and a more comfortable ride, especially in challenging road conditions. Furthermore, the expanded friction zone and reduced lever effort reduce clutch fatigue, which proves valuable in urban settings or during stop-and-go traffic.
The lineup showcases a 15.1-litre fuel tank, a bobbed rear fender, dual outboard preload-adjustable rear shocks, dual exhaust, LED lighting, keyless ignition, and Pirelli Night Dragon tires. In addition to cruise control, Chief riders have the option to fine-tune throttle response by selecting from three ride modes: sport, standard, or tour. The short 1626 mm wheelbase, low 662 mm seat height, and a wet weight as light as 304 kg make the Indian Chief lineup an inviting and confidence-inspiring choice for riders of all levels. Conventional 46mm front forks with 132 mm of travel, a 28.5-degree lean angle, and comfortable ergonomics combine to create a versatile machine capable of tackling even the most challenging routes.
The Indian Chief Dark Horse stands out with its stripped-down, mechanical design, featuring drag handlebars, 19-inch cast wheels, mid-mount foot controls, a sleek headlight bucket, and a solo bobber seat. Powering all Indian Chief models is the formidable Thunderstroke 116 (1890cc) engine, delivering a substantial 162 Nm of torque.
Furthermore, each model elevates the riding experience with the 101 mm round RIDE COMMAND system. This intuitive system can be operated via grip controls or the digital IPS touchscreen display. Riders have access to various interfaces, including two different gauge configurations, bike and ride information, and turn-by-turn navigation. When using a wireless helmet communicator, riders can manage their music through the RIDE COMMAND system once their phone is paired via Bluetooth or USB. Additionally, phone information, such as recent calls, contacts, number pad, and text message history, can be accessed, and incoming calls can be accepted or declined directly through the RIDE COMMAND system when connected.
Notes for editors:
• For pricing and availability in your region, please get in touch with your local Indian Motorcycle press contact.
• Images may show North American models and may have accessories fitted. International models may vary.
• Navigation may not be available in all countries.