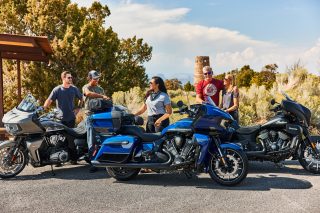 The Indian Pursuit – a leap into the next era of American V-Twin touring performance. With the liquid-cooled PowerPlus engine, seamless ride-enhancing technology, a chassis-mounted fairing, and a wealth of touring conveniences, the Indian Pursuit firmly establishes itself as the most capable and refined American touring machine on the open road.
At its core, the Pursuit exudes unparalleled comfort and performance, propelled by the smooth and high-revving Indian Motorcycle PowerPlus engine. This 1768cc liquid-cooled V-twin powerhouse delivers an impressive 90kW and 178Nm of torque, setting the bar in its class. The engine's overhead camshafts and four valves per cylinder translate into exceptional V-twin performance and power, all harnessed within a powertrain featuring a six-speed transmission with true overdrive, an assist clutch to reduce clutch effort, and hydraulic valve lash adjusters and camshaft chain tensioners for a low-maintenance and reliable powerplant. Riders have the flexibility to tailor the bike's throttle mapping to suit their riding style or the prevailing conditions, with a choice of three ride modes: Rain, Standard, and Sport. Each mode boasts its own dedicated traction control settings, perfectly aligned with its throttle mapping to offer riders maximum confidence.
The chassis-mounted fairing not only contributes to lighter steering but is also less affected by wind resistance. The adjustable windscreen and vented lower fairings provide exceptional protection from the elements and offer the rider the ability to adapt to varying weather and temperature conditions. Enhanced visibility at night and in cold weather is provided by premium-style integrated driving lights in the lower fairings, while heated grips keep the rider's hands warm. Furthermore, the Pursuit's Heated Touring Comfort seat sets the standard for comfort. Added to this is the inclusion of a premium cargo trunk and spacious saddlebags, collectively offering more than 133 litres of power-locking storage. Plus, lower fairing storage compartments are a standard feature.
For staying informed, the Pursuit is equipped with a user-friendly 178 mm touchscreen display powered by Ride Command, which provides Apple CarPlay, GPS with turn-by-turn navigation*, and a plethora of bike data customization options. The Indian Pursuit also boasts an LED headlight that enhances light reach and spread, improving visibility for the rider and making them more conspicuous to other road users.
Fox electronically adjustable rear suspension preload affords riders the ability to fine-tune their preload for optimal comfort and handling across various conditions. Whether riding solo, two-up, or carrying extra cargo, the electronically adjustable rear suspension preload can be conveniently managed via the bike's infotainment system. This electronic preload option is also available as an accessory upgrade for all Indian Challenger models.
Race-ready radially-mounted Brembo brakes deliver powerful and progressive stopping power while performance-touring Metzeler Cruisetec tires offer unmatched traction and unwavering line-holding capabilities. Both models incorporate intuitive Smart Lean Technology, which harnesses a Bosch IMU to enhance cornering control through dynamic traction control and ABS, ensuring precise cornering, maximized braking, and enhanced acceleration.
In keeping with all Thunderstroke and PowerPlus models, the Pursuit lineup benefits from an enhanced clutch, offering a superior feel and improved forgiveness. This advanced slipper clutch minimizes engine drag, resulting in smoother downshifts and an overall more comfortable ride. Additionally, it boosts traction control when navigating challenging road conditions, thanks to the expanded friction zone and reduced lever effort, offering particular advantages in urban environments and during traffic-heavy commutes.
Notably, integrated buttons on the Heated Seats and Heated and Cooled Seats for the PowerPlus and heavyweight Thunderstroke models incorporate haptic feedback, allowing riders to feel the buttons' responsiveness even when wearing gloves.
Ride Command Infotainment System
• Screen Size: 178 mm
• Premium Audio System: 100-Watt with AM/FM, Bluetooth® and USB input
• Apple Carplay Integration
• GPS Navigation: Turn-by-turn directions, built-in points of interest
• Customizable Route Builder: Add up to 100 way points
• Electronically Adjustable Rear Suspension Preload
• Smart Lean Technology
• Integrated Driving Lights
• Heated Touring Comfort Seat
Notes for editors:
• For pricing and availability in your region, please contact your local Indian Motorcycle press contact.
• Images may show North American models and may have accessories fitted. International models may vary.
• Navigation may not be available in all countries.
• Indian Pursuit Premium Package is the standard trim level for Europe.