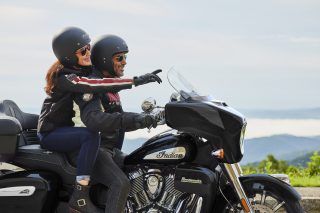 The Roadmaster Limited features premium finishes and comfort including the ClimaCommand Rogue heated and cooled seat, Ride Command with Apple CarPlay integration, Metzeler Cruisetec tires, touring trunk, lower fairings with adjustable airflow vents, heated grips and a push-button adjustable windshield. Standard amenities also include remote-locking saddlebags and trunk, adjustable passenger floorboards, ABS, cruise control, keyless ignition, tire pressure monitoring and full LED lighting.
At its heart, the Roadmaster features the commanding Thunderstroke engine, delivering an impressive 171 Nm of torque, purpose-built to conquer the open road. Saddlebags offer generous storage for all your riding gear and cargo, while thoughtful wind protection, comfortable ergonomics, floorboards, a lavish two-up seat, and an LED headlight that enhances the reach and spread of light, illuminating the rider's path and making them more visible to fellow motorists on the road, make these models the ultimate companions for long-distance journeys.
The Roadmaster lineup benefits from an advanced slipper clutch with enhanced feel and increased forgiveness that minimizes engine drag, resulting in smoother downshifts and an overall more comfortable ride. Furthermore, it bolsters traction control in challenging road conditions, thanks to its expanded friction zone and reduced lever effort, a feature of particular value in urban settings and during traffic-heavy rides.
Additionally, the integrated buttons on the Heated Seats and Heated and Cooled Seats for PowerPlus and heavyweight Thunderstroke models incorporate haptic feedback, enabling riders to feel the button's responsiveness even when wearing gloves.
Ride Command Infotainment System
• Screen Size: 178 mm
• Audio System: 100-Watt with AM/FM, Bluetooth and USB input
• Apple Carplay Integration
• GPS Navigation: Turn-by-turn directions, built-in points of interest
• Customizable Route Builder: Add up to 100 waypoints
Notes for editors:
• For pricing and availability in your region, please get in touch with your local Indian Motorcycle press contact.
• Images may show North American models and may have accessories fitted. International models may vary.
• Navigation may not be available in all countries.