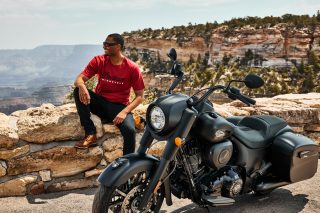 Capturing attention with its matte paint and blacked-out accents, along with an exposed front fender boasting a striking 19-inch 10-spoke contrast cut wheel and mid-rise handlebars, the bold aesthetic of the Springfield Dark Horse is complemented by a range of conveniences, including remote-locking hard saddlebags, keyless ignition, cruise control, USB charging, ride modes, and rear cylinder deactivation.
Beneath the Indian Springfield's frame lies the formidable Thunderstroke engine, delivering a commanding 171 Nm of torque, purpose-built to conquer the open road. The saddlebags offer ample space for stowing riding gear and cargo, while thoughtful wind protection, rider-friendly ergonomics, floorboards, and an inviting two-up seat make these models the ultimate companions for long-distance journeys.
The Springfield lineup benefits from a clutch with a refined feel and increased forgiveness. This advanced slipper clutch minimizes engine drag, resulting in smoother downshifts and an overall more comfortable ride. Additionally, it bolsters traction control in adverse road conditions, thanks to its expanded friction zone and reduced lever effort, a feature of particular value in urban settings and during traffic-heavy rides.
Notes for editors:
• For pricing and availability in your region, please contact your local Indian Motorcycle press contact.
• Images may show North American models and may have accessories fitted. International models may vary.