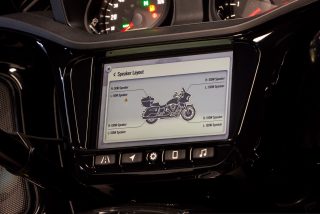 TAKE A FRONT ROW SEAT WITH THE LOUDEST AUDIO IN INDIAN MOTORCYCLE HISTORY
9 BAND EQUALIZER | PRE-TUNED SETTINGS | RIDE COMMAND INTEGRATION
Redesigned for Indian Motorcycle baggers and touring models, upgraded PowerBand Audio kits raise the bar for premium audio systems with 100-watt speakers that produce higher volume, increased clarity, and more bass.
The next-generation of PowerBand Audio features powerful sound, all-new styling, factory-backed quality, and easy installation.
Powerful Sound
The 100-watt PowerBand Audio speakers deliver an immediate increase in volume and clarity over the standard 50-watt speakers. PowerBand Audio's new Bass Boost Tune makes the music come alive with deeper bass lines, which result in 50% more bass when compared to previous PowerBand Audio offerings. New Dynamic EQ auto-optimises in real-time for the highest quality audio as speed and conditions change. Speakers are durable, water-resistant and deliver an immersive listening experience – expertly designed to cut through road, wind, and throttle noise.
Upgraded Style 
Featuring updated, custom-inspired style, PowerBand Audio speakers sport a chiselled, modern look with a titanium-plated dome that stands out from the crowd and ensures the speakers look as good as they sound.
Intuitive Audio Controls
Once installed, Indian Motorcycle's industry-leading, 178 mm Touchscreen Display powered by RIDE COMMAND automatically recognises PowerBand Audio speakers and immediately upgrades the bike's Audio menu. With PowerBand Audio, riders receive a nine-band equaliser to fully customise settings and dial-in levels for any music genre.
Factory-Backed Quality
PowerBand Audio's Power Supply Temperature Protection actively monitors circuit temperature and adjusts to prevent internal damage or system shutdown in extreme heat conditions. The rugged design is water-resistant with an Ultra Coat sealing that provides protection from water, dirt, and debris. PowerBand Audio is designed and engineered in the U.S.A. and is backed by a factory warranty.
Easy Installation
Installation is easy. No wire cutting, extra amps, or brackets are required – delivering a seamless installation process at your local dealership or at home.
Select Indian Motorcycle baggers and touring models will be available straight off the dealership floor with PowerBand Audio pre-installed at the factory**. The new PowerBand Audio system is compatible with 2020-2024 models with seamless installation.
Riders can take their audio system up to 800-watts, including 200-watts in the upper fairing, 200-watts in the lower fairings, 200-watts in the saddlebags, and 200-watts in the touring trunk. Riders can also update their PowerBand Audio system in their 2020-2023 baggers and touring models with the Bass Boost Tune software upgrade at their local dealership. All 2024 and newer motorcycles will come standard with the Bass Boost Tune, which will automatically come alive once PowerBand Audio speakers are installed.
**PowerBand Audio fitted at the factory is available in the US, Canada, EU, UK/ROI, and Mexico only.