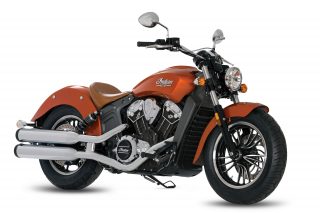 Custom paint has been the most frequent dealer and customer request over the past few years and Indian is proud to finally be able to offer five exclusive colours for Scout and for Roadmaster.
The Icon Paint Series aims to deliver paint schemes that have the 'wow' factory while having the high quality expected from an OEM and offering that all-important factory warranty.
Scout can be ordered in:
– Solar Flare Yellow
– Brilliant Blue Smoke
– Sunblaze Orange
– Dirt Track Smoke and Thunder Black Smoke
– Thunder Black, White and Red
Roadmaster can be ordered in:
– Metallic Jade
– Blue Sapphire and Brilliant Blue
– Black Hills Gold and Thunder Black
– Mesa Red Smoke and Thunder Black
– Thunder Black and Snakeskin Green
Please contact you country marketing specialist for a full list of prices.
Quantities will be very limited so customers should check availability with their local dealer.