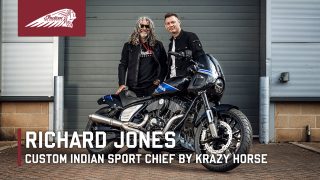 British interpretation of the Sport Chief using traditional techniques
Built for Welsh rock star Richard Jones of The Stereophonics
Richard Jones tattoo designs incorporated into the build
Indian Motorcycle and Krazy Horse reveal 'RAGE' – the custom Indian Sport Chief built for Richard Jones, bassist for the Welsh rock band, The Stereophonics. Using design elements from Jones himself, traditional fabrication methods for a more British look and performance modifications suitable for the British roads and riding style, 'RAGE' lives up to the name with its aggressive look.
Krazy Horse, a long-time partner of Indian Motorcycle, has been building custom motorcycles for 28 years, working with trusted collaborators to build some of the finest custom Indian Motorcycles in the world. As part of the concept of the 'RAGE' build, the team were keen to use traditional methods where they could, including hand sand-cast detail elements that linked to the personal history of Richard Jones and a nod to the recent 'Forged' series of Sport Chief builds in the US.
Paul Beamish MD of Krazy Horse – "I am blown away by how this bike has come together in such a short time, we could not have done it without our fantastic partners who always manage to pull it out of the bag for us. And as ever the dedication of the Krazy Horse Team has made it possible."
Richard Jones, a founding member of The Stereophonics, grew up in a traditional mining village in South Wales and followed his father into the steelworks before hitting the big time in music. Having started riding as early as 11, motorcycles have always been a part of Jones' life, as have tattoos, a design element that has created a personal link to the build.
"It's one of my passions, being on the bike. It takes me to a totally different place," said Jones. "Paul asked if I had any imagery that they could use in the bike design. And it instantly came to me, I have tattoo designs on my plectrums for every tour we do and I selected an Ace of Spades design death card. It was really great to find out that this design would be traditionally hand sand cast and that I'd get to see this happen. For me, being at the foundry took me way back to when I was a teenager because I used to work in the steelworks in South Wales. It's quite inspiring knowing that people still have these traditional techniques and working with Paul and his team has been brilliant."
Continuing the theme of traditionally handcrafted elements, Adrian Smith of Buckland Automotive Engineering was commissioned to make a one-off belly pan, wrapping around the front tyre in a performance style reminiscent of drag bakes. Hand-beaten and using traditional tooling from another era, the belly pan has three swages that tie into the triple LED lights in the headlight, accents that will be appreciated by those with a good eye for detail.
OJZ Engineering also brought their traditional specialist tube manipulation and fabrication skills to build a bespoke 2 into 1 performance exhaust that features quality bends, beautiful welds and a traditional megaphone style.
Finished with a sprinkling of quality control parts from Wunderkind, an elegant paint scheme from Pageant Paint and the Rich Jones Ace of Spades design painted on the saddle by BamBam, 'RAGE' stands out as a uniquely British interpretation of the Indian Sport Chief and again highlights the vast customisation possibilities of the new Indian Chief lineup.
'RAGE' Indian Sport Chief
• One-off 2 into 1 performance exhaust from OJZ Engineering
• Billet performance air filter
• One-off belly pan with hidden cooling louvres by Buckland Automotive Engineering
• Sand-cast aluminium side covers designed by Krazy Horse
• One-off Sand cast aluminium derby cover inspired by Rich Jones
• Sports Paintwork by Pageant Paintwork
• Hand-painted seat with Rich Jones tattoo design painted by BamBam
• Indicators relocated into the fairing and rear fender
• Additional parts from Wunderkind include:
o Handlebar grips
o Clutch and brake levers
o Master cylinder covers
o Footpegs and shifter
For more information on Indian Motorcycle visit IndianMotorcycle.eu and follow along on Facebook, Twitter and Instagram.
VIDEO Richard Jones Helps To Design His Krazy Horse Custom Indian Sport Chief
###
ABOUT INDIAN MOTORCYCLE®
Indian Motorcycle is America's First Motorcycle Company®. Founded in 1901, Indian Motorcycle has won the hearts of motorcyclists around the world and earned distinction as one of America's most legendary and iconic brands through unrivalled racing dominance, engineering prowess and countless innovations and industry firsts. Today that heritage and passion are reignited under new brand stewardship. To learn more, please visit www.indianmotorcycle.eu
INDIAN and INDIAN MOTORCYCLE are registered trademarks of Indian Motorcycle International, LLC. Always wear a helmet, protective clothing and eyewear and insist your passenger does the same. Ride within the limits of the law and your own abilities. Read, understand, and follow your owner's manual. Never ride under the influence of drugs or alcohol.
MEDIA CONTACT
Ian Austin
EMEA Press Indian Motorcycle
Follow us on Twitter @IndianEMEA_PR
+44 7471 030606
press@indianmotorcycle.media