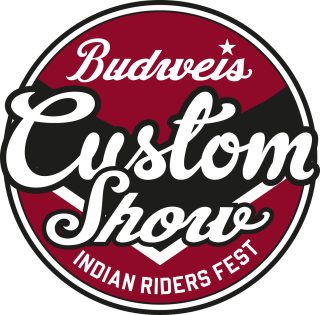 The only custom show 100% dedicated to Indian Motorcycles.
American Motorcycle Dealer "Approved" status.
Visionary and "Godfather of Baggers", Brian Klock, joins as President of the Jury.
Pre-registration guarantees entry and includes three complimentary tickets.
Registrations are now open for the third edition of the Budweis Custom Indian Motorcycle Show (BCS) where passion, creativity, and the roar of engines come together in a celebration of two-wheeled artistry. The AMD-Approved event, and the only custom show to be 100% dedicated Indian Motorcycle, builds on the success of last year and promises an even grander spectacle with the entirety of hall R1 dedicated to the custom show during the Indian Riders Fest in České Budějovice (Budweis), Czech Republic, from June 13 to 16, 2024.
"There isn't much in life that gets me more excited than a custom motorcycle show. As a designer and custom builder, I really feed on that creative energy. With the BCS totally focussed on Indian Motorcycle, it is a standout event for me. As a long time Indian Motorcycle fan from way back as a kid, the growth of this show in such a short time is food for my soul. The 2023 class winners were exceptional, and I'm looking forward seeing the creativity and ingenuity infused in metal, chrome and paint at BCS24," said Ola Stenegärd, Director of Product Design for Indian Motorcycle
BCS24 is not just a display of chrome and steel; it is a celebration of the extraordinary craftsmanship of European custom bike builders and Indian Motorcycle dealers. Committed to fostering a community of creativity, the BCS welcomes builders of all levels, from aspiring rookies to seasoned veterans and with more exhibition space than ever before, the highly anticipated event promises an eclectic collection of innovative, and skilfully crafted motorcycles.
With its importance in the global custom scene recognised by American Motorcycle Dealer magazine conferring their approved show status to the BCS for a second year, the international judging panel is also bolstered by Brian Klock, President of Klock Werks, joining as President of the Jury. Inducted into the Sturgis Motorcycle Hall of Fame in 2012, Brian Klock is a standout name in the industry and is acclaimed as the "Godfather of Baggers" with a plethora of awards and a long association with Indian Motorcycle.
During the 2023 Sturgis Motorcycle Rally, Klock confirmed his acceptance of the Presidency saying, "Indian Motorcycle is near and dear to my heart. Having been part of the aftermarket advisory team since 2014 and designing many of the limited editions coming out of the factory, just like Ola, a custom show dedicated to Indian Motorcycle is something I'm really excited about. I cannot wait to meet everyone at Budweis next year and see their craftsmanship and incredible skills."
Klock, his wife Vanessa, and other dignitaries including Stenegärd and Onno Wieringa, Official AMD World Championship photographer, will evaluate the entrants in seven distinct classes with one build also being awarded the prestigious Best In Show trophy.
In a shake-up to last year's classes, the ClubStyle/Performance Baggers class has been introduced in keeping with current trends and, to allow even more creativity, the new Freestyle class is the only category where entrants do not need to be road legal. However, entries in all classes must be able to start and ride their builds onto the podium to accept their awards.
The seven classes designed to ensure that every participant has an opportunity to showcase their unique style and creativity are as follows:
• Indian Scout
• Indian Chief / Non-Fairing
• Indian Motorcycle Bagger
• Indian Motorcycle Vintage
• Indian FTR / Sportbike
• Indian Motorcycle Freestyle
• Indian Motorcycle ClubStyle / Performance Bagger
While ride-in entries will be accepted until Saturday, June 15, potential participants are encouraged to secure their spots through pre-registration. Pre-registration not only guarantees a place in the spotlight but also includes three complimentary entry tickets to the Indian Riders Fest 2024. Pre-registration closes on Friday, May 31, 2024. To register an entry, please use the form at:
For more information about the 2024 Budweis Indian Motorcycle Show visit
Contact email for BCS24: customshow@indianridersfest.eu
Notes for Editors
See this release for details of the 2023 winners.
See this release for more on the 2024 Indian Riders Fest.
Indian Riders Fest Social Links
Indian Riders Fest 2023 Official Video
For more information on Indian Motorcycle visit IndianMotorcycle.eu and follow along on Facebook and Instagram.
###
ABOUT INDIAN MOTORCYCLE®
Indian Motorcycle is America's First Motorcycle Company®. Founded in 1901, Indian Motorcycle has won the hearts of motorcyclists around the world and earned distinction as one of America's most legendary and iconic brands through unrivalled racing dominance, engineering prowess and countless innovations and industry firsts. Today that heritage and passion are reignited under new brand stewardship. To learn more, please visit www.indianmotorcycle.eu
INDIAN and INDIAN MOTORCYCLE are registered trademarks of Indian Motorcycle International, LLC. Always wear a helmet, protective clothing and eyewear and insist your passenger does the same. Ride within the limits of the law and your own abilities. Read, understand, and follow your owner's manual. Never ride under the influence of drugs or alcohol.
MEDIA CONTACT
Ian Austin
EMEA Press Indian Motorcycle
Follow us on X @IndianEMEA_PR
+44 7471 030606
press@indianmotorcycle.media
INDIAN RIDERS FEST MEDIA CONTACT
Jean-Marie Guyon
IRF Event Organiser
+420 601 561 806
jm@indianridersfest.eu