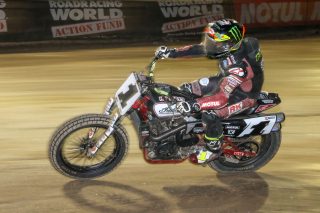 Indian Motorcycle privateer Kenny Coolbeth Jr. and Wrecking Crew rider Brad Baker finish second and third, respectively
WEEDSPORT, NY (JULY 10, 2018) – Indian Motorcycle Racing and its championship-winning Scout FTR750 continued its unbelievable season at the New York Short Track by securing yet another podium sweep.
Through 11 races, Indian Motorcycle Wrecking Crew riders and privateers have combined for a total of eight all-Scout FTR750 podiums.
The win marked Jared Mees' ninth of the season and second consecutive year of hitting a grand slam on the Scout FTR750. Completing the podium sweep were Indian Motorcycle privateer Kenny Coolbeth Jr. (Nila Racing, Columbia Avionics, Bell, TCX Boots, Vanson) and Wrecking Crew rider Brad Baker, who finished second and third, respectively.
The New York Short Track Main started with Baker in the number one spot. Mees battled Baker through the first 10 laps, ultimately making the pass and stretching his lead through the remainder of the Main. Coolbeth continued his fight, passing riders to reach third. Coolbeth didn't let up, though, as he made a pass on Baker in the final lap to secure second and his fifth top-five finish of the season. The third-place finish was Baker's eighth top-five finish and third podium of the season.
"It's incredible to have this race complete the grand slam this season. It's a prime example of the support I have with my crew," said Mees. "We worked through a lot, and when it mattered most they had my Scout FTR750 fully dialed for the Main Event."
Joining Mees, Coolbeth and Baker as top finishes were Indian Motorcycle privateers Davis Fisher (Double D Performance, Bob Lanphere, Beaverton Motorcycles, RMR, Parkinson), Henry Wiles (Bandit Industries, Wilco Racing, Willy Built, Mad Dog), and Briar Bauman (Zanotti Racing, Roof Systems, Western Powersports, Hard), who placed fourth, fifth and sixth, respectively, aboard their Scout FTR750.
"It's awesome to see Mees get his second career in-season grand slam," said Gary Gray, Vice President – Racing, Technology & Service for Indian Motorcycle. "He's earned himself a healthy lead in the points standings, but there's still some big-time tracks coming up on the schedule, so it'll be exciting to see how he and the other riders perform."
Through 11 races, Mees continues to control the leaderboard with 245 points, while Wiles ranks second with 167 points and Baker in third with 147 points. Jeffrey Carver Jr. (129) and Coolbeth (125) are fourth and fifth, while Bauman (117), Chad Cose (106), Fisher (103) and Bryan Smith (99) rank sixth, seventh, eighth and ninth.
Smith, who did not attempt to start Semi 1, will go in for surgery on Wednesday, July 11, to repair screws that came loose in the leg he broke earlier this season at the Texas Half-Mile. Smith is targeting a return for the next American Flat Track race, The Buffalo Chip TT on August 5.
Next up, Mees, Baker and Cose will join four other American Flat Track riders and travel overseas to the Goodwood Festival of Speed in England from July 12-15.
The four-day celebration of motorsports history, design and technical achievement will further introduce the Indian Motorcycle riders and the Scout FTR750 to a global fan base.
Following the Goodwood Festival of Speed, select Indian Motorcycle riders will stop in Minneapolis for X-Games on Sunday, July 22.
The American Flat Track season will continue its season on August 5 at The Buffalo Chip TT in Sturgis, South Dakota, followed by a quick turnaround with the Black Hills Half-Mile in Rapid City on August 7.
# # #
ABOUT INDIAN MOTORCYCLE
Indian Motorcycle Company, a wholly owned subsidiary of Polaris Industries Inc. (NYSE: PII), is America's First Motorcycle Company. Founded in 1901, Indian Motorcycle has won the hearts of motorcyclists around the world and earned distinction as one of America's most legendary and iconic brands through unrivalled racing dominance, engineering prowess and countless innovations and industry firsts. Today that heritage and passion is reignited under new brand stewardship. To learn more, please visit www.indianmotorcycle.eu
MEDIA CONTACT
Dan Tye
PR Manager EMEA
Follow us on Twitter @IndianEMEA_PR
+44 (0) 1525 270100
press@indianmotorcycle.media