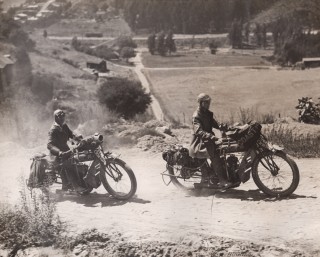 100 years since the Van Buren sisters became the first females to ride across the USA
They rode over 5,500 miles on their 1915 "Indian motocycles"
Centennial ride leaves New York on July 3rd and arrives in San Francisco July 23rd
Indian Motorcycle is proud to support the Sisters' Centennial Motorcycle Ride taking place this July. 
The cross-country road trip will celebrate the 100th anniversary of Augusta and Adeline Van Buren's famous motorcycle journey across the United States on 1915 "Indian motocycles" as they were called at the time. 
The route loosely follows the Van Buren sisters' 1916 route, primarily on the Lincoln Highway across the United States from New York to San Francisco.
Singles, couples, women and men are all encouraged to join in, with the organisers promising "an epic ride and a plethora of new riding friends".
Key towns on the route are hosting events at the following places:
Brooklyn, New York Ride Launch Party, (July 3, 2016)
Springfield, Massachusetts – LAUNCH PARTY (July 4-5, 2016)
Latrobe, Pennsylvania – LINCOLN HIGHWAY EXPERIENCE (July 7, 2016)
Pickerington, Ohio – AMA HALL OF FAME AND AMA VINTAGE DAYS (July 8-9, 2016)
Anamosa, Iowa – NATIONAL MOTORCYCLE MUSEUM (July 11, 2016)
McCook, Nebraska – Community Event (July 13, 2016)
Colorado Springs, Colorado – ROCKY MOUNTAIN MOTORCYCLE MUSEUM (July 15, 2016)
Pikes Peak, Colorado – PIKES PEAK EVENT (July 15, 2016)
San Francisco, California – Grand Finale Party with emcee ERIN HUNTER SILLS (July 23, 2016)
Augusta and Adeline Van Buren broke the stereotypes of their time, proving women could do anything. In the words of Augusta: "Woman can if she will."
Indian Motorcycle is proud to sponsor the ride and celebrate the increase in female riders.
Funds raised during the ride will be donated to Final Salute, a national women's veterans' organisation and The Women's Coalition of Motorcyclists who help provide motorcycle training.
"We are delighted that Indian Motorcycle has chosen to participate in the Sisters' Centennial Motorcycle Ride," says event organiser Alisa Clickenger. "Indian Motorcycle left an indelible mark not only on America's transportation industry but also the defense of our country dating all the way back to World War I. Additionally, their importance to the Van Buren sisters' history-making transcontinental journey makes them an ideal partner for us."
"Indian Motorcycle is proud to celebrate the increase in female ridership as led by the Van Buren Sisters a century ago," says Pam Kermisch, Director of Integrated Marketing & Customer Experience at Indian Motorcycle. "Looking back at the long history of our brand, it's events like this that cement our commitment to brand enthusiasts, patriotism and inclusive ridership at every opportunity."
Indian Motorcycle is also sponsoring select riders with the loan of a new 2016 model bike for the trip, including one for Robert Van Buren, the great nephew of the Van Buren Sisters, and one for Sarah "SeCCRet" Moreau, who will be riding from Los Angeles, inspired by her heroine Bessie Stringfield.
A full account of the Van Buren sisters' journey is in the book Grace and Grit, written by Bill Murphy and published in 2012 by Arbutus Press.
###
ABOUT THE VAN BUREN SISTERS
In 1916, two sisters, Augusta and Adeline Van Buren were the first women to each ride their own motorcycle – both on Indian motocycles  – across the continental United States. The sisters left Sheepshead Bay in New York, on July 4, 1916, and arrived in San Francisco on September 2, riding on unpaved roads, in bad weather conditions and nearly running out of water in the desert near Salt Lake. On the journey they also became the first women to reach the 14,115 f00t summit of Pikes Peak by any motorcycle vehicle. Augusta was the eldest of the two sisters, born in March of 1884 and Adeline was born in July of 1889. They were raised in New York City with their brother Albert, enjoying an active athletic life and motorcycling was a natural progression for them. When the sisters made their journey women did not yet have the right to vote and Victorian society then placed extreme limitations on women. Both women were active members in the National Preparedness Movement and they set out on the adventure to help prove that women could be excellent dispatch riders in the war effort, freeing up the men for the front lines. After their remarkable achievement both Augusta and Adeline eventually married and pursued exceptional lives. Adeline earned her law degree from NYU and Augusta became a pilot, flying with the 99s, a women's flying group founded by Amelia Earhart. In 2002 the sisters were inducted into the AMA's Motorcycle Hall of Fame and into the Sturgis Motorcycle Museum & Hall of Fame in 2003.
ABOUT INDIAN MOTORCYCLE
Indian Motorcycle, a wholly-owned subsidiary of Polaris Industries Inc. (NYSE: PII), is America's first motorcycle company. Founded in 1901, Indian Motorcycle has won the hearts of motorcyclists around the world and earned distinction as one of America's most legendary and iconic brands through unrivaled racing dominance, engineering prowess and countless innovations and industry firsts. Today that heritage and passion is reignited under new brand stewardship. To learn more, please visit www.indianmotorcycle.eu.
ABOUT POLARIS INDUSTRIES
Polaris Industries Inc. (NYSE: PII) is a global powersports leader with annual 2015 sales of $4.7 billion. Polaris fuels the passion of riders, workers and outdoor enthusiasts with our RANGER®, RZR® and POLARIS GENERAL™ side-by-side off-road vehicles; our SPORTSMAN® and POLARIS ACE® all-terrain off-road vehicles; VICTORY® and INDIAN MOTORCYCLE® midsize and heavyweight motorcycles; SLINGSHOT® moto-roadsters; and Polaris RMK®, INDY®, SWITCHBACK® and RUSH® snowmobiles. Polaris enhances the riding experience with parts, garments and accessories sold under multiple recognizable brands, and has a growing presence globally in adjacent markets with products including military and commercial off-road vehicles, quadricycles, and electric vehicles. www.polaris.com
MEDIA CONTACT
Dan Tye
EMEA PR
@IndianEMEA_PR
+44 7471 030606
press@indianmotorcycle.media