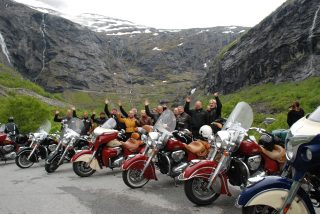 Rent an Indian from Twin Thunder in Lyngdal, Norway
The Ultimate Norwegian West Coast Tour lasts eight days
One of the most memorable rides you'll ever make
LYNGDAL, NORWAY – It's time to explore the best part of Norway on an Indian with the first of a series of 'ride yourself' tours from Twin Thunder in Lyngdal, Norway.
The 'Ultimate Norwegian West Coast Tour' is an eight day round trip along the west coast of Norway, totalling 2,000 km, with daily distances of to 200km to 500 km and 3.5 to 8 hours of riding per day.
The tour takes you on ten of Norway's 18 National Scenic Routes and you are welcome to add in extra days if you want to stop and spend time to explore some of the locations.
The riding season is best between now and the end of September.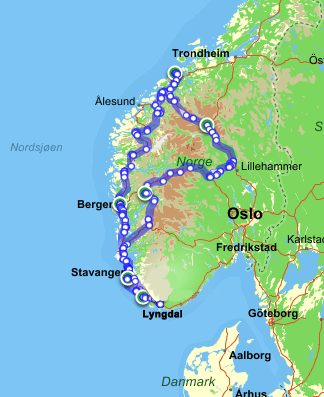 After you pick up your bike (a Roadmaster or Scout) from EagleRider in Lyngdal, run by Magne Ingebretsen, your ride begins immediately on roads that are made for motorcycles, giving amazing views at every turn.
Day 1 Lyngdal to Stavanger                       200km
Day 2 Stavanger to Ullensvang                 251km
Day 3 Ullensvang to Marifjøra                     292km
Day 4 Gaupne to Geiranger                       170km
Day 5 Geiranger to Kristiansund                 210km
Day 6 Kristiansund to Ålesund                    182km
Day 7 Ålesund to Bergen                           495km
Day 8 Bergen to Lyngdal                            365km
Total                                                                1,983km
Magne says: "It's hard to put in to words, just how incredible this tour is. The elements have greatly shaped the Nordsjøveien, the North Sea Road. Wild and beautiful at the same time, Norwegians like to describe this road trip as a tour through heaven and hell."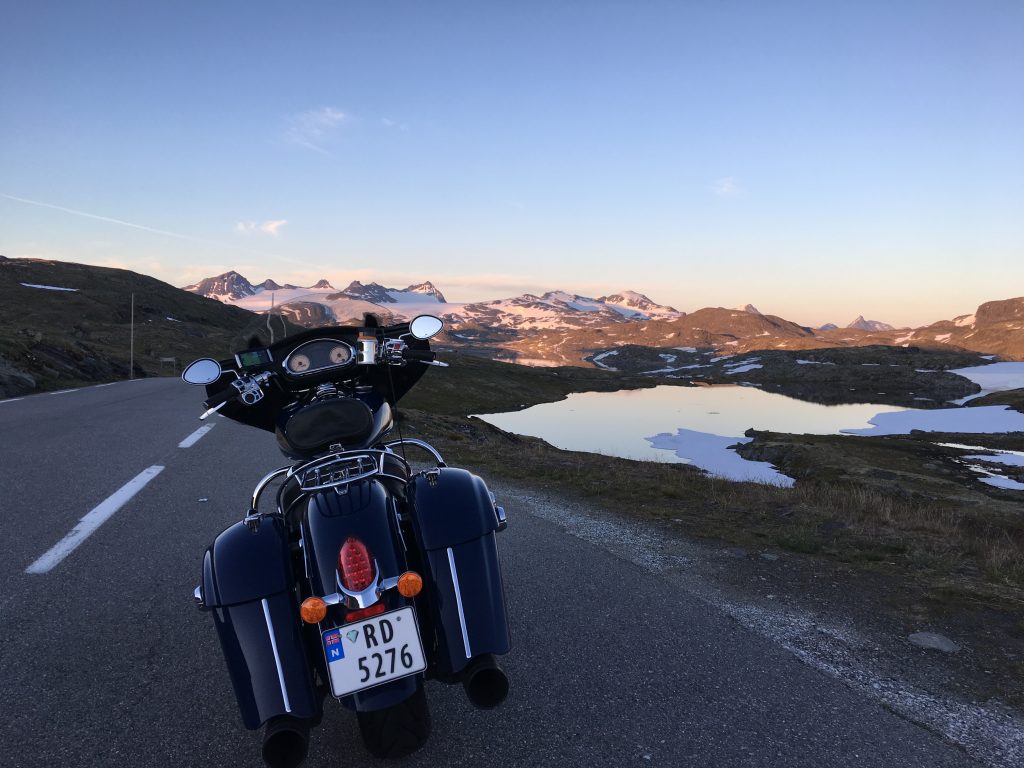 One of the National Scenic Roads you'll ride on is Jæren that will let you see some of the most beautiful coastlines that Norway has to offer. You'll also get to visit the amazing 'Swords in Rock' sculpture in Hafrsfjord where a photo is obligatory.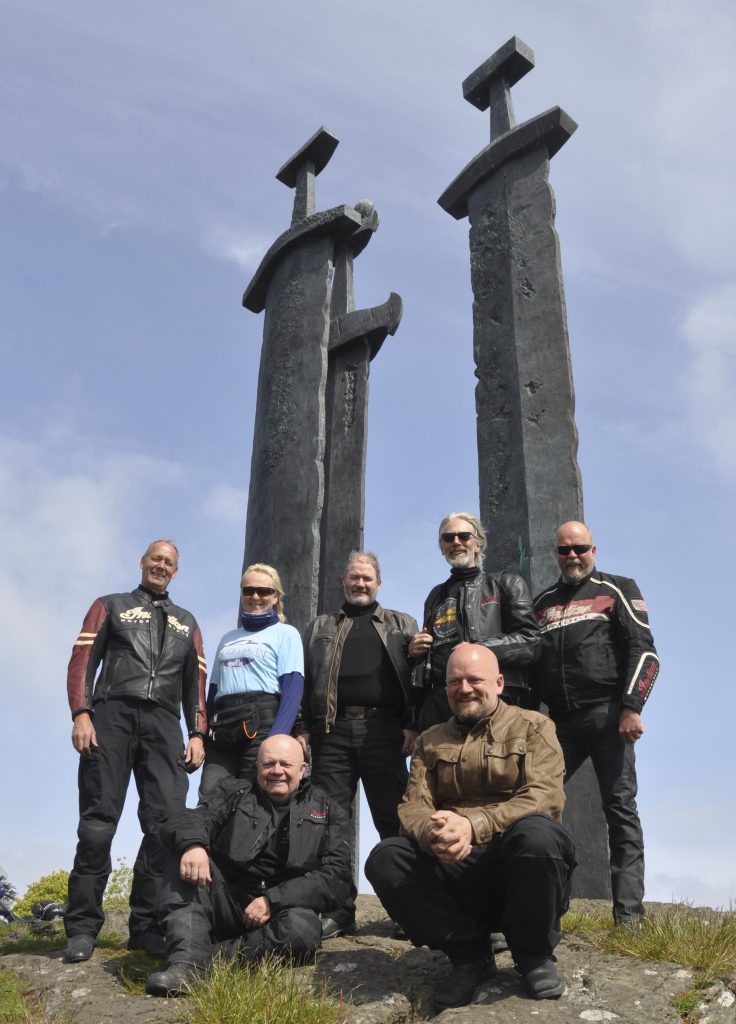 The National Scenic Road Ryfylke is full of contrasts; here you will encounter high barren mountains, lush hillsides, sheer mountainsides and deep fjords.
Magne adds: "If you ride the Saudafjellet mountain on your way to Røldal, is noteworthy for being rugged, brutal and unyielding, and you will probably find yourself wondering what on earth they were thinking when they decided to build a road in this location!"
Another highlight is the Låtefoss Waterfall just before Odda and you can also add in some hiking so you and your friends can stretch your legs. Magne suggests: "You can make a hike to Preikestolen (The Pulpit Rock) in Ryfylke or to Trolltunga, the rock that juts out 700 metres above lake Ringedal and attracts travellers from all over the world."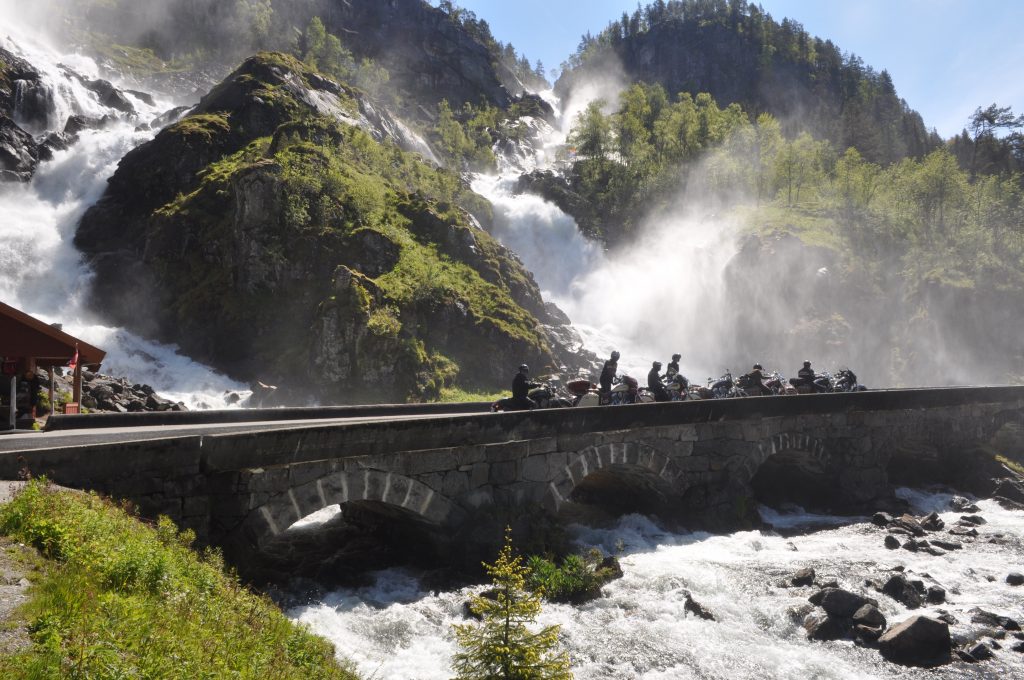 Hardanger will really open up your eyes. "Almost everywhere you look you will feast your eyes on thundering waterfalls like Vøringsfossen or fruit trees in bloom," enthuses Magne. "Dramatic roads run through dramatic scenery and there is a wealth of variation to absorb. The roads in Hardanger impose their own pace and you must adapt to the natural tempo. The road may follow a shelf along a steep-sided valley or it might literally pass through apple orchards. Here the experience is in the ride."
Norwegian Scenic Route Aurlandsfjellet runs from Aurlandsvangen to Lærdalsøyri, a distance of 47 km (Road 243). Don't miss the viewpoint Stegastigen on the way up to the mountains. The highest point is 1,306 meters above sea level.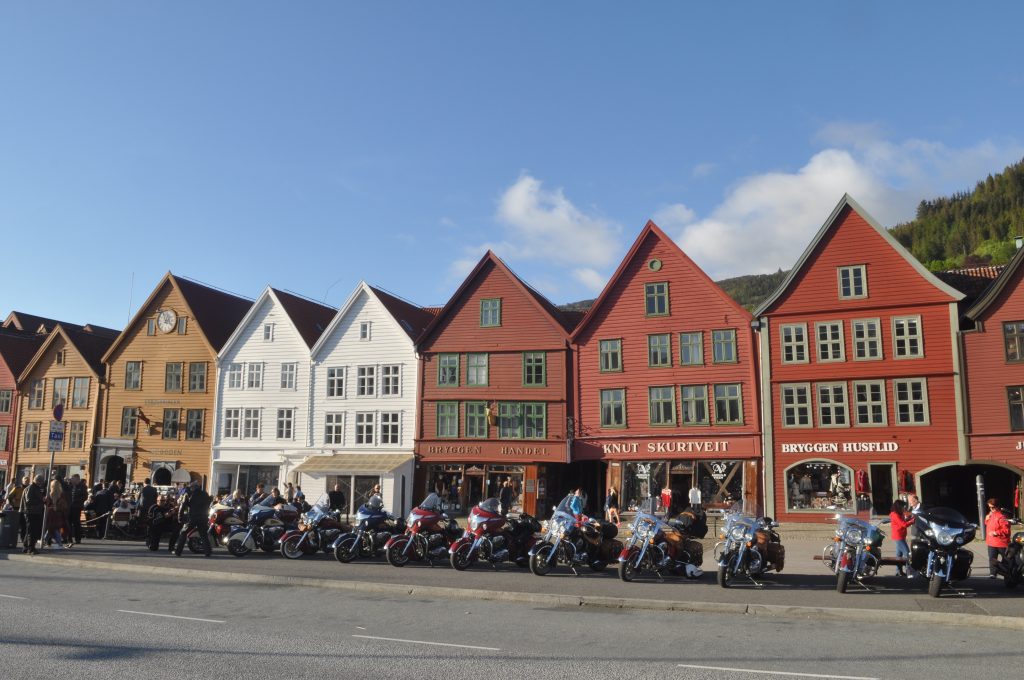 Magne says: "For many the feeling of being in a place where there are few traces of mankind is what makes the greatest impact at Aurlandsfjellet. It's like being a guest somewhere you are not expected. The real quality lies in the little things, like touching the snow or dipping your toes into an icy mountain tarn. The desolate landscape itself offers something unique."
There is too much to list here, so Magne has put together a full and detailed guide, but one final mention has to be the ride along Trollstigen. Magne says this road is undoubtedly more dramatic than most people are used to. "Geiranger-Trollstigen offers numerous highlights and the eleven hairpin bends of Trollstigen may set your pulse racing," he says smiling. "Lush valleys, sheltered strawberry-growing areas, precipitous mountains and vantage points guaranteed to make you dizzy offer some of Norway's most scenic views. Allow plenty of time − stops are welcome whether you want the challenge of a hike to a lofty summit or just to enjoy the view. For those who take the time, there's such a lot more to be discovered. Oh, and on your way to Kristiansund do not miss taking your photo at the crossroads of Road 666."
More details at www.twinthunder.no
# # #
ABOUT INDIAN MOTORCYCLE
Indian Motorcycle Company, a wholly owned subsidiary of Polaris Industries Inc. (NYSE: PII), is America's First Motorcycle Company. Founded in 1901, Indian Motorcycle has won the hearts of motorcyclists around the world and earned distinction as one of America's most legendary and iconic brands through unrivalled racing dominance, engineering prowess and countless innovations and industry firsts. Today that heritage and passion is reignited under new brand stewardship. To learn more, please visit www.indianmotorcycle.eu
MEDIA CONTACT
Dan Tye
PR Manager (EMEA)
Follow us on Twitter @IndianEMEA_PR
+44 (0) 1525 270100
press@indianmotorcycle.media