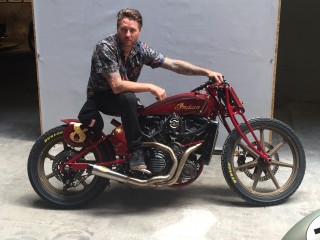 Roland Sands has released more details about his latest custom Indian Motorcycle  – called the RSD Scout.
The bike was first shown in its raw form last year and now completed, it was flown over from California for a debut at the Wheels & Waves festival held in Biarritz, France.
"The Scout is a pretty cool machine stock," Roland enthuses. "Polaris did a damn good job of putting together a production Scout with a great powerplant. And in its stock form it's got a lot to work with from a customisation stand point.
"Stylistically this RSD Scout points towards the future with say a 15% nod to the Scout of the past. What it's not…well it's definitely not a 'cruiser' anymore. If you're a traditional fan of the Indian Scout than you understand that the Scout was originally a racer. This RSD Scout carries that racing heritage."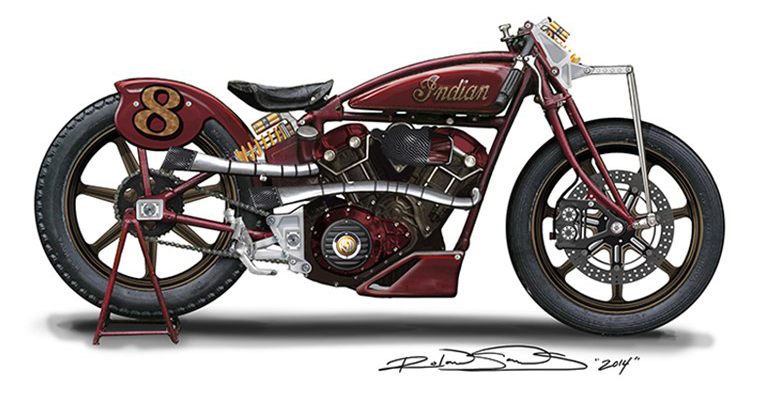 Roland says that as soon as the Scout was released at Sturgis Rally in 2014, he and his team knew they wanted to use the bike's water-cooled V-twin engine in something customised. This desire was shared by one of Roland's customers – known only as Thor – who had previously commissioned RSD's Track Chief custom and wanted Roland to make him something out of an Indian Scout.
The RSD team completely deconstructed the stock Scout and rebuilt it with a frame made from ChroMoly. "The actual frame we came up with is very similar to the one we used for Victory's Project 156," Roland explains. "What that means is it's a very lightweight frame with much more aggressive geometry than the stock Scout frame, shorter and with less rake. We've also utilised the same rear suspension package we used for Project 156. If you're hip to the Polaris method, the Scout and the Project 156 share some mounting points, which made this project much easier as we'd perfected the suspension geometry on the 156."
Initially Roland built a raw, unpainted version of the bike for Thor to ride to the Burning Man event in 2015.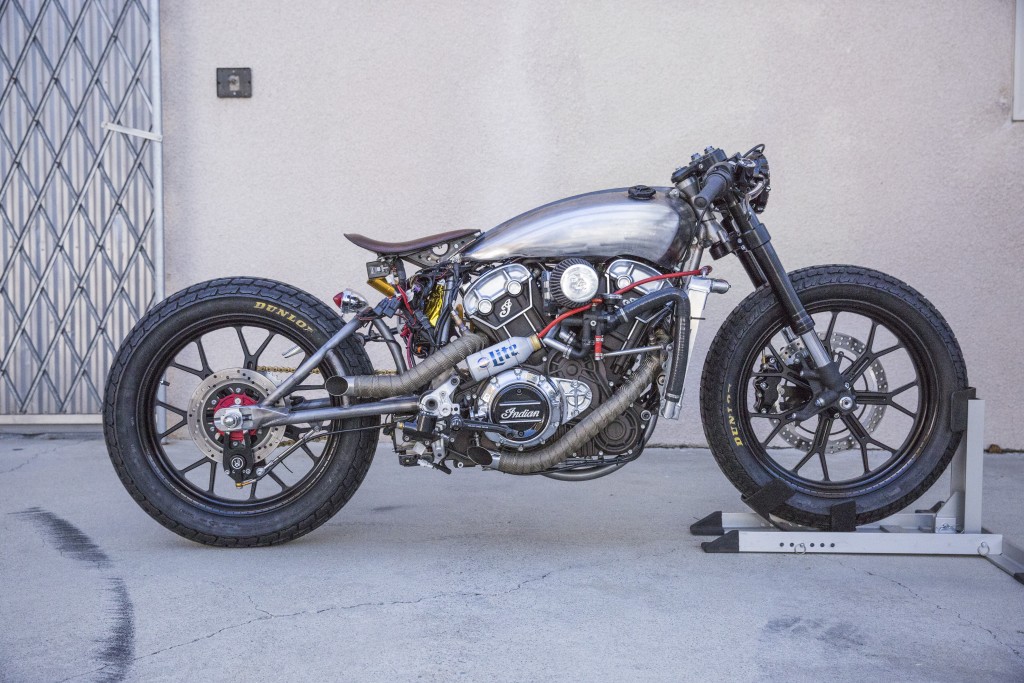 "Thor picked the bike up from RSD in California and rode it to Black Rock City. Madness, as this completely hand-built, re-engineered machine had a mere 20 miles on it before it left. It had exposed wiring, a mangled mess of cooling pipes and radiators complete with Zip Ties. It's safe to say madness is an inherent part of many of our projects. After all, who wants to rip apart a completely perfect brand new motorcycle and reconstruct it from the ground up? We are one of a few that will do that with smiles on our faces."
RSD has since been working on the bike to create something that draws a heavy inspiration from the past while also increasing the level of performance.
They built a complete ChroMoly girder fork from scratch that dominates the look of the front of the bike. New radiators were built and the cooling system was tidied up. A faux oil bag was made to house all of the electronics and a custom stainless exhaust using RSD's in-house new "Track" muffler components was put together. The shock on the rear is an Ohlins TTX normally used on mountain bikes.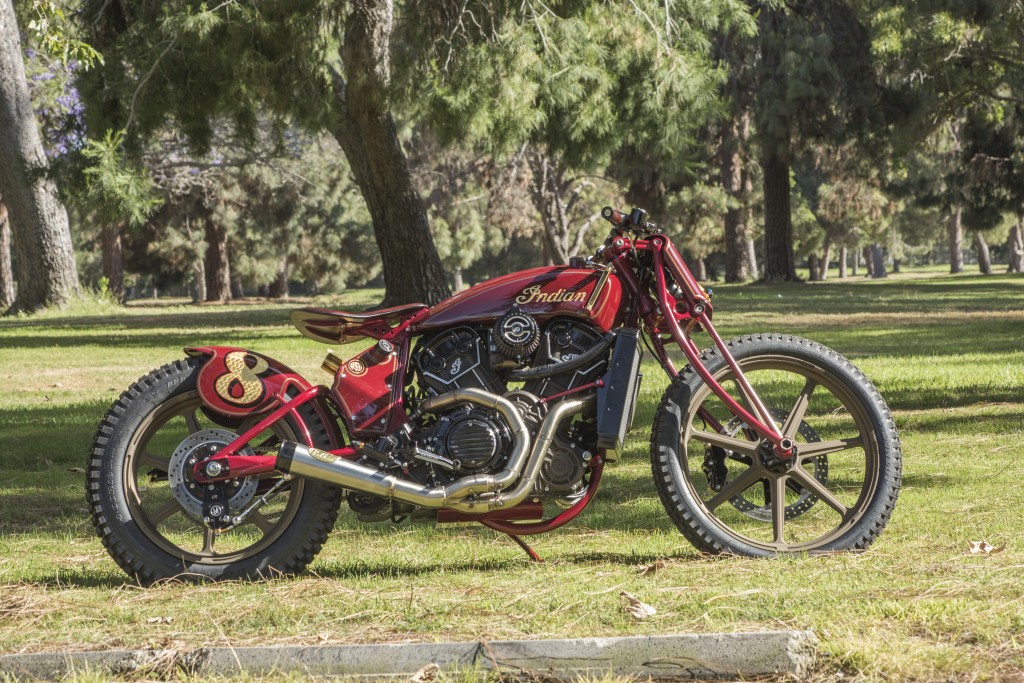 The frame, fork and swingarm were all powdercoated in a beautiful vintage Indian red colour and Airtrix knocked out an amazing matching paint job for the sheet metal with hand-turned gold leaf accents.
Roland sums up: "This was a fun build and we put our best foot forward in the hope of paying proper homage to the original Scouts that tore up race tracks all over the USA from the 1920s through the 1950s."
###
ABOUT INDIAN MOTORCYCLE
Indian Motorcycle, a wholly-owned subsidiary of Polaris Industries Inc. (NYSE: PII), is America's first motorcycle company. Founded in 1901, Indian Motorcycle has won the hearts of motorcyclists around the world and earned distinction as one of America's most legendary and iconic brands through unrivaled racing dominance, engineering prowess and countless innovations and industry firsts. Today that heritage and passion is reignited under new brand stewardship. To learn more, please visit www.indianmotorcycle.eu.
ABOUT POLARIS INDUSTRIES
Polaris Industries Inc. (NYSE: PII) is a global powersports leader with annual 2015 sales of $4.7 billion. Polaris fuels the passion of riders, workers and outdoor enthusiasts with our RANGER®, RZR® and POLARIS GENERAL™ side-by-side off-road vehicles; our SPORTSMAN® and POLARIS ACE® all-terrain off-road vehicles; VICTORY® and INDIAN MOTORCYCLE® midsize and heavyweight motorcycles; SLINGSHOT® moto-roadsters; and Polaris RMK®, INDY®, SWITCHBACK® and RUSH® snowmobiles. Polaris enhances the riding experience with parts, garments and accessories sold under multiple recognizable brands, and has a growing presence globally in adjacent markets with products including military and commercial off-road vehicles, quadricycles, and electric vehicles. www.polaris.com
MEDIA CONTACT
Dan Tye
EMEA PR
Follow us on Twitter @IndianEMEA_PR
+44 7471 030606
press@indianmotorcycle.media