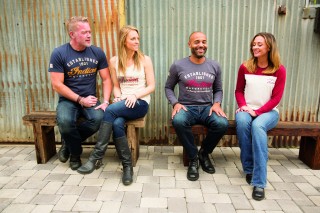 Indian Motorcycle dealers are now stocked up with logo T-shirts, just in time for the Summer.
Indian Motorcycle has put immense time and effort into creating the new range of T-shirts and the firm's head of apparel, accessories and parts, Andreas Geisinger, says: "Indian Motorcycle has many passionate and loyal customers who all want to wear high-quality clothing. All of the T-shirts going on sale this summer have been designed and manufactured from scratch, which means we can control their quality and make sure that they have the fit and the style that Indian Motorcycle owners have been asking for. Even people that don't ride have started buying these T-shirts, because of their style and because they want to show their allegiance and love for the brand."
Here's a look at what's on offer.
Hi-res images for each T-shirt style are on the media site.
MENS LOGO TEES
This is the 'Tee' that's expected to be the best-seller. It comes in five different colours (red, green, blue, cream and brown) and features the iconic 'Indian' logo across the chest. Indian Motorcycle expects this T-shirt will even appeal to those who don't even have a motorcycle licence, but simply love the brand.
HERITAGE TEES
Those who like the heritage of Indian Motorcycle are spoilt for choice. There's the 'Headress Tee' that comes in white, the 'History' tee in navy blue and the '1901 Flag' tee in grey marl.
WORLD'S FASTEST INDIAN TEES
There's even a special line of T-shirts related to Burt Munro, the New Zealander who became famous for creating and riding the 'World's fastest Indian'.
LADIES TEES
The ladies 'Logo V-neck Tee' comes in Antique White, Pale Blue or Grey.
MEDIA CONTACT
Dan Tye
EMEA PR
@IndianEMEA_PR
press@indianmotorcycle.media
+44 (0)7471 030606