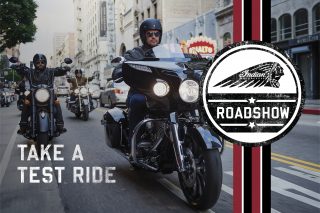 Indian Motorcycle – along with its expanding dealer network – will have an even bigger number of opportunities to test ride an Indian this coming season.
Most countries are running a 'Roadshow' where the entire Indian range tours between venues from one weekend to another, letting you try not just one bike, but any you fancy. There's no obligation to buy too, just to come and experience an Indian.
Grant Bester, General Manager and VP of Indian in the EMEA region said: "Our dealer network has expanded rapidly and if you're seen Indian and wondered what our bikes are like to ride, then you have the chance to come and join us on one of our many Roadshow events this year to discover for yourself."
Here's a breakdown of the dates and venues in each country.
France, Germany and Scandinavia all have an Indian-branded truck that will drive between venues.
GREAT BRITAIN
BMAD, Paignton 4th, 5th, 6th May
MCN Festival, Peterborough Showground, 19th to 20th May
American Speed Fest, Brands Hatch, 9th to 10th June
Manchester Rock and Bike Fest 28th, 29th, 30th June
Calne Bike Meet, Wiltshire, 28th July
Llangollen Bike Show, Wales, 4th to 5th August
Copdock, Ipswich, 7th October
Brightona, Brighton, 14th October
All of the UK dealerships will be holding regular demo events throughout the year so please see @indianmotorcycleuk on facebook for updates.
FRANCE
Salon de la moto de Narbonne 16th to 18th March
Sunday Ride Classic Circuit du Castelet 23rd to 25th March
Indian Annecy 30th March to 1st April
Indian Rennes 6th to 8th April
Salon de la Moto Allianz Riviera 13th to 15th April
Alain Moto 20th to 22nd April
Indian Nord 27th to 29th April
Indian Metz 4th to 6th May
Indian Angers 11th to 13th May
Indian Limoges to be confirmed
Indian Nantes 25th to 27th May
Indian Strasbourg 1st to 3rd June
Indian La Rochelle 8th to 10th June
Journées Nationales de la Moto et du Motard 16th to 17th June
Café Racer Festival 22nd to 23rd June
Punta Bagna 29th June to 1st July
IMRG 2018 (Motors 'n Blues in Dax) 6th to 8th July
SOUTH AFRICA
Test rides available every day at the Melrose Arch dealership
Test rides available every day at the Boksburg dealership
South Africa Bike Festival, Kyalami Race Track, 25th to 27th May 
GERMANY
Frühlingstreff Augustfehn, 7th to 8th April
Saisonstartmesse im AUER BIKER VILLAGE, Stockach, 14th to 15th April
MOTORWORLD Bike Days Stuttgart, 5th to 6th May
INDIAN JAMBOREE 2018 an der Stoibermühle, Marzling, 12th May
Rastplatz Talsperre Eibenstock, Stützengrün, 26th May
Open House bei Viking Cycles, Lübeck, 2nd June
Open House bei Rothsee-Choppers, Hilpoltstein, 9th June
Club of Newchurch, Neukirch/Österreich, 18th to 24th June
Open House bei CM.Motorcycles, Köln-Bergheim, 30th June
30 Jahre Hollister´s MotorCycles, Dauchingen, 7th to 8th July
28. Motorcycle Jamboree Jüterbog, 13th July
Open House bei Bikestore-KA, Karlsruhe, 21st July
Bike and Music Weekend, Geiselwind, 3rd to 4th August
Wings & Wheels 2018, Flugplatz Uetersen/Heist, 11th and 12th August
ITALY
Motodays, Rome (RM) 8/9/10/11 March
Open day Legend bikers (dealer), Lallio (BG) 17/18 March
Open day Thirteen Garage (dealer), Bologna (BO) 24/25 March
Show in Vincenza.  24/25 March
Riding Season – Milan (no demo) 07 April
Open day Race Point (dealer), Bolzano (BZ) 14/15 April
Low Ride Party by Egimotors, Carate Brianza 21/22 April
Rimini (RN) à TBD 4/5/6 May
Biker fest, Lignano (UD) à TBD 10/11/12/13 May
Alba chopper, Alba (CN) 18/19/20 May
Riding Season, Monza (MZ) 19/20 May
Wildays, Varano de Melegari (PR) à TBD 1/2/3 June
Open day Thirteen Garage (dealer) Bologna (BO) 15/16 September
Open day Legend bikers (dealer) – Lallio (BG) 29/30 September
SPAIN
Motomadrid show 5th to 8th April
BENELUX
Dealers are open every week, just book a test ride online
Open house for all dealers, 24th and 25th March
Mega Motortreffen, 20th and 21st May 
POLAND
Indian Wrocław 10th to 16th April
Indian Poznań 17th to 23rd April
Indian Bielsko-Biała 24th to 30th April
Indian Warszawa 2nd to the 12th May
Indian Gdańsk 15th to 22nd May
GREECE

Book a test ride any day at an Indian dealership. 
SWITZERLAND
Open Weekend Simota GmbH, Adligenswil, 17th and 18th March 
Whitestone Track Day, 1st April
Töff-Testtage, Derendingen 21st and 22nd April
Töff Tage Obwalden TTO, Alpnach, 26th and 27th May
Swiss High Mountain Ride, Val Müstair, 29th, 30th June and 1st July
SWEDEN
Nordbygg Bacho Indian, 9th to 12th April
Leva Bo Mässan, Sundsvall, 19th to 22nd April
Bollnäs Motorrevy, 21st to 22nd April
Indian test rides with Sulas MC, Strängnäs, 28th April
Indian test rides with Sulas MC, Uppsala, 5th to 6th May
Roadshow Ava Biker Day, Stockholm, 12th May
Roadshow Sulas, Västerås, 13th May
Spring Meet Östersund 19th May
Start 2 Ride, Göteborg Stora holm, 19th to 20th May
Motorcykelns Dag Sundsvall, Torget, 26th May
Viking Ride, IMRG Ride, 1st, 2nd, 3rd June
Roadshow Claessons, Bromölla, 4th June
Sweden Rock Festival, Norje, 6th to 9th June
Dragracing Tierp Arena, 7th to 10th June
Hojrock and IMRG camp/party, Västervik, 14th to 16th June
Eagles Träffen, Järpen, 13th to 15th July
Motorveckan, Lycksele, 25th to 26th July
Roadshow Umeå Terräng & Motor, Umeå, 27th to 28th July
Nolia Exhibition, Piteå, 4th to 12th August
Mälaren Runt, Gröndal, Eskilstuna, 18th August
EM i Dragracing Tierp, 23rd to 26th August
Start 2 ride Gillinge Norrtälje, Norrtälje
NORWAY
Roadshow Twin Thunder, Lyngdal, 24th April to 3rd May
Roadshow Tyrigrava, Oslo, 2nd May
Roadshow Aakerbrygge Visning, Oslo 3rd May
Vårmönstringen Lilleström, 5th to 6th May
Roadshow MC-Marine, 5th May
Vårmönstringen, Bergen 6th May
Roadshow CBP, Skien, 8th May
Cowboy frokost, 40-års jubileé Lillehammer, 12th May
Roadshow VBSMC, Verdal, 25th May
Roadshow Trondheim, 26th May
Bikefest, Trondheim, 27th May
Viking Ride, IMRG Ride, 1st, 2nd and 3rd June
Sweden Rock Festival, 6th to 9th June
Hojrock + IMRG Camp/party, Västervik, 14th to 16th June
Norges treffen, Harstad, 14th to 17th June
Oslo Motorshow, Lilleström, 27th to 29th October
DENMARK
Motorcykeludstilling, Copenhagen, 24th and 25th February
Open house Jensens Motorcykler Horsens 3rd and 4th March
Grand Opening of Jensens Motorcykler Slangerup 17th March
Open House Jensens Motorcykler Horsens 29th March to 2nd April
Open House Jensens Motorcykler Horsens 7th to 8th April
Open House Jensens Motorcykler Slangerup 21st April
Open House Jensens Motorcykler Horsens 5th to 6th May
Open House Jensens Motorcykler Slangerup 19th May
Open House Jensens Motorcykler Horsens 2nd to 3rd June
Open House Jensens Motorcykler Slangerup 16th June
Open House Jensens Motorcykler Horsens 7th to 8th July
Open House Jensens Motorcykler Slangerup 14th July
Open House Jensens Motorcykler Horsens 4th to 5th August
Open House Jensens Motorcykler Slangerup 18th August
Open House Jensens Motorcykler Horsens 1st to 2nd September
Open House Jensens Motorcykler Slangerup 22nd September
Mosten Race Days, 30th August to 2nd September
CZECH REPUBLIC
Budapest Motor Festival 23rd to 25th February
Motocykl Praha 1st to 4th March
Motosalon 2018 (Brno) 8th to 11th March
Motocykel Bratislava M1 5th to 18th March
Motorcycle Show Belgrad 22nd to 25th March
First mile Poděbrady 31st March
GRAND OPENING INDIAN BRNO AND BUDAPEST + THE RE-OPENING OF INDIAN FRYDEK – MISTEK
Moto season opening North Bohemia 21st April
Czech Route 66 28th April
GRAND OPENING INDIAN BRATISLAVA April
Indian Weekend Boskovice (Western City) 4th to 5th May
Garage Party, Pardubice 12th to 13th May
Euro Bike Fest www.eurobikefest.cz 24th to 27th May
All Indians Weekend / Sumava Hills 22nd to 24th June
Ostrava Ride 6th to 8th July
Tanec slnka / Sundance festival https://www.tanecslnka.sk/sk/26th to 29th July
1,000 miles around the Czech Republic 27th to 29th July
Last mile 28th to 30th September
# # #
ABOUT INDIAN MOTORCYCLE
Indian Motorcycle Company, a wholly owned subsidiary of Polaris Industries Inc. (NYSE: PII), is America's First Motorcycle Company. Founded in 1901, Indian Motorcycle has won the hearts of motorcyclists around the world and earned distinction as one of America's most legendary and iconic brands through unrivalled racing dominance, engineering prowess and countless innovations and industry firsts. Today that heritage and passion is reignited under new brand stewardship. To learn more, please visit www.indianmotorcycle.eu
MEDIA CONTACT
Dan Tye
PR Manager EMEA
Follow us on Twitter @IndianEMEA_PR
+44 (0) 1525 270100
press@indianmotorcycle.media