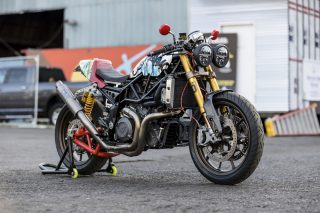 Making its first public appearance at The One Motorcycle Show in Portland, Oregon, a custom FTR 1200 S by Jeff Wright, the owner of Church of Choppers, made a striking impact among the 200+ other unique bikes on display. And as one of the most influential custom bike builders today, when Jeff displays his latest creation, people take notice.
Fellow custom builder and Director of Industrial Design at Indian Motorcycle, Ola Stenegärd has immense regard for Jeff and how influential he is in the scene.
"When you look at movements and trends on customs and choppers, you can usually find it on a Church build five to 10 years prior. He is just way ahead of his time. But he is also a trained artist not just a fabricator and bike builder. Most don't even know that he does the artwork for his T-shirts himself. He is an amazingly talented illustrator! To me that explained a lot of his disruptive thinking in custom bike building too: he can visualise stuff before he builds them. It allows him to throw the ball further than most. He sets trends, never follows. That's pretty cool, and he holds the highest rank in my book," said Stenegärd.
To anyone who had been following the build on The Church of Choppers social channels, it was already clear that Jeff was again taking his own path with a unique twist on the FTR 1200 S.
"I picked up an FTR 1200 S from Indian Motorcycle's factory in Spirit Lake, Iowa. Because of uncertain times, I wanted to make a statement with my hands rather than my wallet. I went to work on a plan and immediately took the bike apart and started cutting. Knowing the bike was for me only (no passenger) I topped the frame off with a new subframe and shock mounts. Spent late nights building the new swingarm to resemble the stock swingarm, but only upside down. Cleaned up the wiring, hand-formed the fiberglass body pieces, welded up a new gas tank, shaved all the tabs, and lowered the bars. Paint, seat, and finishing touches all wrapped up by the time The One Motorcycle Show started in Portland. People loved it, and now it's time to ride it," said Wright.
With the new swingarm fabricated after many hard hours, the frame and swing arm were powdered coated by Traxx Performance Powdercoating in contrasting red and black. Part of the swingarm build was also to convert the FTR from a monoshock to a pair of fully-adjustable Öhlins piggy-back shocks complemented with matching Öhlins front forks that retain the Brembo callipers but with red brake lines to echo the swingarm.
The high spec parts continue with Gilles reasets, clip-on handlebars, Domino grips and a titanium Racefit "Longhorn" Growler exhaust.
For finishing touches a new black leather seat with red stitching was provided by Rich Phillips, Jeff polished the radiator guards and fitted two large Indian Motorcycle headlights to really switch up the front aspect of the FTR. And, of course, the incredible paintwork by Jeff and Dana Harrison.
The result is an eye-catching FTR like no other with a tighter, race bike aesthetic.
Stenegärd concludes, "Jeff is like that musician or artist…the guy who is driven by his vision and passion and not the end game (because fame and fortune don't drive him) but he is THE guy that we all refer to, that we look up too. Ask Roland Sands, ask any top builder in Europe or Japan. They will say his name."
Jeff Wright and The Church of Choppers can be followed on social media at facebook.com/chvrch and instagram.com/chvrch/
For more information on Indian Motorcycle visit IndianMotorcycle.eu and follow along on Facebook, Twitter and Instagram.
###
ABOUT INDIAN MOTORCYCLE®
Indian Motorcycle is America's first motorcycle company. Founded in 1901, Indian Motorcycle has won the hearts of motorcyclists around the world and earned distinction as one of America's most legendary and iconic brands through unrivalled racing dominance, engineering prowess and countless innovations and industry firsts. Today that heritage and passion are reignited under new brand stewardship. To learn more, please visit. To learn more, please visit www.indianmotorcycle.eu
INDIAN and INDIAN MOTORCYCLE are registered trademarks of Indian Motorcycle International, LLC. Always wear a helmet, protective clothing and eyewear and insist your passenger does the same. Ride within the limits of the law and your own abilities. Read, understand, and follow your owner's manual. Never ride under the influence of drugs or alcohol.
MEDIA CONTACT
Ian Austin
EMEA Press Indian Motorcycle
Follow us on Twitter @IndianEMEA_PR
+44 7471 030606
press@indianmotorcycle.media