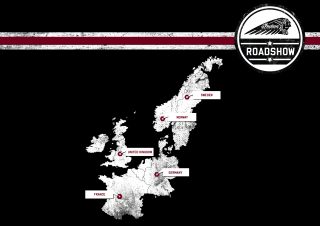 Indian branded trucks and demo bikes at various events in Europe
Try out numerous Indian models all at once 
Meet like-minded bikers and discover what Indian is all about 
Mark up your diaries for the arrival of the Indian Roadshow as branded trucks start driving through Europe giving bikers the opportunity to try out all of the motorcycles in the Indian line-up.
Potential owners will be able to swing a leg over an Indian Motorcycle at various events letting them have back-to-back rides on a number of models and helping decide which is the bike for them.
Test rides can also be booked at any time through a dealer or at other key events hosted by Indian Motorcycle in each country.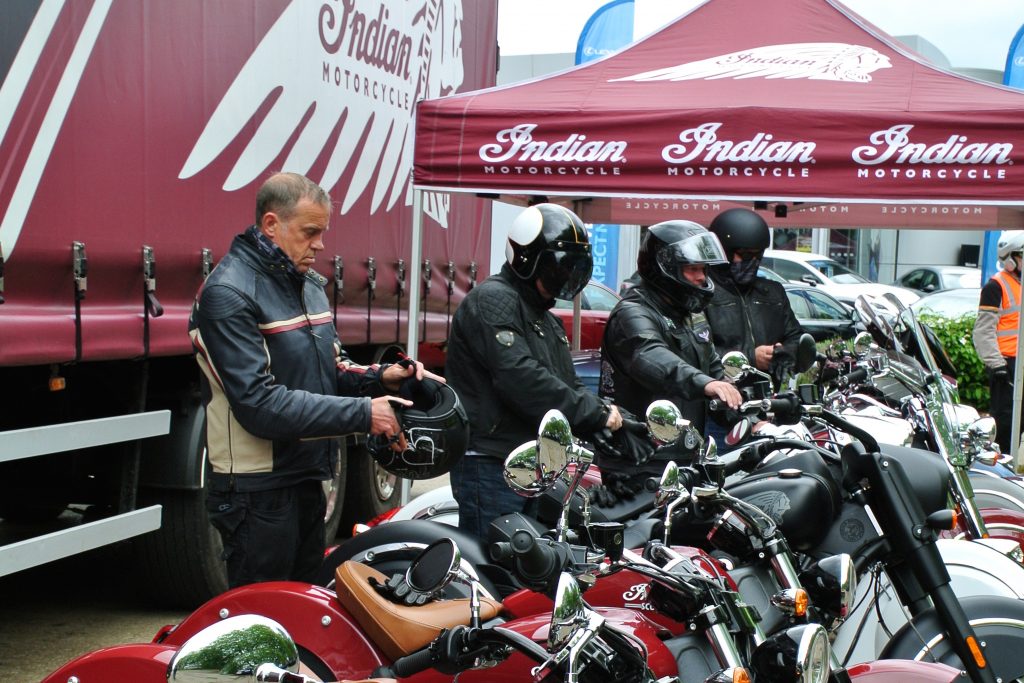 Here are the Roadshow dates (and other key events) for each country:
Roadshow dates in France
5 to 7 May: Indian Metz in Woippy, Lorraine
12 to 14 May: Indian Poitiers, ZAC des Montgorges, 2 Rue Bessie Coleman, 86000 Poitiers, France
19 to 21 May: Indian Clermont Ferrand, 63118 Cebazat, Clermont Middle-France
26 to 28 May: Indian La Rochelle, 16, Rue Leonard de Vinci, 17440 Aytré
2 to 4 June: Indian Rennes, 4 Rue Newton, 35760 Montgermont
10 to 11 June: Cafe Racer Festival www.cafe-racer.fr/infos-pratiques/ in Montlhery
16 to 18 June: Punta Bagna www.punta-bagna-valloire.com, the kustom party made in Savoie
24 to 25 June: Journées Nationales de la Moto et des Motards www.jnmm.fr
30 to 2 Jul: Indian Nantes, Rue Louis Bleriot, 44700 Orvault, France
7 to 9 Jul: Dax Motors n' Blues www.dmbf.fr in Dax, Landes
14 to 16 Jul: Indian Gap, 47 avenue Emilie Didier, 05000 Gap
21 to 23 Jul: Indian Middle France, Site du Restaurant H Park (Clermont F.)
28 to 30 Jul: Indian Montpellier, 1383 Av of Toulouse, 34070 Montpellier
1 to 3 Sep: Indian Toulon, 83130 La Garde
8 to 10 Sep: Bike Brothers (Indian Angers), 49124 Saint Barthelemy D'Anjou
15 to 17 Sep: Indian Nord, 14 rue du Houblon, 59270 Méteren
22 to 24 Sep: Indian Rennes, 4 Rue Newton, 35760 Montgermont
29 Sep to 1 Oct: Indian Est (Indian Pontault), 2 Rue de l'Épinette, 77340 Pontault-Combault
Roadshow dates in Germany
15 to 18 Jun: Magic Bike Rüdesheim, Hotel Lamm (Assmannshausen)
13 to 16 Jul: Motorcycle Jamboree, 14913 Niedergörsdorf
28 to 30 Jul: Wing & Wheels, Flugplatz Uetersen/Heist
5 to 9 Sep: European Bike Week, Faak am See
Roadshow dates in Sweden
22 April: Bikeline in Malmö
13 May: Fullhouse Garageshop in Stockholm
14 May: Sulas in Västerås/Rocklunda
19 May: Lugnets in Borås
20 May: Gothia Mothers in Göteborg
25 May: Stonetown Custom in Östersund
26 to 27 May: UTM in Umeå
05 June: Claessons in Bromölla
7 to 10 June: Sweden Rock Festival (Visning) in Norje
10 June: Stonetown Custom in Sundsvall
15 to 17 June: Hojrock inVästervik
15 to 18 June: EM i Dragracing (Visning) in Tierp
07 to 08 Jul: Stonetown Custom in Järpen Eagles Mc Träffen
26 to 29 Jul: FIM Rally in Sundsvall
05 to 13 Aug: Nolia (Visning) in Umeå
10 to 13 Aug: Viking Ride, official IMRG ride in Voss/Norge
19 Aug: Mälaren Runt (Visning) in Eskilstuna
24 to 27 Aug: EM i Dragracing (Visning), Tierp
26 to 27 Aug: Start 2 ride in Gillinge Norrtälje
Roadshow dates in Norway
24 April to 1 May: Twin Thunder in Lyngdal
3 to 4 May: MC Marine in Bergen
6 May: Motorspeed, Cowboy frukost (Demo), Lillehammer
6 to 7 May: Vårmönstring in Lilleström
19 May: VBSMC in Verdal
20 May: VBSMC in Trondheim
21 May: Bikefest Trondheim 
10 to 13 Aug: Viking Ride, Official IMRG ride, Voss
Dates in the UK
22 April: Prime Factors – Holmethorpe Industrial Estate, 35 Ormside Way, Redhill, RH1 2LW
22 April: Krazy Horse – Bury St Edmonds, IP32 6NU
28 to 30 April: BMAD Paignton Beach Bike Festival www.bmad.co.uk (static display only)
29 April: Krazy Horse London – 211-219 Bellegrove Rd, Welling DA16 2RE
29 April: HBC Motorcycles – 2 Triumph Road, Nottingham, NG7 2GA
12 to 14 May: MCN Festival www.mcnfestival.com (attending but no demo rides)
20 May: Midwest Moto – Stourport-on-Severn, DY13 0TF
27 May: Motorcycle Centre Orrell – 5 Gathurst Rd, Wigan WN5 8QJ
27 May: HBC Motorcycles – 2 Triumph Road, Nottingham, NG7 2GA
3 to 4 June: Thor Motorcycles – Tretoil Works, Bodmin, Cornwall, PL30 5BA
10 to 11 June: Blade Motorcycles – Elgin Drive, Swindon, Wiltshire, SN2 8DN
11 June: Bike Fest South at Goodwood www.bikefestsouth.co.uk (static display only)
24 June: Moore Speed Racing – Cortry Close, Pool, Dorset, BH12 4QB
24 June: HBC Motorcycles – 2 Triumph Road, Nottingham, NG7 2GA
2 July: Freedom Motorcycles – Mill View, March, Cambs PE15 8SY
15 to 16 July: Robinsons Foundry – Broad Oak Road, Canterbury, Kent, CT2 7QG
29 July: HBC Motorcycles – 2 Triumph Road, Nottingham, NG7 2GA
18 to 20 August: Manchester Rock and Bike Fest www.manchesterrockandbikefest.co.uk
19 August: Midwest Moto – Stourport-on-Severn, DY13 0TF
26 August: HBC Motorcycles – 2 Triumph Road, Nottingham, NG7 2GA
10 September: Alba Customs – 553 Gorgie Rd, Edinburgh EH11 3XX
1 October: Brightona – www.brightona.co.uk
1 to 2 October: Copdock Show www.copdock-cmc.co.uk/Events-TheShow.htm
# # #
ABOUT INDIAN MOTORCYCLE
Indian Motorcycle, a wholly-owned subsidiary of Polaris Industries Inc. (NYSE: PII), is America's first motorcycle company. Founded in 1901, Indian Motorcycle has won the hearts of motorcyclists around the world and earned distinction as one of America's most legendary and iconic brands through unrivalled racing dominance, engineering prowess and countless innovations and industry firsts. Today that heritage and passion is reignited under brand new stewardship. To learn more, please visit www.indianmotorcycle.eu
MEDIA CONTACT
Dan Tye
EMEA PR
Follow us on Twitter @IndianEMEA_PR
+44 7471 030606
press@indianmotorcycle.media