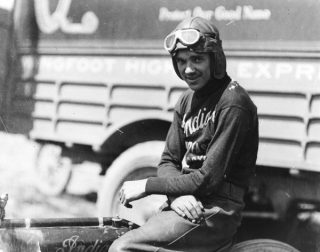 This year marks 120 years since the birth of one of Indian's earliest heroes – Albert Burns. 
It's a story that has captured the imagination of Anvil Motociclette, who is currently working on a Scout Sixty project bike to be unveiled later this summer.
"Albert Burns was simply a legend," explains Phonz, whose love of historic motorcycling characters from the past make their way in to many of Anvil's bike projects. "One of our greatest passions is to read and get information about motorcycle history. During our research we found out Shrimp's story and suddenly we've been fascinated by this guy who wasn't so famous even though he is in the AMA Hall of Fame. Not many people know about Shrimp's story, but we think all passionate bikers should read about him!"
In 1912, when Albert was just 14-years-old, he built himself an Indian racing bike and began to take part in competitions alongside more experienced and adult riders. He started to win, which prompted his older rivals to complain about his age and small size (lighter on the bike). He was even turned away from some motordrome races, but the young Albert Burns did not lose heart and would climb the fences to make faces at some of the racers who had complained about him or he would sneak on to the track after the racing had started, and in some instances then go on to win the race. His short, thin size and cheekiness earned his the nickname "Shrimp".
Shrimp's first appearance for Indian was the opening event of the 1920 season, a week of racing at Ascot Park that had 25 and 50-mile National Championships. He crashed on the 25-mile race at 107 mph, filling his hands and arms with splinters from the wooden board track. For the 50-mile race, Shrimp borrowed a teammate's Indian and took back to the track wrapped in bandages. He was behind the leaders for most of the race, but used the high banks to gather enough speed to pass on the final lap, winning with an average speed of 102 mph and breaking all existing records.
Four months later Shrimp died in a race on August 14, 1921, in Toledo, Ohio just two days after his 23rd birthday. He connected the back of Ray Weishaar's bike while coming out of a turn and crashed into the railing. He later died of head injuries. Shrimp's fiancée, Genevieve Moritz, had come to deliver a birthday gift and witnessed the fatal accident.
His death sparked tributes like this one:
"His superb grit, coupled with the battling instinct, made him the greatest motorcycle rider of the present age. His record will stand on its own merits, for he was never known to quit as long as he had a motor left under him."
"Times without number he has fought single-handed against the field, sometimes winning, sometimes bested, but always fighting, fighting until the chequered flag fell and then always game to come back and try again."
Shrimp won a place in the AMA Motorcycle Hall of Fame in 1998, exactly 100 years since his birth.
San Marco adds: "What we love about Shrimp's story is that he was very young but had great determination. His personality and perseverance in his short but thrilling life is inspiring! Since he was a child he challenged professional racers with no fear. He always lived on the edge and this is what we share with him, both in our life and our professional adventures."
Read more about Shrimp's history in the online book Pioneers of American Motorcycle Racing by Daniel K. Statnekov.
# # #
ABOUT INDIAN MOTORCYCLE
Indian Motorcycle is America's first motorcycle company. Founded in 1901, Indian Motorcycle has won the hearts of motorcyclists around the world and earned distinction as one of America's most legendary and iconic brands through unrivalled racing dominance, engineering prowess and countless innovations and industry firsts. Today that heritage and passion is reignited under new brand stewardship. To learn more, please visit www.indianmotorcycle.eu.
ABOUT ANVIL MOTOCICLETTE
Anvil Motociclette is not just a garage, it is a creative studio and always aims to develop full projects following its own quality and beauty standards. Anvil always starts from history to create a story that describes their projects.
MEDIA CONTACT
Dan Tye
PR Manager (EMEA)
Follow us on Twitter @IndianEMEA_PR
+44 (0) 1525 270100
press@indianmotorcycle.media