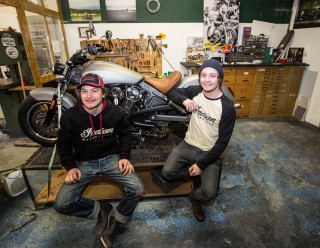 Nik Heer (27) & Fabian Witzig (22) have taken delivery of a Indian Scout (1200cc)
The pair are customising this Scout to race this summer
The finished build will premiere at the Art & Wheels show in Basel on Saturday 13th May 2017
Rapperswil, Switzerland: Meet the guys from the Young Guns Speed Shop, a pair of bike customisers who have just taken delivery of a sleek, silver Indian Scout.
Together, 27-year-old Nik Heer and 22-year-old Fabian Witzig will transform this Scout to race at some of the Essenza sprints and in the Punks Peak race at Wheels & Waves this summer.
From their workshop in the small village of Rapperswil in Switzerland (just south east of Zürich), the pair have previously turned out creations like the Ducati Pandora and Ferdinand the Sparrow, a streamlined sprinter that was ridden to a world speed record on the Bonneville Salt Flats last year (2016).
Nik says: "The shape and appearance Young Guns bikes are always pretty dry and mostly about the function of the machine, but at the end that makes the bikes look as good as they do. The idea is we can line up our bikes next to pure show bikes and win prizes for their aesthetics but also win races."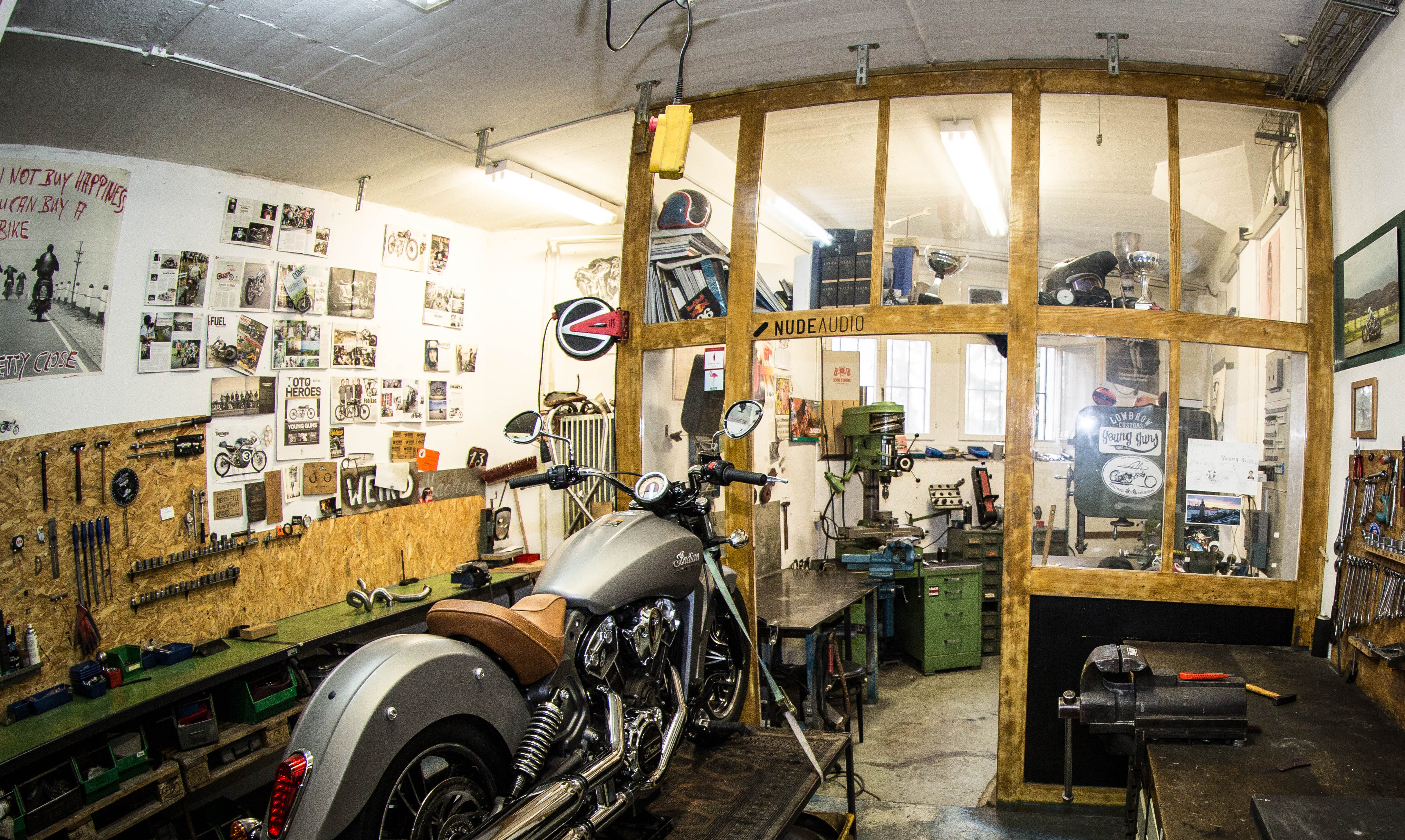 "We have been watching Indian Motorcycle become more and more popular in Switzerland," says Nik. "And are thrilled to finally have an Indian Scout in our workshop. We have some amazing ideas in mind to transform this into a real racing machine and Fabian and I are looking forward to sharing each stage of the build over the next three months."
"We have some crazy ideas in mind to transform this into a wild cruiser with power and fire that will show other racers who the boss is. Just wait until you see!" Fabian smirks.
"I'm very in to the flat tracking and motocross," Nik adds. "The hill climb bikes and early racing bikes that Indian made, you know they were the purest machines and where history was made. Together, Fabian and I have as many possibilities for this Scout as we can dream."
The plan is to premiere the completed Scout at the Art & Wheels show in Basel on Saturday 13th May. The pair then intend to race the Scout in some of Essenza magazine's sprint series; at the Caferacer Festival Montlhery in June and then Glemseck 101 in September. Nik and Fabian will also be entering in the Punks Peak race at the Wheels & Waves festival in Biarritz in June where they have a score to settle: "We took a tuned and customised Triumph T120 to Punks Peak last year," Nik explains. "But I revved it too high. We were super pissed off and we can't wait to go back and win, hopefully this time with our Indian Scout."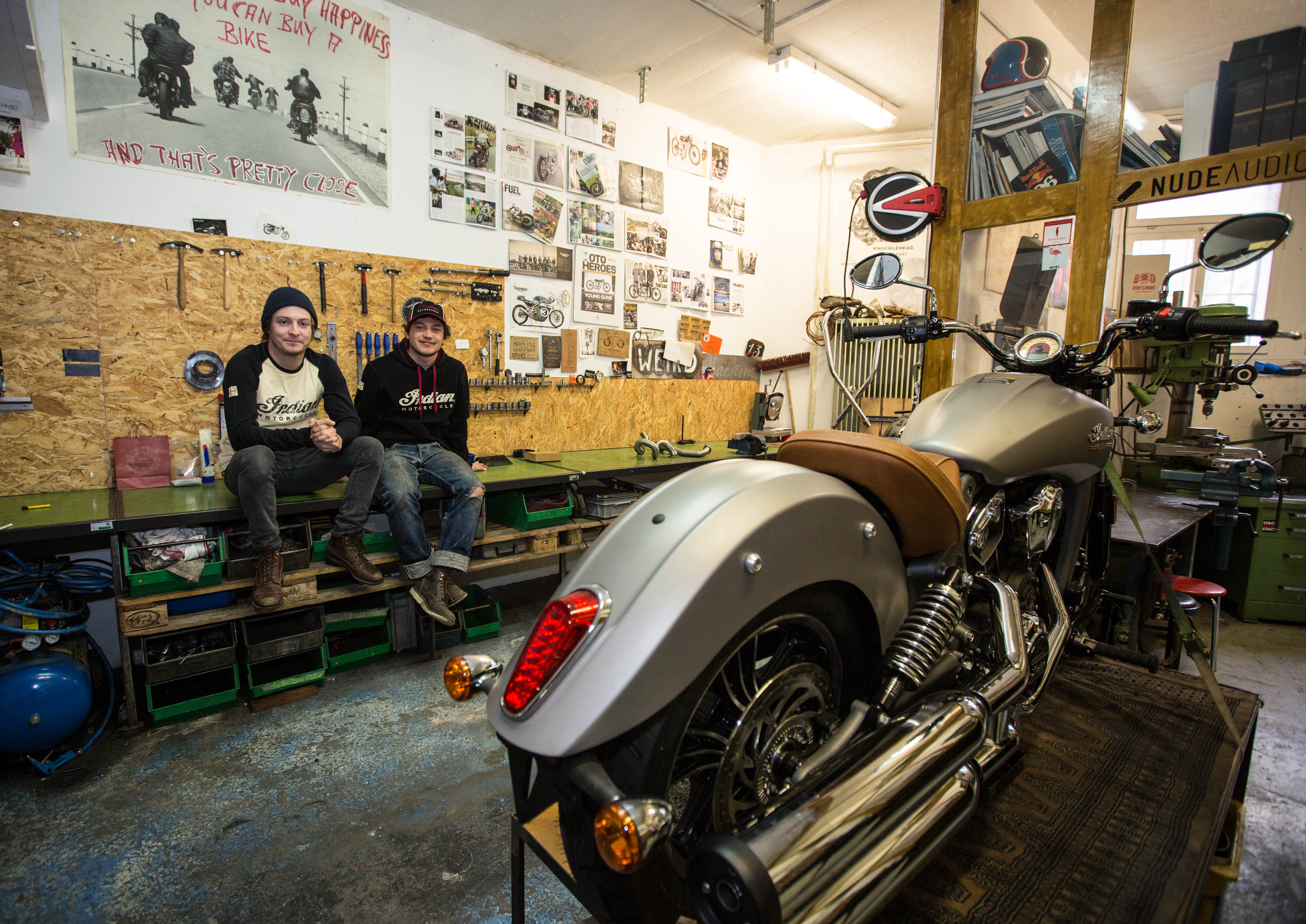 Fabian says he is eager to get working on the Scout and has already started stripping it down. "The Scout's 60° V-Twin engine is amazing," he says. "Good throttle response, really powerful, but still smooth to ride. I think the engine is no doubt reliable, efficient liquid-cooling, 4 valves per cylinder and 1200cc – that is what you need for a nice motorcycle engine. We have quite a project with this cast aluminium frame. It's definitely a challenge which makes our working process so much fun."
Look out for more from the Young Guns Speed shop over the coming months.
Follow on them Facebook  www.facebook.com/younggunsspeedshop/ or on their website www.ygspeedshop.com
A large gallery of hi res images of the pair's workshop and the Scout are on the media site.
###
ABOUT NIK HEER
Nik is the head of the Young Guns Speed Shop and a creative brain and mechanical mastermind. From an early age, Nik was fascinated with engines; he read his first book about engines long before he was allowed to ride a motorised bike. His Dad loved old sport cars and boats as runabouts and his uncle is a mad sportsbike collector. During his youth he was constantly working on bikes, the only thing that changed was the size of the toys. He soon started to help out his fellow friends to fix and modify their bikes. After finishing his education as a multi-disciplined engineer, Nik now builds, restores and customises motorcycles for a living, working on a wide range of bikes. Aged just 26 Nik is one of the very young bucks that holds a record in Bonneville. Besides land speed racing he is a feared dirt track rider and when not working on his projects or racing motorbikes, he can be found snowboarding, skateboarding, making music or working on his art projects.
ABOUT FABIAN WITZIG
Fabian is a mechanical mastermind. His father owns a tractor company and as soon as he could start walking he was surrounded by an enormous garage of agricultural machines and started to learn everything about wrenching. Fabian is never short of an idea how to work around a technical problem with any type of motorcycle and this makes him a true master of craftsmanship. He holds a degree in engineering and for his very young age has an extremely independent free-spirited mind. When he sets his mind into something he won't let go until it's accomplished and exactly the way he wants it. Everything that he spies with his eyes inspires him and he is continuously curious. When he is not in the workshop (where he currently is almost 24/7) Fabian loves playing guitar, or he helping out on his dad's grain farm. He is a warm fellow that loves jamming with his guitar together with friends around bonfires and drinking rum until late into the night.
ABOUT INDIAN MOTORCYCLE
Indian Motorcycle, a wholly owned subsidiary of Polaris Industries Inc. (NYSE: PII), is America's first motorcycle company. Founded in 1901, Indian Motorcycle has won the hearts of motorcyclists around the world and earned distinction as one of America's most legendary and iconic brands through unrivalled racing dominance, engineering prowess and countless innovations and industry firsts. Today that heritage and passion is reignited under new brand stewardship. To learn more, please visit www.indianmotorcycle.eu
MEDIA CONTACT
Dan Tye
EMEA PR
Follow us on Twitter @IndianEMEA_PR
+44 7471 030606
press@indianmotorcycle.media